Every time I find something online about outdoor adventures in Slovenia, I stumble upon several terms: "rafting Slovenia", "rafting on Soca" or "Bovec rafting".
I mean – really?
Sure, Slovenia is pretty famous for white-water rafting – obviously.
But, here's the thing about Slovenians: we are kinda obsessed with all kinds of sports.
You could call us an "outdoorsy nation". Heck, I'm gonna go further – if you're a Slovenian and not into outdoor adventures, then you're just…weird. (I was gonna go for "unusual", but this just doesn't cover it)
I've seen a couple of times Slovenia was compared to a New Zealand – they called it "European New Zealand". Well, after visiting North Island last year while on our yearlong honeymoon (Yes, I wanna go back), I can agree.
Slovenia is like New Zealand.
But "slightly" smaller.
Without tropical forests.
And with a lot less sheep.
But otherwise? Hell yeah!
It's lush green, it has mountains and lakes – and adrenaline activities are a thing around here.
That's why I decided to put together a list of top outdoor adventures in Slovenia you should surely add to your itinerary when visiting our country. (Hey, and shoot us a message and we'll grab a beer or five! Er – if we'll be at home, that is.)
So, wondering what kind of outdoor activities are Slovenians into? Here we go.
13 OUTDOOR ADVENTURES TO TRY IN SLOVENIA
1. WHITE WATER RAFTING
Well, what else would you think I'd start with?!
If that's what you're all after, then I just have to mention it immediately and be done with it.
Just joking. One can totally understand why this is the most famous adrenaline activity to try in Slovenia.
Speeding down the crazy rapids of cold and crystal clear emerald Soča river, which is considered one of the most beautiful rivers in Europe, is definitely a "bucket list thing to do" which attracts visitors from all over the world.
The beauty of the Soča valley is mind-blowing, but you won't have time to look around too much since you'll be navigating the powerful river rapids.
You'll be taught how to fall from the raft and climb right back in, but – er, try not to fall from it where the rapids are the biggest. It's called an adrenaline adventure with a reason! Or perhaps that's just me. While others were screaming with joy, I was gripping the rope on the raft and hoping I'd survive. So much about me being adventurous.
When Bovec, a  little town in northwestern Slovenia is known as the adrenaline capital of Slovenia, this is not the only place you can go rafting on the Soča river. You can do so also a bit south of Bovec in charming Tolmin (you've heard about stunning Tolmin Gorge, right?!)
If you'd like to try rafting but you Soča rapids are a bit too much for you, then you can opt for rafting on one of the other Slovenian rivers (i.e. Sava or Kolpa rivers)
2. KAYAKING
Let's stay in the rivers a bit more!
If you'll come to Bovec during summer, you'll encounter campsites full of people with kayaks, and the most common sight while on a road trip through Soča valley is probably a van with a kayak or two attached to the roof.
For those who prefer individual adventures, kayaking is a perfect alternative to white-water rafting.
If you're scared that your kayak would turn around and you'd be stuck underwater (Not me. Ah-ah. Not in million times. #ofcoursethatsme), you can opt for "sit on top" adventure, where you sit – you guessed it – on the kayak instead of in it.
Kayak Soča is run by my ex-classmate and his sister who are world-class kayakers (championships and all that), so I'm pretty sure you'll be in good hands! If you're staying in Tolmin, do something else than just visit Tolmin Gorge and check out Maya outdoor center.
Not just the Soča river, you can go kayaking on other – calmer – rivers as well. It's still gonna be an adventure, but you won't be scared AF 😀
3. CANYONING
Okay, that's another adrenaline activity that Slovenians are raving about. It is not to be taken lightly as you're walking through the streams, jumping off waterfalls into pools, and sliding down the natural waterslides.
Er, it's still on my list of "extreme activities to do" (building up the courage), but Bojan went last year and he loved it. He says it's adventurous, fun, and …wet  😀
Canyoning tours can be of different difficulty so make sure to choose the one you'll be comfortable with and always follow your guide's instructions. Quite famous is Grmečica canyoning near lake Bled, and there are plenty of options in steep, narrow gorges along Soča river valley (yep, we're there again) – Fratarica canyoning is said to be the most beautiful.
4. ZIPLINE
From the water to the air!
Did you know that in Slovenia there is the biggest zipline park in Europe?
See, I'm telling you. We are adrenaline addicts.
If nature doesn't offer enough adventures (it does – but still), we build new ones! Near Bovec, 200m above picturesque Učja Gorge, there are ten steel cables, with a length of 250 to 600 meters which offer amazing views over the Bovec and the peaks of the Julian Alps.
Pretty cool zip line you'll find in Planica (near Kranjska Gora) and in 2020 the longest zipline in Slovenia was opened in the Koroska region where steel cable is more than 1200 meters long!
5. BUNGEE JUMPING
Bungee jumping could be considered as one of those "must-do" activities when in Slovenia. Not because it would be the highest in the world, but because of the stunning location-
In Soča valley (Yeah I know, again. It seems that everything is packed in this amazing corner of Slovenia) there's a Solkan, a little town that is known for two things –  the longest railroad stone bridge in the world AND bungee jumping.
Unfortunately, you're not jumping from the railway bridge (wait – or is it fortunately? 😀 ), but in the proximity of the railway stone bridge, there's another bridge where bungee jumping takes place. It is equally scary with its 55m height.
You know, jumping off the bridge is not exactly an English afternoon tea experience after all and Bojan guarantees your blood pressure will rise the moment you're fastened to the elastic rope (and it will skyrocket when you step on the platform).
If you're into extreme activities, then bungee jumping in Solkan will be perfect for you!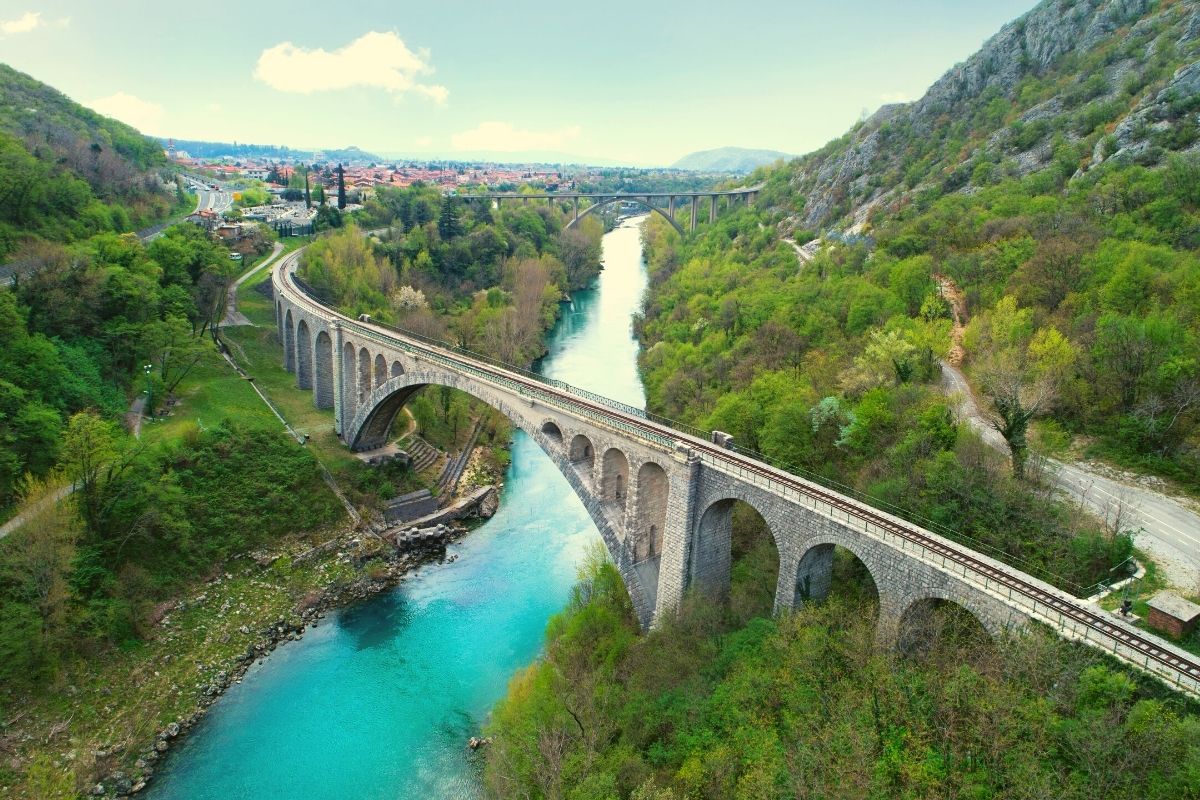 6. CAVING (SPELUNKING)
Nope, it's not your goal to end up underground after bungee jumping (sorry, couldn't resist that one), but exploring Slovenian caves should definitely be on your to-do list!
We have over 10.ooo  karst caves registered in Slovenia and every year new ones are discovered. I know, that's a lot. But actually, just 21 of them are considered to be touristic, meaning everyone can visit them. And while the famous Postojna cave is probably known to everyone who plans to visit Slovenia, there's more to Slovenian caves than just sitting on an underground train and observing the stalagmites
What do you say about crawling through the narrow tunnels on your belly with a helmet on your head and a lamp in your hand?
Yep, such expeditions are possible in Slovenia and if that's not adventurous, I don't know what is.
Oh, wait – I DO know.
You see, if this sounds boring, you can always try cave diving!
And if you're interested in waters in combination with caves (but minus adrenaline), then you can try a cave kayaking adventure on the underground lakes of subterranean Slovenia
7. SKIING
Skiing.
An extremely popular outdoor adventure activity among all Slovenians.
Thinking twice, skiing should probably make it to the top of this list.
You see, we are a "skiing nation".
Don't believe it? Well, just check out the list of top ski racers in the world. #itoldyouso
Oh, and also – guess where we met with Bojan? 😀
---
FUN FACT:
With a few exceptions, our primary schools are public. And they are free. Also, they offer a variety of activities and in the national program, we have skiing and swimming. This means that when you're 7-10 years old, you'll go to a ski center (or to a seaside/local pool) where you'll be taught how to swim or ski.
But – it's highly possible you'll know how to do both already. Because our parents had the same program, that's why. So basically, a lot of us learn how to ski before we learn how to walk properly. 🙂
---
Even though we don't have enormous ski resorts with hundreds of kilometers of ski slopes, there are quite a few of them and if you're interested in how it feels like speeding down the "world cup" slopes, you can definitely try that in Kranjska Gora or Mariborsko Pohorje.
Vogel is usually the most charming (with a lot of natural snow and stunning views over the Bohinj Lake), Krvavec is really close to Ljubljana, there's a smaller ski resort at Bled so you can enjoy the lake views while on the ski slopes and Rogla has tons of other things to do besides skiing. And these are not all of them!
While the majority will enjoy "regular ski slopes", adrenaline junkies can opt for freeride skiing. With the Alps within the reach, there's no shortage of "fresh white pow" and Slovenia is a true paradise for freeriders!
8. HIKING / MOUNTAINEERING
If skiing is our winter national sport, hiking would win the crown of "all-year-round national sport".
There are even songs amplifying that "a true Slovenian is a hiker" and a saying goes that you are NOT a true Slovenian until you climb our highest mountain, Mt Triglav.
Guess who's apparently not yet a true Slovenian around here?! *raises hand sheepishly*
Hiking, trekking, and mountaineering have a special place in the hearts of Slovenians…and on Instagram.
Traveling? Um, sure. Lifestyle? Yeah, maybe. But to crush Instagram, you gotta have pictures from stunning mountain peaks (2000m + high, no less), wearing a matchy outfit, and having a fluffy pet beside you. 😉
Jokes aside –  our hills, mountains and mountain plateaus are breathtaking. "Serious hikers" will enjoy countless treks in the Julian or Kamnik-Savinja Alps, including beautiful Triglav lakes trekking and the spectacular Julian Alps trekking (or even Juliana trail, a 267 km circular long-distance trail) which can definitely compete with famous hikes in Torres del Paine in Chile (we don't have guanacos and pumas, but we do have Alpine ibexes and lynxes!).
Pohorje or Pokljuka and Velika Planina plateaus are charming as well and perfect for all levels of hikers and if you're in Slovenija in May, you shouldn't miss a hike to Golica, where you'll find vast mountain slopes covered with thousands of blooming daffodils. Hikes to waterfalls or inside gorges (like Tolmin Gorge in Soca valley) should not be missed especially by those who are into photography!
Or – become a true Slovenian and hike to Mt Triglav summit! (but don't send me a picture, I'll feel bad for not going there yet)
So, when traveling to Slovenia, add a hike or five to your itinerary (or AT LEAST climb the St Mary mountain in Ljubljana for a lovely view over the city).
If not for nature and the superb views, then for a delicious treat at the top. You see, there's a hut on the top of almost every hill/mountain in Slovenia – and what's better after a strenuous hike than a big bowl of goulash or delicious cottage pastry called štruklji? #iminiftheresfoodinvolved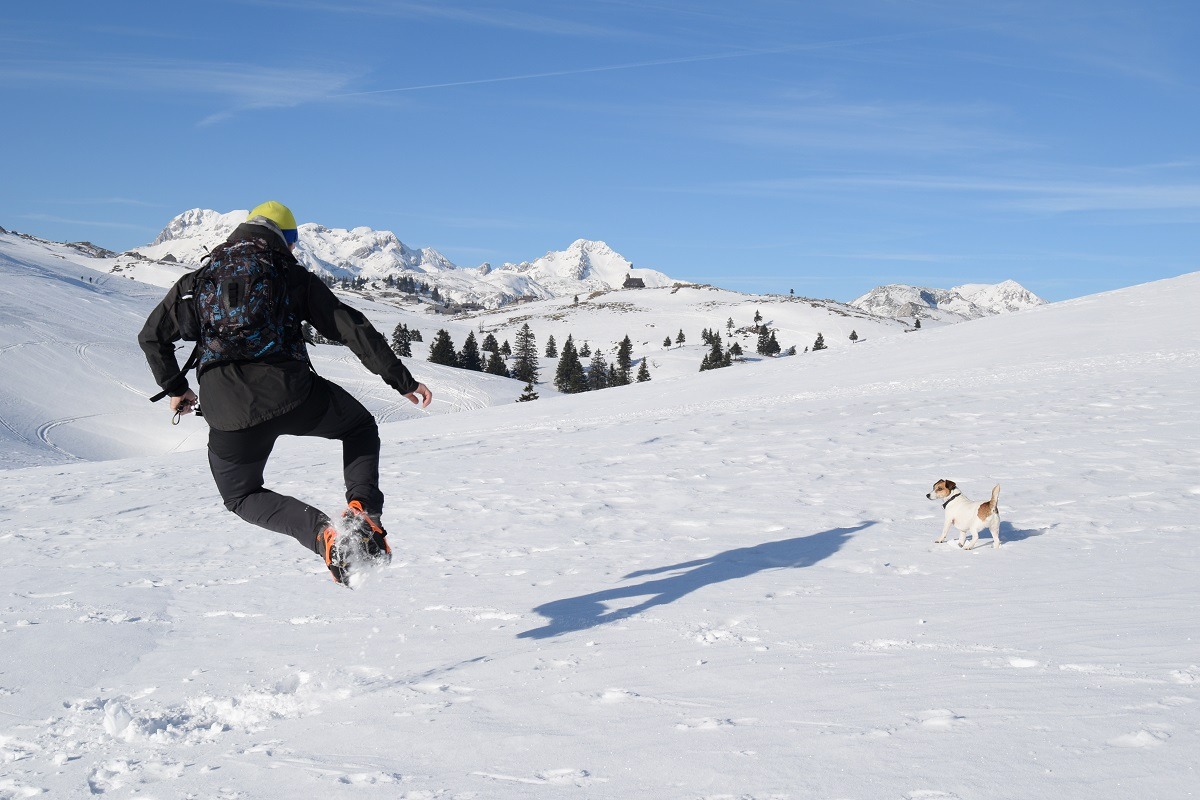 If you'd like to "level up", then mountaineering and via Ferrata will be perfect for you – there are plenty of options for that as well. Just make sure you have all the right equipment and knowledge (and a guide when necessary!).
9. MOUNTAIN BIKING
Mountain biking is highly popular among outdoor adventures in Slovenia and is quickly becoming our no. 3 national sport.
When we started mountain biking a couple of years ago, the MTB community wasn't big (and especially there were not many girls).
Maybe it had something to do with the little problem we have – you see, many mountain biking trails were not officially legal. Er – maybe we still have the same problem 😀
But the popularity of this extreme sport has grown over the years and now enduro and downhill bikes are being sold like fresh croissants in Paris and bike parks are getting almost too crowded.  You'll have plenty of fun in Mariborsko Pohorje, Krvavec, Rogla and Kranjska Gora
If downhill and single trails are too much for you, no worries. "Regular" mountain bikes (and e-bikes) can be rented in all tourist places so you can explore the country by yourself (or opt for a guided tour). You can either explore the Slovenian coast or charming lands and hills of Prekmurje region, cycle in Krka river valley in the Dolenjska region,  around Ljubljana or Kranjska Gora, and admire the pastures at Pokljuka. These are just a few ideas since it is difficult to say which part of Slovenia is the best for mountain biking since we have incredible trails all around the country.
Mountain biking is definitely our favorite outdoor adventure (and if you would ask our dog he'd totally agree), so you can always contact us and we'll give you tips or hook you up with the best guides!
10. ROCK CLIMBING
Slovenia is a rock climbing paradise.
Actually, we keep being told that we should finally give in and join "the climbing movement" (but our schedules and bank accounts are strongly protesting).
Rock climbing is an incredibly popular activity among Slovenians and with over 100 rock climbing crags and more than 5000 routes around the country, suitable for different levels, it's easy to see why.
Four main areas are in Soča valley around Bled and Bovec, in southwestern Slovenia near Osp, around Ljubljana, and around Celje where there is the largest sport climbing crag in Slovenia. During the winter you can opt for ice climbing on frozen waterfalls as well – several waterfalls are suitable for beginners but some of them will require advanced skills!
Even if you are not a rock climber (yet), you can join guided activities, learn the basics and have fun on the walls!
11. PARAGLIDING
Oh, yeah, we're into that too.
On the sunny Saturday or Sunday afternoon, it doesn't matter where are hiking (and yes, you're hiking because that's what you do in Slovenia during weekends), you're going to see the paragliders elegantly sliding through the air.
This is surely the best way to explore the Slovenian landscapes from another perspective and experience how does it feel to fly like a bird.
Conditions are excellent all year long and this outdoor activity is therefore great for beginners and advanced enthusiasts.
Even though we haven't tried paragliding yet, it is certainly on our bucket list!
12. HORSEBACK RIDING
If you want to argue that horse riding is not an adventure, then try doing it in Cuba, and THEN we can talk about it. #extremeactivities
But anyhow, horseback riding definitely fits among the top outdoor adventures in Slovenia since a world-famous Lipizzaner horse is one of the biggest symbols of Slovenia, and horseback riding in Slovenia has a centuries-old tradition. Lipizzaner horses are completely black when they are young and when they grow up they become white (to all the girls: all that is missing in this story, is a Prince Charming).
In Lipiza Stud farm you can observe classical riding according to the principles of the Spanish Riding School of Vienna and horse-drawn rides or you can learn to ride a horse.
Numerous equestrian centers, tourist farms, and ranches everywhere in Slovenia offer lessons and riding tours so you can explore the country on a horseback!
13. STAND UP PADDLING
I guess stand-up paddling won't get your adrenaline pumping like many other outdoor adventures from this list, but it's super fun and enjoyable activity suitable for anyone (yes, even for your dog).
It is extremely popular among Slovenians as well and almost everyone owns a SUP board (except us), so it can get slightly crowded on the lakes during summer weekends.
You can rent a SUP board in all tourist places in Slovenia – it's even possible to go stand-up paddling on the Ljubljanica river and see the capital from a completely different perspective.
We have hundreds of lakes and many rivers in Slovenia, so possibilities for stand-up paddling are basically endless.
Bottom line?
Yes, there's so much more to outdoor adventures in Slovenia than just rafting in Bovec.
Yep, you can call us adrenaline junkies.
Yeah, one could say Slovenia is European New Zealand and a paradise for outdoor enthusiasts.
Of course, you don't need to try each and every adrenaline-pumping activity in Slovenia (You know, leave a few of them for New Zealand 😉), but I challenge you to go for something else beyond rafting.
Although, you should totally do that one. Duh!
Happy vagabonding adventuring!
Save this now for your next adventures in the future!