You know how tiny Slovenia is, right? No?!
Well, let me tell you – our country has only 22k km2 (8.5k mi2)! No, I'm not kidding, it really is small. But in such a small area you'll find everything from mountains and seemingly endless forests to underground caves and seaside *getting emotional*
BUT: Despite being locals, we still have a lot to explore. Yes, on that 8.5k mi2.
Soča valley is undoubtedly our favorite part of Slovenia and while we've been to Tolmin many times it wasn't until this year that we finally visited insanely beautiful Tolmin Gorge. *Getting emotional. Again.*
You just might have heard about it before since Tolmin Gorge is one of the top natural attractions in Soča valley (and almost all tourists head to Soča valley), but don't mix it with the more famous brother-from-another-mother Vintgar Gorge near Bled. Er – I'm not sure whether I'll ever write an article about that one. You see, I've been there many times. Without a camera (I like to call those times my "pre-blogging era" when sightseeing didn't also mean working 😂 ). But unless friends from abroad visit us, I guess we won't go again. Just too.many.people. for our taste.
Don't get me wrong, I still think you should totally visit Vintgar George! But slightly lesser-known Tolmin Gorge is quite amazing as well and if you're as nervous in crowds as our dog when a bigger dog is sniffing him – then Tolmin Gorge will be perfect for you!
But don't just stop here for the gorge – there are many things to do in Tolmin for culture geeks, nature lovers, and adrenaline enthusiasts.
Ok, it's time to dive right in!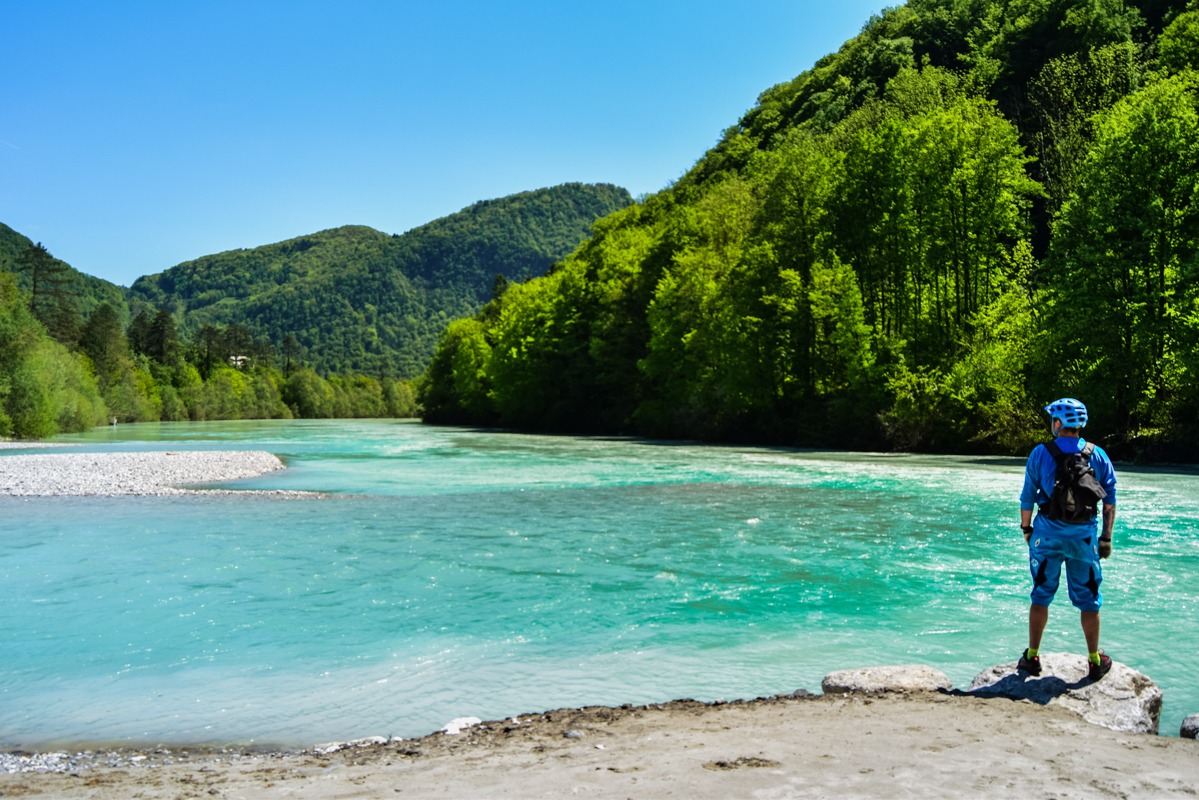 HOW TO GO TO TOLMIN GORGE?
Tolmin Gorge is located in close proximity to Tolmin, a lovely town in the upper Soča valley in the western part of Slovenia. You can go to Tolmin by car or use public transport.
BY CAR
The best and easiest way to explore Tolmin and its surroundings is by car. If you're not traveling in your own car, I have good news for you – car rental in Slovenia is pretty affordable with prices starting as low as $25 per day. Yassss! If you're traveling with a significant half, friends, or family this is actually the cheapest option!
DISTANCES FROM OTHER PLACES IN SLOVENIA
Ljubljana to Tolmin: 105 km (65 mi)
Kranjska Gora to Tolmin: 86 km (over Vršič pass) (53 mi)
Bovec to Tolmin: 36 km (22 mi)
Piran to Tolmin: 140 km (86 mi)
---
PRO TIP: If you're coming from the south, make sure to stop at the Solkan bridge, the world's longest stone arch railroad bridge. Yep – the longest IN.THE.WORLD.  Check out this "wannabe Lion King photo" with Nano facing the bridge. Further north there's a charming little town called Kanal ob Soči, that became famous due to one particular Insta-worthy spot. Er – nope, we didn't take that photo. But Nano came close to that with his posing by the river. (Low-key stalk us on Instagram already? Not yet? Then for Nano's sake, click that follow button!)
---
BY PUBLIC TRANSPORT
Without a car? No worries, it's easy to visit Tolmin with public transport as well. Check out bus schedules at AP Ljubljana or Nomago bus for buses from Ljubljana to Tolmin (approx. 2,5h, approx. $11)
If you're visiting Tolmin as part of your Soča valley trip, and you're heading from smaller towns in the north or in the south (Vipava, Ajdovščina, Gorica, Kobarid, Bovec, or even Kranjska Gora), just check out the bus schedules at Nomago bus for those towns (buses run several times per day).
You can also take a train from Ljubljana to a little town south of Tolmin, Most na Soči (and then a bus to Tolmin), but the journey will take longer. Somehow trains in Slovenia are still incredibly slow. It has probably something to do with the fact that they make a zillion stops. Anyhow, check out the timetables here.
Another slightly unconventional option is shared rides – check out this website where you can find if somebody goes in your direction and just shoot them a message.  Yes, it's perfectly safe (Slovenia is one of the safest countries in the world, remember?). And besides, students came up with the idea more than 10 years ago because it's common for Slovenians to return from Ljubljana to their hometown during weekends. Now the application is used by students and those who work in bigger towns and drive home every day. The only downside? It's in Slovenian! But with a little help from Google translate – the sky is the limit 😉
TOLMIN GORGE (S)
Wait, is it Tolmin Gorge or Tolmin Gorges? Well, actually it's the second one.
See, Tolmin gorges, the most beautiful natural attraction in the Tolmin region, are actually two natural gorges that were carved by the river Tolminka and Zadlascica which confluence into one. This is the only place in Slovenia with such natural wonder and Tolmin gorges are also the southernmost entry point of Triglav National Park.
HOW TO GET TO TOLMIN GORGE
Tolmin Gorge is located approximately 2.2 km (1.4 mi) from Tolmin.
You can either walk by the Tolminka river from the center of Tolmin or park at the designated area "P2" under Kozlov rob hill and take a walk through the Zatolmin village (approx. 15 min walk). During the summer months, a free shuttle is organized on weekends between 10 am and 4 pm.
If you decide to walk to Tolmin Gorges by the river, stop at the memorial graveyard from WWI that you'll spot on the way.
Feeling extremely lazy? Well, there's another, smaller parking area P1 just outside the entrance of Tolmin Gorges (not allowed for RVs!). Come early to get a spot and be prepared to pay during summer (July-Sep) – it's steeping $8 for 3 hours (our advice: rather spend those bucks on a cold beer 😉)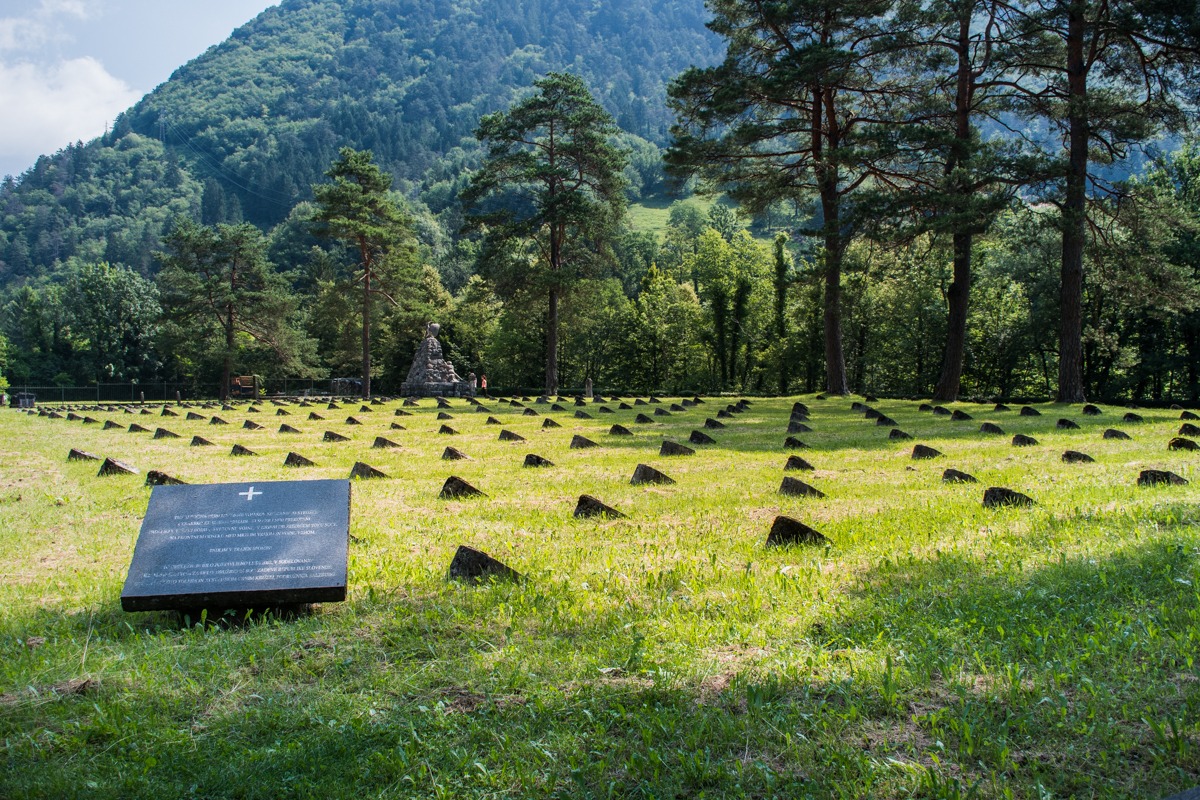 TOLMIN GORGE TRAIL AND ATTRACTIONS
The easy circular path (2 km /1.2 mi) ) takes you through the lush forest down to the vivid emerald river and over the bridge. If you turn left, you walk along the aquamarine Tolminka river through the narrow natural tunnel and you'll soon reach the small cave with a thermal spring – one of the five main attractions in the gorges.
In our opinion that's the most stunning part of Tolmin Gorge – when the light shines through the narrow gorge, the bright turquoise river flowing beneath you, and the sparkling water drops sitting on moss-covered walls create quite a surreal scenery. (Yep, totally #shinebrightlikeadiamond)
Coming back, at the right sight of the bridge, there is a confluence of the two rivers – a lovely spot to just sit and "take it all in" or take a dip into the refreshing stream on a hot summer day. Next to the confluence, you find another bridge, that is, er – ideal for those who are after picture-perfect photos 😉
The slightly narrow path will take you along the Zadlascica river where you'll reach another natural attraction of Tolmin Gorges – Bear's head. A big rock, stuck between the walls of the gorge resembles (with a healthy dose of imagination, that is) the head of the Yogi bear (er-  or insert the name of your favorite fluffy giant from the cartoons), so hence the name.
To reach the fourth attraction in the gorges, Dante's cave, you have to walk up the steep path and stairs (especially in the summertime there'll be some huffing & puffing and sweating involved). A legend says that this cave was supposedly visited by Dante Alighieri himself in the 14th century and served as an inspiration for hell in his famous work Divine Comedy. Who'd know, right?
Dante's cave is 1,1 km long (0.7 mi) and has 3 underground halls – but can only be visited with the right hiking equipment and a guide. (If interested, make an inquiry at Tolmin information center)
While walking downhill towards the parking lot you pass the last attraction – Devil's bridge, which is located 60m (200 ft) above the Tolminka river. The view of the river below is stunning – and head spinning. Especially if you partied the night before.
TOTAL TIME NEEDED: 1 – 2 hours (it depends if you want to sit and relax by the rivers as well)
TOLMIN GORGE ENTRANCE FEES AND OPENING HOURS
The entrance fee for Tolmin Gorges changes during the year ($5.5-9 for adults) with the highest price in July and August. Discounts are available for children, families, students, and seniors.
Opening hours vary from month to month as well. During the summer months (Jun – Aug) you can visit Tolmin Gorges as early as 8.00 am and stay inside until 8 pm.
You can find more info about up-to-date opening hours and entrance fees here.
THINGS TO DO IN TOLMIN BESIDES VISITING TOLMING GORGE
Nope, visiting Tolmin Gorge is not – gasp – the only thing you can do in Tolmin!
The majority of visitors just stop here for this one attraction and actually miss out on tons of others. We'd actually suggest you take at least one (preferably two) days to explore Tolmin and its surroundings and you might be surprised by all the things you'll find around there. 🙂
JAVORCA CHURCH
Memorial Church of the Holy Spirit is a beautiful wooden church above Tolmin, dedicated to the Austro-Hungarian defenders of the Isonzo Front. In 2018 it also received a European Heritage Label. It is located less than 9 km/6 mi above Tolmin (about a 25-minute drive), but in the summer months, access by car is prohibited during the weekends (and RVs can't go up at all).
Several times a day there is a bus from Tolmin to Javorca church ($2) – you can check out the bus schedule and departure spot here.
ENTRANCE FEE: Adults $5, but if you buy a combined entrance fee for Javorca and the main attraction of Tolmin – Tolmin Gorges, the entrance fee for Javorca is reduced by 50%.
TOLMIN CASTLE AT KOZLOV ROB
A must-see place in Tolmin if you enjoy lovely views AND can't stand crowds. Heck, most likely you'll have all of the castle (ok, ruins, but still!) for yourself.
From the parking area under Kozlov rob hill (P2), several paths lead to the top of the hill where ruins of the once-mighty castle are still seen. At the top, you can have a picnic lunch and enjoy in superb 360° view over Tolmin and Soča valley.
ENTRANCE FEE: none!
CONFLUENCE OF SOČA AND TOLMINKA RIVERS
One of the most beautiful places around Tolmin is certainly the confluence of two rivers with the pebble beach. In the early morning or just before it gets dark you might experience a wonderful phenomenon when the mist is rolling above the river and creates a kinda-horror-movie-but-also-beautiful-scenery.
In the summer this place is packed during the day as it serves as a local "beach" (You can find your own secret spot on the riverbank of Soča north of confluence as well).
Swimming in Soča is a must – BUT – be prepared.
Soča is cold. It is freakin' cold. It is so cold that your feet will hurt.
But you'll jump right in anyways and you'll be screaming and having the time of your life 😉
TOLMIN MUSEUM
If you're into history, then don't skip the Tolmin museum in the center of Tolmin.  The cultural heritage of the region is presented here with archeological artifacts (especially from the Iron age) and ethnological collections from the Tolmin area (from wooden clogs to old hair winders! 😃).
OPENING HOURS (summer): Tue-Fri 10h-18h, Sat-Sun 14h-18h
ENTRANCE FEE: adults $4.5 (discounts for children, families, seniors, and students)
You'll find up-to-date opening hours and entrance fees here.
GERMAN CHARNEL HOUSE
The unusual but stunning piece of architecture can be found north of the confluence (approx. 10 min walk) by the Soča river. Here German soldiers are buried who fell in the famous battle (Miracle of Kobarid) during WWI.
An entrance to the yard is open, but the interior can only be visited on a tour (arranged at the Tolmin museum).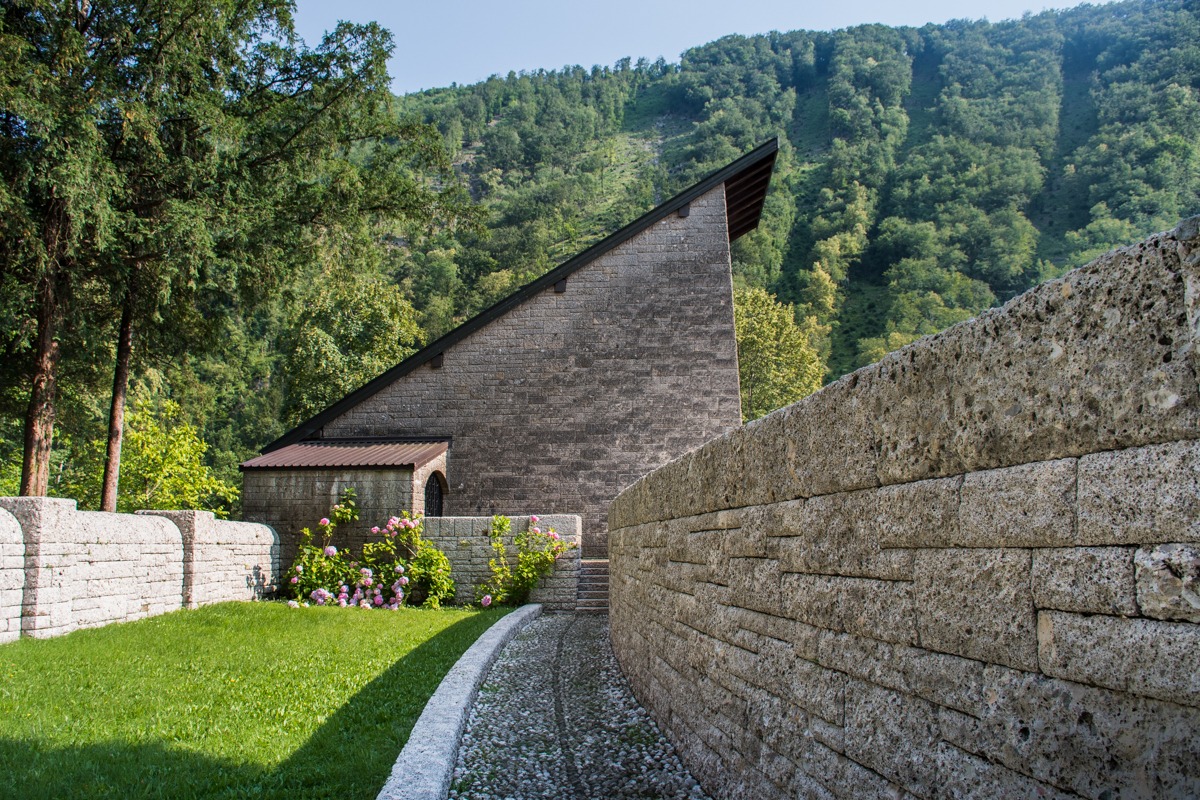 BERI WATERFALL
From Tolmin you can walk to the village of Poljubinj and the small Godiče gorge (the alternative is to drive to Poljubinj). About 45 minutes of walking and approximately 300m/ 1000 ft of ascent leads you to a lesser-known natural landmark in Tolmin – the gorgeous Beri waterfall, which actually consists of two waterfalls – the small Beri and the large Beri (the total fall is about 40m / 130 ft). A great idea for refreshment in the summer!
ENTRANCE FEE: none (yasss again!!)
MOST NA SOČI
Not far away from Tolmin, there is a small, charming town called Most na Soči (The Bridge on the Soča river), which can make a wonderful half-day trip from Tolmin.
Walk around the accumulation lake on the Soča river, over "THE bridge" and around the little town all the way up to the viewpoint near the St. Mary Church. You can visit the archeological museum, go on a boat ride around the lake or rent a SUP or kayak.
FOR ADRENALINE ENTHUSIASTS
Hey, there's no better place for adrenaline activities in Slovenia than in Soča valley! While Bovec further north is known as the adrenaline capital of Slovenia, Tolmin also offers plenty of adrenaline-pumping activities.
It's possible to go kayaking or white-water rafting in Tolmin, another option is canyoning or you can opt for a zipline. For those slightly more faint-hearted souls, there are SUP and bike rentals available or you can explore the Tolmin surroundings on a horseback.
In the Maya Labrca Center, you'll find plenty of options to choose from (AND they have yummy local food and burgers).
---
You love that adrenaline rush? Then you should check out all the best outdoor adventure activities in Slovenia!
---
TOLMIN ACCOMMODATIONS 
Despite being a small town, Tolmin offers a variety of accommodations.
BUDGET-FRIENDLY: 
Camping Siber – a simple but lovely campground with a mini restaurant and a few glamping houses. Our regular choice of accommodation in Tolmin during the summer.
There are a couple of hostels in Tolmin as well – Hostel Paradiso and Hostel Hildegarden – both are affordable, clean, and with everything a backpacker would need. While Hostel Paradiso features a bar, you'll find a garden and BBQ equipment in Hostel Hildegarden. Tough choice, right?! 😉
SOMEWHERE IN THE MIDDLE: 
There are plenty of apartments available across and around town. Apartments Cvetje or Guest House Rosi (close to Tolmin) or Apartments Soca Tolmin (in the center) has great reviews. Glamping Tinka might be a nice choice for summer as well!
SWANKY VIBES? 
Ok! If you prefer hotels, Hotel Dvorec in Tolmin will be a perfect choice (we were there for New Year's Eve) or The Blue House a little further from the town which has a wonderful interior and features a lovely outdoor terrace. If you're traveling with a family/ a group of friends, Nature View House with Sauna is a great option.  The best thing? Despite putting these accommodations in the "swanky" category, the prices are still great for what they offer!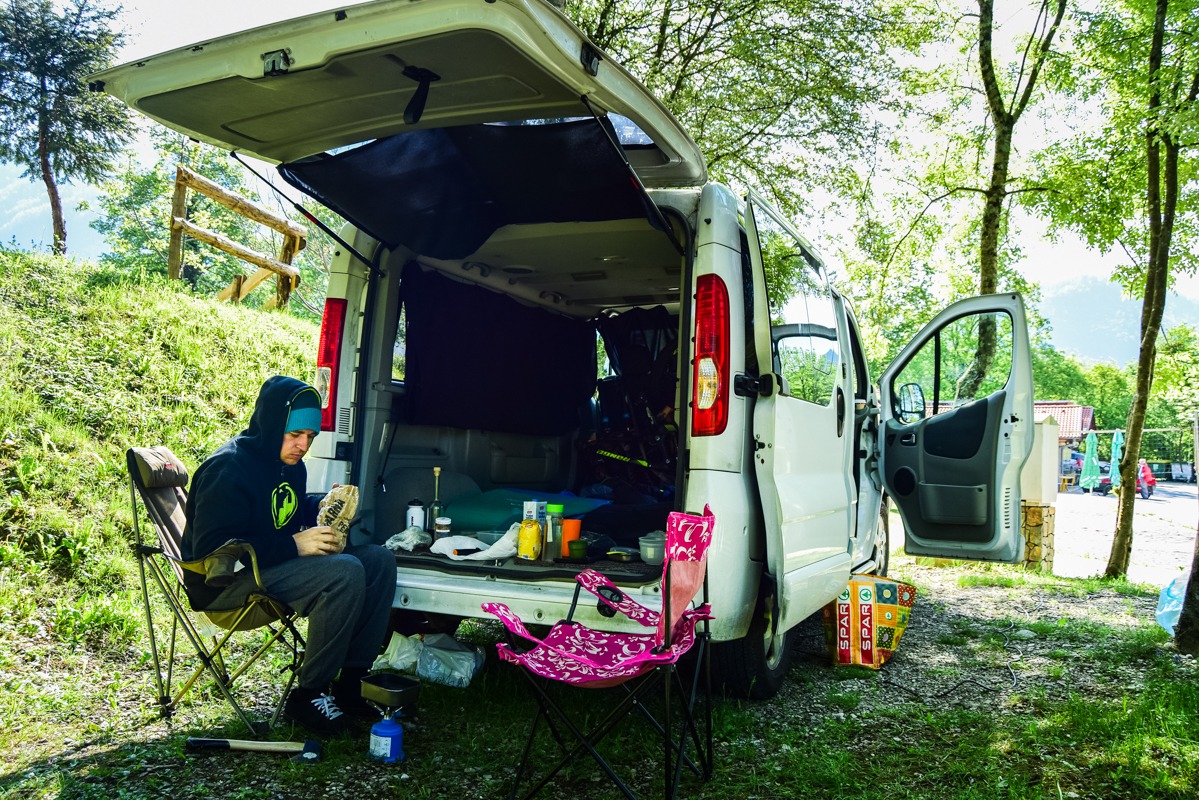 WHERE TO EAT IN TOLMIN?
THE most important thing, right?! 😉
Somehow there are not as many restaurants in Tolmin as one would imagine considering the number of tourists visiting Tolmin every year. But, there are a few solid options we can definitely recommend):
Labrca Restaurant & Outdoor center (yes, the one I mentioned earlier) – delicious burgers, pizzas and local food
Gostilna Zatolmin – here you'll find many yummy Slovenian (and European) dishes
Kavarna & gostilna pri Noni  – literal translation means Coffee shop & restaurant at Grandma's, and that's just what it is; simple but tasty grill dishes, pizzas and local food.
We haven't been yet in the following two but you can try Pizzeria Soča for pizzas & Pension Rutar if you're craving seafood.
For a morning coffee, just choose one of the coffee shops/bars in the center of Tolmin – we didn't find outstanding coffee in any of them, but they are all ok!
---
Wondering what else to visit in Slovenia?
Well, we can't recommend you enough to go off the beaten path as well (you know, something else besides Ljubljana-Bled-Soča valley-Piran itinerary that EVERYONE is advertising 😉 ). You might be surprised. A LOT!
Our suggestions? Prekmurje and Dolenjska regions!
Craving spa time? Ok, then certainly head to Podčetrtek in Slovenia where the best Slovenian wellness is located!
---
Do you have any other questions about Tolmin Gorges, Tolmin, or Soča valley (or about Slovenia in general?) Just leave a comment below or shoot us a message.
If we won't know the answer (you know, being locals and all that), er – then I don't know who will 😛
Happy Vagabonding!