Hiking in the pristine nature of New England's national park. Exploring port towns and charming lighthouses. Learning about famous witch trials. Indulging in delicious seafood during the day and craft-brewery-hopping in the evenings. Whale watching, cycling and spending time with our friends. 
This should have been us, having the time of our lives on our New England road trip.
But, spoiler alert, 2020 spring happened. *sigh*
What should have been amazing 3 weeks in New England with our USA friends who we met in Patagonia during our yearlong honeymoon, ended up being a quarantine on our couch. *sobbing in the closet*
And our trip to New England was postponed until summer until fall indefinitely (?).
And then I got a brilliant idea.
Yeah, I've already researched a few things we want to see on our New England road trip – which WILL happen ONE day in the future *keeping my fingers and toes crossed for 2022* – but, I know I could actually benefit from having more time to plan this amazing road trip.
And what's a better way to do this than to ask fellow travel bloggers which are those must-stops on a road trip around New England that we surely don't want to miss when we finally make it there?
I received 15 wonderful ideas and I'm excited to share them with you – ya' know, for all you lucky travel gals who will make it there before we do!
MUST-SEE PLACES TO VISIT ON A NEW ENGLAND ROAD TRIP
SILVER STAND STATE PARK, Connecticut
Silver Sand State Park, in Milford, CT is located on the long island sound. It is about 1.5 hours north of NYC and 2.5 hours from Albany, NY.
This beach is wonderful for exploring wildlife with a variety of birds and a ton of baby hermit crabs for kids to catch. Bring buckets and a sand sifter as well as water shoes as the beach has a lot of shells. There is a nice scenic boardwalk and sometimes if the tide is low enough you can walk over to Charles Island.
The shallow waters are great for kids to splash around in. Parking is Free and there are no entrance fees. Restrooms and changing facilities are available and there are lifeguards available during the day.
If staying overnight the Hyatt Place Milford is located a short drive away, offering king or 2 double bedrooms with a sleeper sofa. Plenty of space for up to 6 people.
By Nicole from Affordable Family Travel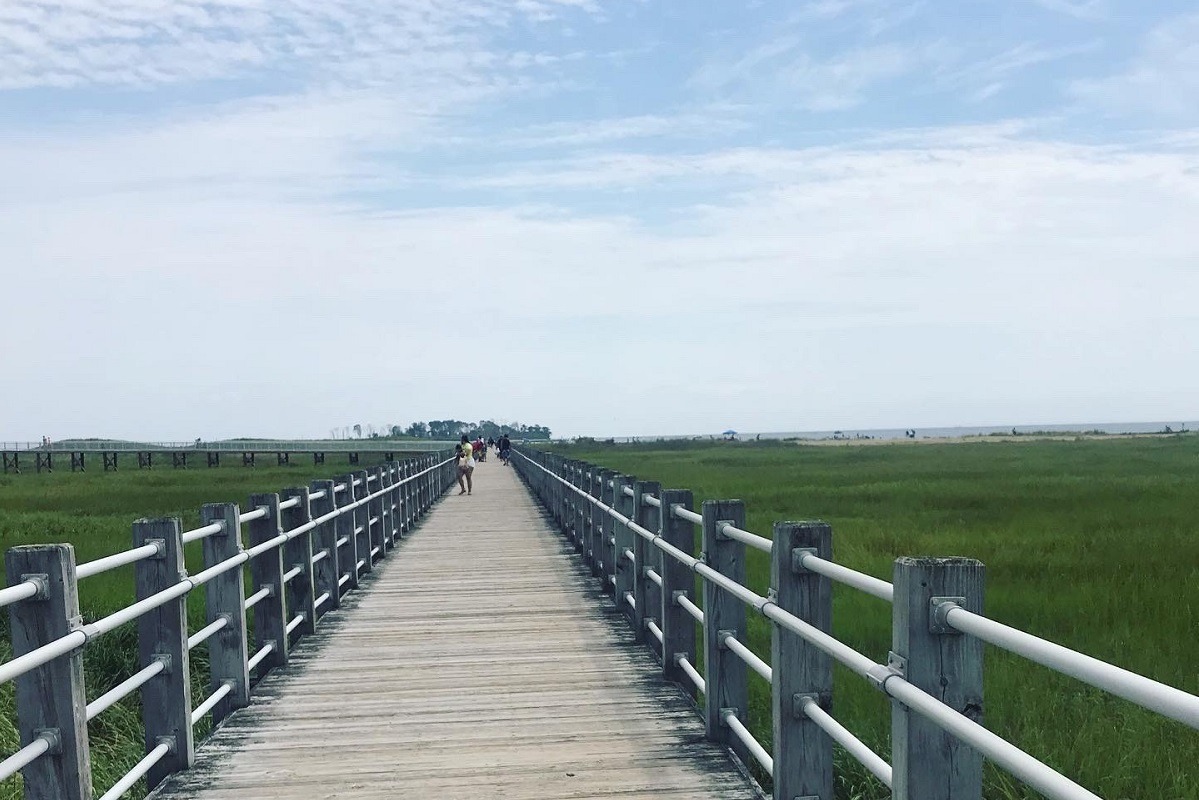 PROVIDENCE, Rhode Island
Providence is the capital city of Rhode Island, full of fun, great food, culture, and lots of history. When visiting, be sure to check out Roger Williams Park, which has much to offer. Visit the Museum of Natural History which also has a Planetarium, the Botanical Gardens, the Zoo, and if visiting with children Carousel Village.
Be sure to take a Providence River Boat Tour, which will take you through the waterways of Providence while giving you some great views and a little history of Providence. The Water Fire display is a must if you happen to be in the area when it is happening. This event takes place on select days throughout the year. During the event over 100 small bonfires are ignited on braziers along the Providence Waterways, adding to the great sights.
For some relaxation visit the Waterplace Park or catch a show at the Providence Performing Arts Center. View some of Providence's historic architecture along Benefit Street or visit Federal Hill to explore Providence's Italian section.
If you are staying overnight, check out the Dean, a boutique-style hotel. The hotel has many amenities and dining options, including Bolt Coffee with locally roasted beans and the Dean Bar, a speak-easy style bar.
By Melissa from Navigation Junkie
NEWPORT, Rhode Island
Newport, Rhode Island is a gorgeous place to stay overnight on any road trip in New England. It's an incredibly charming town whose known history dates back well over four centuries.
Book a reservation at the Castle Hill Inn and plan to stay at least two nights. Be sure to journey over to the small lighthouse just by the hotel and have brunch and cocktails overlooking the harbor on the property. It's a very famous hotel and view in Newport.
You'll be able to enjoy a lot of waterfront activities because Newport is an island on Narragansett Bay. Stop by Bowen's Wharf for lunch and grab a cup of seafood soup, like clam chowder, and local New England beer at The Black Pearl. (They have outdoor seating overlooking the harbor.) Then make reservations for dinner at the restaurant, Fluke.
You can get some exercise by exploring the famous Cliff Walk. It's a well-known trail that follows the water where you will get a glimpse of some of the most gorgeous mansions in Newport.
Mikkel Woodruff from Sometimes Home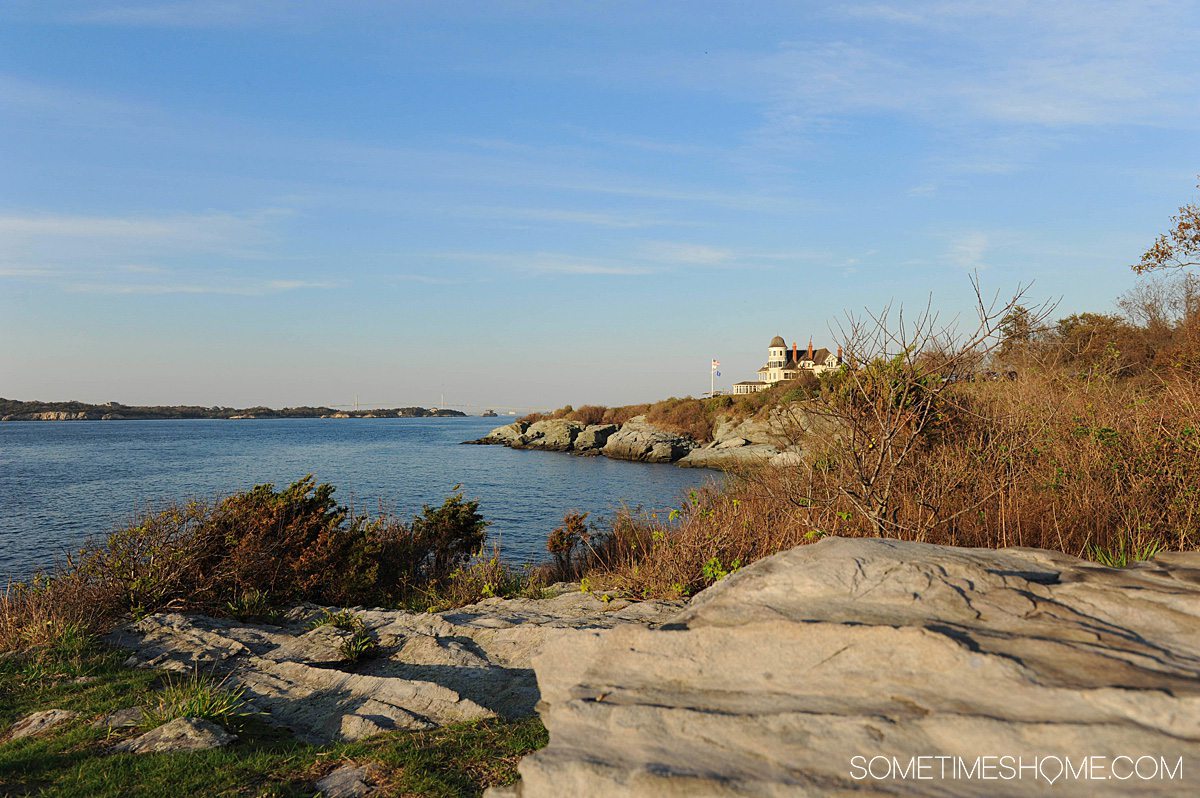 BOSTON, Massachusetts
You should definitely visit Massachusett's capital city, Boston on your New England road trip. The city is full of history and has a chilled atmosphere. The city even boasts a 40-mile long harbor walk where you can enjoy many activities along the way.
Whether you spend one day in Boston or prolong your stay with a few more days, you should definitely walk the famous Freedom trail which takes you to the most iconic landmarks which are all important for American history. Among them, you find Boston Common, America's oldest public park and Boston Public Library in Copley Square which might just be the country's most beautiful library.
Head to Skywalk Observatory for epic city views. If you stay the night in Boston, make sure you catch it for the sunset! If you're up for an experience of a lifetime and happen to be there between May and October, you can even go on a whale watching tour. There are multiple companies that offer whale watching so you can book directly on the harbor.
Stay at HI Boston Hostel if you want to meet other travelers or at YOTEL Boston if you want more comfort.
By Linn from Brainy Backpackers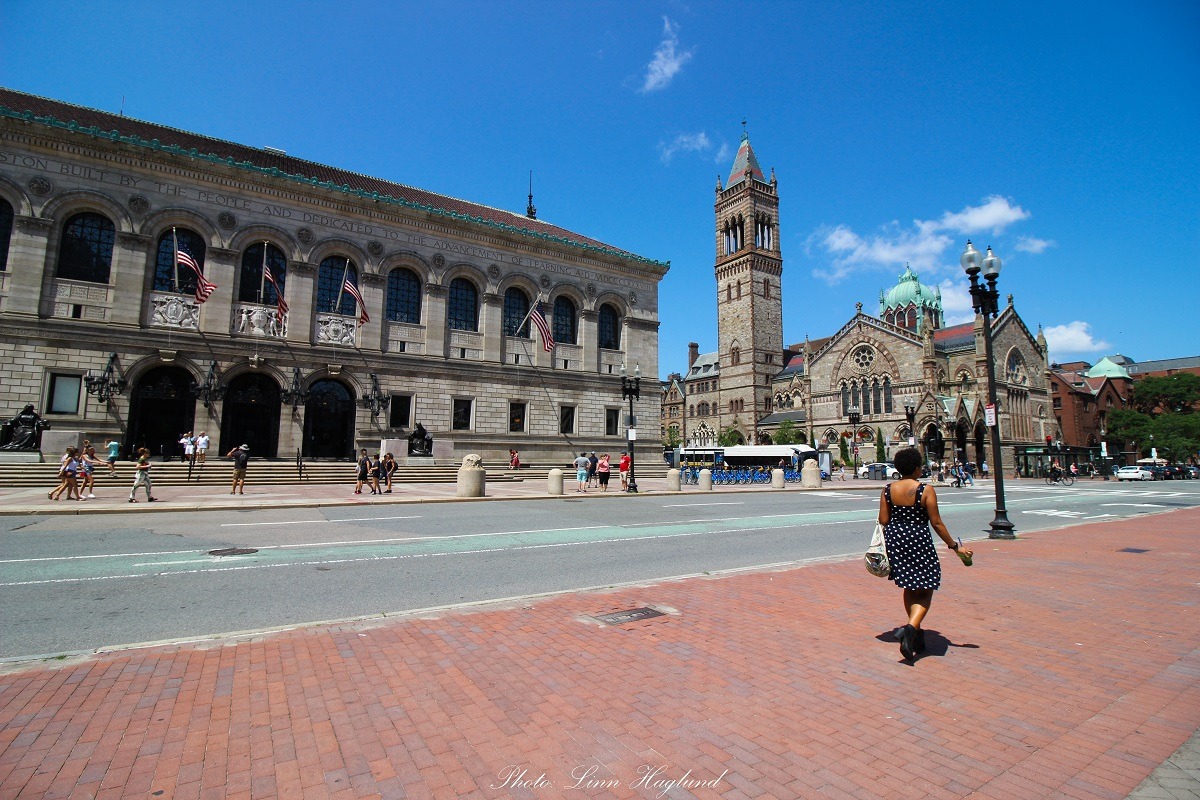 CAMBRIDGE, Massachusetts
The perfect place to visit during a road trip through New England is Cambridge, Massachusetts! Located just across the Charles River from Boston, Cambridge is one of the city's most beautiful suburbs and is filled with its own character in charm.
Cambridge is most well-known for being home to the Ivy League university Harvard, which is one of the top places to visit here. Harvard Square is also loads of fun and is the most historic area of the city. To do some shopping, be sure to go to Porter Square. This area is filled with many different local shops, including Porter Square Books, which is a quaint bookstore with its own cafe.
While in Cambridge, be sure not to miss out on visiting Roxy's Grilled Cheese, which is one of the best places to get food in the Boston area. They were featured on the Great Food Truck Race a few years back and sell a variety of grilled cheese options.
Some of the best places to stay in Cambridge include the Irving House at Harvard, the Hyatt Regency Cambridge, and the Mary Prentiss Inn. The Hyatt has the best view of the Boston skyline and the Charles River.
Recommended by Krystianna from Volumes & Voyages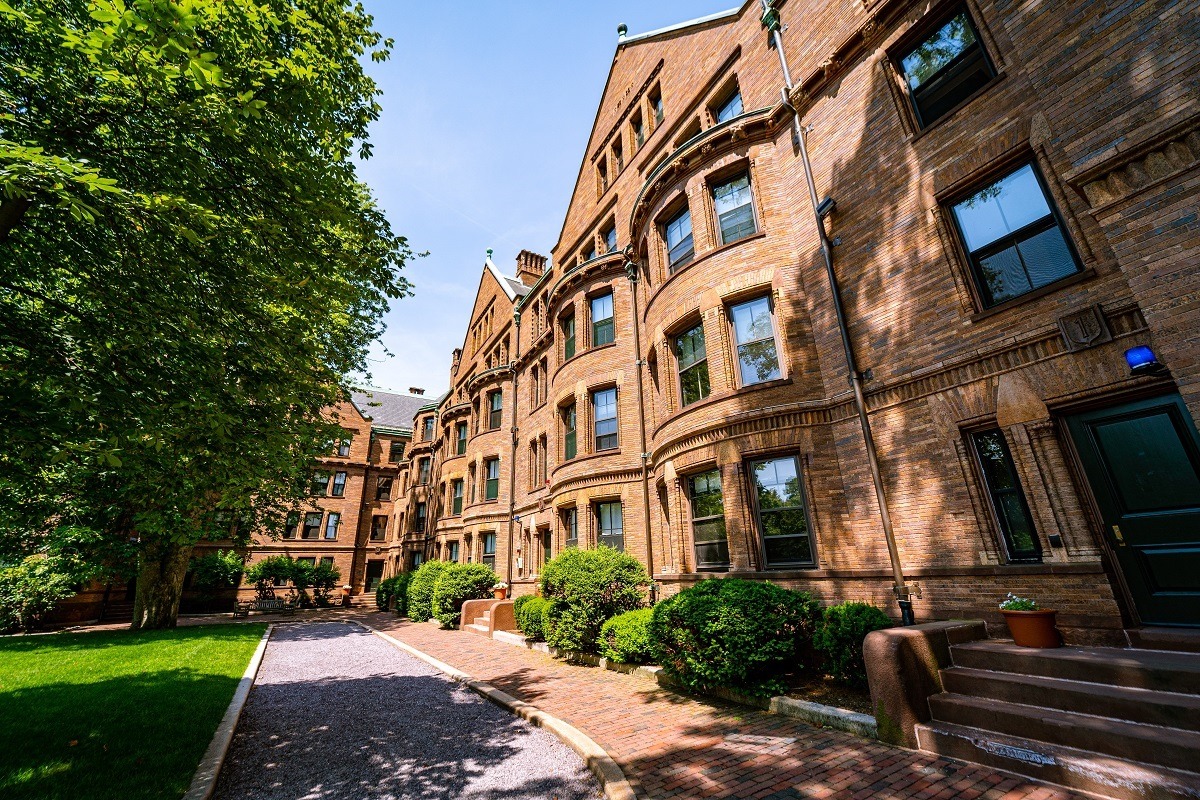 PROVINCETOWN, Massachusetts
Provincetown is located on the tip of Cape Cod and makes for an excellent stop on a New England road trip. There is only one highway leading into the city and driving can take a couple of hours, particularly in peak season due to traffic. To avoid the hassle, it's best to drive in during low peak times if you're visiting during the summer.
If you study American history, you'll learn that Provincetown was the first place where the Pilgrims landed in 1620, before arriving at Plymouth Rock. They later continued onto Plymouth and created the first English settlement in what later became the United States. Better known as P-town, this resort town is best explored in the summer months. Visiting from November to May is the coldest part of the year and most of the city shuts down in the offseason.
Some highlights to explore in the area include beaches, sand dunes, biking trails, art galleries, seafood, nightlife plus historical monuments, and museums.
When looking for a place to stay, choosing a guesthouse or B&B will give you the most authentic experience. A couple of recommended places include The Secret Garden Inn or Carpe Diem, which also has a top-rated day spa onsite.
By Auston Matta from Two Bad Tourists

CHATHAM, Massachusetts
On a New England road trip, we recommend driving to the town of Chatham, Massachusetts in Cape Cod. For being a small town, there are actually a lot of things to do in Chatham! It's easy to get to, but it's not along Cape Cod's busy Highway 6, so it's a bit off-the-beaten-path
This cute town is surrounded by water on three sides, so it has a rich maritime history and an active fishing port. One of the most popular attractions in town is the Chatham Lighthouse, which was built in 1877. Across from it is Lighthouse Beach, which is very popular.
Chatham also has some great museums. Our favorite was the Atwood Museum, which is in a historic home that was built in the 1750s. There are really great exhibits and artifacts that tell the history of the area.
Of course, you have to take a stroll down Chatham's Main Street. There are cute shops, restaurants, and even a chocolate shop called Chatham Candy Manor.
You could easily spend a couple of days in Chatham, so if you do decide to spend the night, we recommend staying at the Chatham Wayside Inn. It's right on Main Street, has a pool, and breakfast is included.
By Vicky from Buddy The Traveling Monkey
SALEM, Massachusetts
The small town located in the state of Massachusetts, Salem is known around the world for the infamous witch trials of the late 1600s. Over 200 people were accused, 30 were found guilty, and 25 people died. This period represents a sad time in Salem's past, but the quaint village is a great place to visit to learn about the history, and culture, find some great food, and unique shops.
When visiting Salem, be sure to visit the Salem Witch Museum with exhibits of the trials, the House of the Seven Gables for a tour, and the Witch House of Salem for a tour of the only building still standing related to the trails. Visit the Salem Witch Trials Memorial, spend time at the Salem Common, and spend time shopping at the many unique shops.
There are plenty of walking tours of the village, including historic tours, ghost tours, and even a Hocus Pocus tour that you can take to visit the sites of the filming of Disney's Hocus Pocus.
If you are looking to stay overnight, the Hawthorne Hotel is a great option for lodging. The hotel is located in the center of Salem and provides you with easy access to many of the top sights. If you are looking for a spooky experience, the hotel is believed by many to be haunted.
By Melissa from Navigation Junkie
ROCKPORT, Massachusetts
Rockport, MA is located just 40 miles from Boston and is a must-visit if you are a lover of charming, seaside towns.
Head straight to the iconic "Motif No. 1", a dark, red shack set among gently bobbing boats on the harbor. This picturesque shed is said to be the most painted building in America. Speaking of art, Rockport's art colony, one of the oldest in the country, is home to over thirty galleries.
If shopping is more your speed, head to one of the town's many charming shops where you can find handcrafted jewelry, clothing, local crafts, scrumptious chocolates, and more.
Does shopping make you hungry? You're in luck! Rockport specializes in fresh, local seafood, and offers options for every appetite. Grab a coffee from Brothers Brew Coffee Shop, enjoy a boiled lobster at Roy Moore Lobster Company, or grab a cone at the Ice Cream Store – Chocolate Lovers Chocolate is my favorite!
Need adventure? Head to one of Rockport's beaches, visit Halibut Point State Park for a stroll with breath-taking scenery or hop on a whale watch cruise.
Spend the night at one of Rockport's charming inns, such as the Yankee Clipper Inn, a 1929 art deco mansion overlooking the ocean.
No matter how you spend your time, you are sure to fall in love with this beautiful hidden gem!
By Lynne from Well-Caffeinated Traveller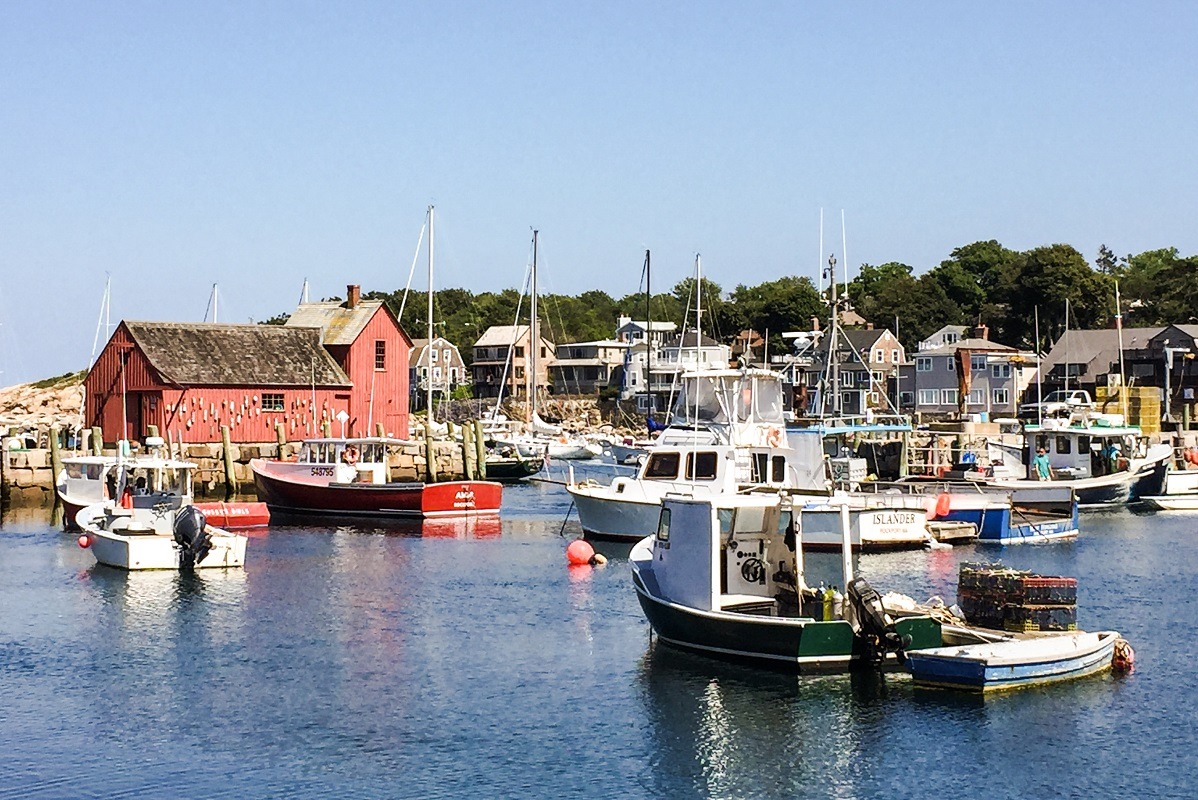 PORTLAND, Maine
Portland, Maine is a historic port city with a relaxed feel that draws foodies from around the region. The cobbled streets of The Old Port are packed with restaurants and renowned chefs. With fishermen (and lobstermen) just a stone's throw away, the seafood is fresh and plentiful.
Numerous breweries within walking distance of downtown, guarantee you'll have something to wash all that delicious food down with. Little shops and vintage stores nestled off the beaten path will have you exploring all the alleys and smaller side streets.
Parks and beaches offer a chance to relax and look out over the islands and the North Atlantic beyond. A trip to Maine wouldn't be complete without visiting a lighthouse, luckily Portland has a few to choose from. Check out Bug Light or Portland Head Light, the oldest lighthouse in Maine.
The Press Hotel sits right in the heart of things and has a chic vintage vibe with plenty of amenities. For a classic New England stay, check out The Inn on Carleton, a more bed and breakfast feel in a historic building on The West End. Or if you're on a tighter budget, cruise into the funky Black Elephant Hostel.
By Amy from Spastastic Goat
ROCKLAND, Maine
Highway 1 runs along the rugged Maine coast from Freeport to Bar Harbor and beyond. You can turn off the highway to visit small towns along the way, but wherever you go, don't miss historic Rockland in Midcoast Maine on Penobscot Bay. It's an easily accessible and fun drive if you enjoy a good old-fashioned road trip. Whether you're an art lover, history buff, or foodie, there's always lots of fun things to do in Rockland.
Rockland is a port town, and the lobstering tradition runs deep. Considered the finest in the world, delicious sweet Maine lobsters fresh from the sea make Rockland a favorite foodie destination. Annually, on the first weekend of August,  the Camden-Rockland Lobster Festival is held right at the harbor. Freshly cooked lobsters and Maine blueberry cobbler are at the top of the menu.
For lovers of American art especially lovers of the works of Andrew and Jamie Wyeth, visit the Center for Maine Contemporary Art, the Wyeth Center and then the nearby Farnsworth Art Museum, dedicated solely to American and Maine-inspired art. For something special, drive the short distance to the Olson House for a guided free tour.
For dinner, be sure and try Primo and In Good Company, or walk to the Rock Harbor Pub & Brewing Company on Main St. for lunch and a pint or two.
Then stay a night or two at 250 Main Hotel, a modern boutique hotel overlooking Rockland Harbor.
ACADIA NATIONAL PARK, Maine
Acadia National Park is located in Mount Desert Island, on the stunning northeastern coast of Maine. Just five hours north of Boston, Acadia is one of the most beautiful places in New England, and a place everyone must visit while road tripping through the area.
There's plenty of hiking, biking, kayaking, and sightseeing to do in Acadia. There are miles of paved carriage roads with gentle slopes that will take you to many lakes hidden throughout the park. Additionally, the ocean path trail will take you to spectacular viewpoints of the rugged Maine coast.
One of the best things to do in Acadia is to watch the sunrise at the top of Cadillac Mountain. This is also a great place to see the famous New England fall colors, to stargaze at night, and to go for a hike.
While camping in Acadia is easily accessible, there's also plenty of lodging options in nearby Bar Harbor.
By Alenis from Sea Salt & Fog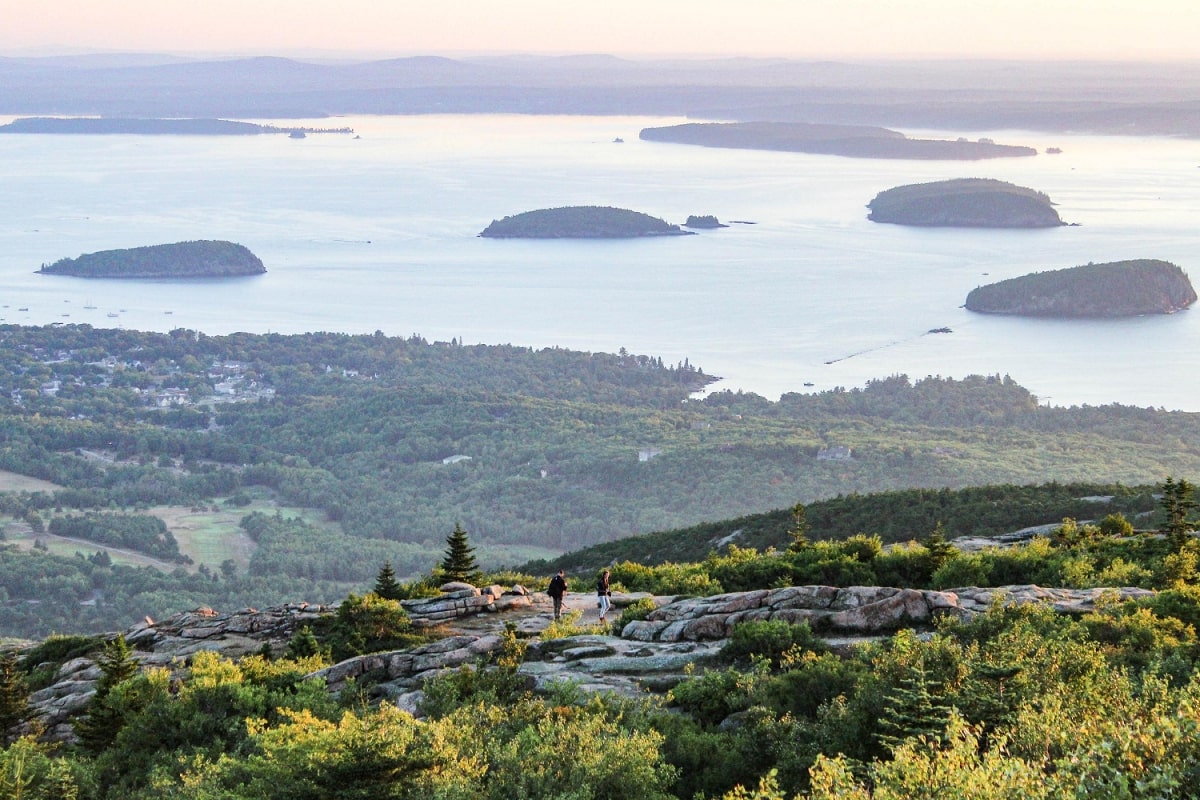 DEER ISLE, Maine
One of the best offbeat destinations in New England is also the perfect spot for any road trip – Deer Isle, Maine. The slow-paced town is quaint and full of beauty and nature. You immediately notice the laid-back atmosphere when you arrive on the small island in Penobscot Bay.
The best things to do in Deer Isle, Maine are unsurprisingly outdoor and nature activities. Hiking in nature preserves is a favorite of all visitors. You can also enjoy a day on the waters and book a canoeing or kayaking excursion. The deep waters are calm and make for perfect conditions to navigate around the island. Even beginners can master boating in Deer Isle, Maine.
Besides nature, you'll love to visit the local shops like Nelly's Jams and Jellies. If you're visiting with children, check out Discovery Wharf. It's a science and marine biology exhibit open during the summer months.
There are plenty of cute cottages for rent in Deer Isle, Maine as well as a budget hostel for inexpensive lodging. The Inn On The Habor is a perfect midrange option with great service and an ideal location.
By Derek and Mike from Robe Trotting
KANCAMAGUS HIGHWAY, New Hampshire
A New England road trip is not complete without a drive on the Kancamagus Highway. The 34-mile scenic byway weaves through the beautiful White Mountains in New Hampshire, offering many things to do and see.
Although a drive on the Kancamagus Highway is only an hour-long, it is recommended to spend a few days in the area. The towns of Lincoln and Conway offer a variety of accommodations, restaurants, stores, and activities. There are also six campgrounds along the Kancamagus Highway that offer the perfect opportunity to unplug and relax.
The most scenic overlooks on the Kancamagus Highway are Pemigewasset Overlook, CL Graham Wangan, Sugar Hill Overlook and Hancock Overlook and make sure not to miss gorgeous waterfalls such as Lower Falls, Rocky Gorge and Sabbaday Falls.
Hiking enthusiasts will love  Boulder Loop Trail, South Moat Mountain Trail, Champney Brook Trail to Mount Chocorua and Lincoln Woods Trail.
The Kancamagus Highway is open year-round, offering incredible mountain views and fun activities in every season. The best time to drive the Kancamagus Highway is in the fall because it is considered one of the most beautiful foliage drives in the world! No matter when you visit the Kancamagus Highway, it will quickly become one of your favorite places in New England!
If you are looking for another place in New Hampshire to add to your New England road trip, visit Franconia Notch State Park!
By Nichole from Nichole the Nomad
BURLINGTON, Vermont
Burlington, the largest city in Vermont, the Green Mountain State boasts a stunning location on the eastern shore of Lake Champlain with views of the Adirondack Mountains. In the very northwestern point of New England, the border with Canada is just 45 miles to the north.
Enjoying such natural beauty it is no surprise that Burlington is a haven for outdoor sports and activities. Hiking and cycling both around the Lake but also on the nearby Lake Champlain islands a short ferry ride away. The lake itself is a beautiful setting for sailing and kayaking.
After such exertions enjoy the products of the local brewery scene at one of Burlington's many charming restaurants or some retail therapy at the city's many specialty stores.
For somewhere to stay during your stay there can be nowhere better than the elegant Hotel Vermont. Boasting chic rooms and some of the finest restaurants and bars in the city you will be more than spoilt for choice!
By Paul from The Two That Do
STOWE, Vermont
Stowe in Vermont is known as a four-season town because of the range of activities you can enjoy at whatever time of year you visit. Located at the base of Mount Mansfield, the highest peak in Vermont, Stowe is well known for skiing but that just scratches the surface.
Because of its mountainous terrain, Stowe is an excellent destination for hikers. Trials range across all levels of walkers so there is something for everyone. There are numerous routes you can take up Mount Mansfield but for the best views try Stowe Pinnacle.
Just a little to the South of Stowe is the site of the very first Ben & Jerry's Ice Cream Factory. Take the tour to learn about the Vermont staple.
The town of Stowe itself is a beautiful example of New England. With all the activities available nearby it can be easy to forget to take time to stroll through the town and enjoy its beauty.
Field Guide is a great place to stay in Stowe. The 30-room boutique inn is a stepping distance from downtown Stowe. Shops and fine restaurants are all within easy walking distance and the mountains are just a short drive away.
By Rob from Roam Yonder
Ohhh, now I'm pretty sure we'll have to go to New England for more than just a couple of weeks!
Have you already been to any of these places or visited any other destinations on your New England road trip? Share it with us in the comments, so we can add even more amazing places to our New England bucket list!
And if you're like us at the moment (i.e. counting the days to when we'll be able to travel again), don't forget to save this for later!