Imagine this: Breathtaking landscape with lush green valleys, emerald green rivers, mighty mountain ranges, spectacular lakes, and remarkable coastline with dreamy beaches. Charming historic towns with cobbled streets, Roman ruins, fairytale-like castles, and medieval architecture that transports you right back into the past. Endless opportunities for all kinds of sports and adrenaline-pumping activities. Oh-so-tasty food, that ranges from hearty mountain meals to the delicate seafood dishes. Affordable prices (yasss!). Does this sound exciting? Then let me tell you –  you can experience it all at once on your Balkan trip.
WAIT… WHERE EXACTLY IS BALKAN?
The Balkans or the Balkan peninsula is a region in Southeast Europe, that actually has various historical meanings and geographical definitions even nowadays.
Geographically, it is usually bordered by the Adriatic Sea in the northwest, the Black Sea in the northeast, and the Ionian and the Aegean Sea in the south. Nevertheless, Greece is usually not considered part of the Balkans from the geopolitical point of view and when talking about "trip to the Balkans", Greece is usually meant as a country "south of the Balkan" – that's why it's also not included in this article.
The northern border, however, is many times open to the discussion.
Yep, here goes a lecture from a Slovenian. 
Since Yugoslavia was dissolved in 1991, with Slovenia being the first country to claim independence, we do not consider Slovenia to be part of the Balkans. TBH, the term has a slightly negative political meaning, so we – er, kinda distance ourselves from it. And besides, Slovenia officially belongs to Central Europe as far as it concerns geographical terms. Nevertheless, we have strong historical and cultural tides with the Balkans (similar language being one of them), so we're kinda somewhere in between! 🙂
And since the majority of people include Slovenia to their Balkan itinerary anyway, I'm gonna play along this time! 😀 And confuse all the foreigners we met until now to whom I'd been always telling that "I love the Balkans, but no – Slovenia is not part of the Balkan, it is a Central European country!" 😉
Either you're planning a Balkan road trip (definitely recommended!), going on Balkan tour, or backpacking the Balkan countries, there is an abundance of stunning places you can visit on the Balkan peninsula. To help you choose the best places and create an awesome itinerary, I've asked fellow bloggers for their recommendations for the best destinations in the Balkans.
So, from famous destinations to less known hidden gems – here are 30 gorgeous places in the Balkans.
---
PRO TIP: If you plan to do a "big Balkan trip", it would be best to land in Venice (Italy) or in Budapest (Hungary), and travel in a loop – either counterclockwise, starting in Slovenia or clockwise (starting in Romania). 
Don't have time for the whole Balkan? Then choose which part of the Balkans are you most interested in and add those destinations to your Balkan itinerary! 🙂
---
AMAZING PLACES TO ADD ON YOUR BALKAN TRIP ITINERARY
1. BLED, SLOVENIA
Suggested by me (Sandra, BlueMarble Vagabonds)
Usually, we save the best for the last, but who says we cannot start with it? Bled is a little town in northwest Slovenia that is famous around the world due to the picturesque church, located on a little island in the middle of Lake Bled. It is surrounded by forests and mountains and a mighty medieval castle sits on the top of a cliff that rises from one side of the lake – yep, a truly postcard-perfect location.
A traditional boat, called "Pletna" can take you to the island, but those more adventurous can also rent a rowboat or a paddle-board. The legend says that the bell in the church makes your wishes come true.
For the stunning view from above, go to the Bled Castle (that can be visited as well) or hike to the charming viewpoint at Osojnica, from where all Insta-worthy photos of Bled are made. Since Bled is located in the middle of the stunning Julian Alps, there are tons of sports and adventure activities you can do around there.
A walk or cycle around Lake Bled is also a wonderful way to spend a morning, possibly followed by a swim in the lake during the summer. And if you'll be tired afterward (er – of course you'll be tired), make sure to get your energy back with the delicious Bled cream cake.
Garden Village Bled near the lake is a wonderful choice for accommodation at Bled with the luxury glamping option for those who aren't willing to sacrifice the comfort of a hotel room but would like to spend a night in nature. Airbnb options around Bled Lake are plentiful as well.
---
⇨ Not on Airbnb yet? Book through this link and you'll get up to $44 off your first trip! 
---
2. SOČA VALLEY, SLOVENIA
Suggested by, er – me, again.
Soča valley, arguably the most beautiful landscape in Slovenia is a valley in northwestern Slovenia, nestled among the mighty Alps. River Soča that carves the valley, is considered to be one of the most beautiful rivers in Europe. The distinct emerald green color of the river looks almost like it's photoshopped and its rapids attract adventure enthusiasts from all around the world. The stunning beauty of the Soča valley certainly makes this place a must-stop on your trip around Balkans.
For a hearty dose of adrenaline stop in Bovec, a tiny town which is often called "the adventure capital of Slovenia". White water rafting, kayaking, mountain biking, and hiking to the stunning waterfalls are just a few of the top activities to be added to your itinerary.
History lovers shouldn't miss the Kobarid and its museum about World War I (several famous battles took place here), which is one of the top museums in Slovenia and was nominated for the European Museum of the Year Award. Not far away from Kobarid, you can dine in Hiša Franko (House Franko), which was listed among the top 50 restaurants in the world in 2019.
For those who prefer an easy walk over long hikes, Tolmin Gorges will be a perfect place – the circular path leads you through the two stunning wild gorges that confluence into one.
If you prefer camping, you can stay in one of the many camping sites,  but there are also plenty of apartments available. Hotel Sanje ob Soči is a lovely option as well.
---
PSST... I'm Slovenian, so I'm kinda biased, I know. But – I've seen and fallen in love with quite a few places in my life (#onebigsuckerforBalihere), but I still feel Soča valley is one of the most beautiful ones. We keep returning here and it seems like we always discover something new. So, bottom line – believe me when I say that's one of the places to add to your once-in-a-lifetime bucket list! 😉
---
3. MARIBOR, SLOVENIA
Suggested by Kamila from My Wanderlust
Maribor, the second-largest city in Slovenia isn't often included in Slovenia itinerary. Big mistake, as this is such a pleasant and charming place to visit and relax, preferably over the glass of wine. Maribor was founded in the Middle Ages and has been an important center in Central Europe but the city was badly destroyed during World War II. Today you can enjoy a very pleasant old town with numerous beautiful and interesting buildings, such as the castle or the main square, with Plague Column. The riverside area, Lent, is where you will find some of the oldest buildings in the city as well as the oldest grapevine in the world (it's been alive since the 17th century).
Both, Lent and the central part of the city is where you will find numerous cafes and bars and where you can enjoy the vibrant atmosphere. Be sure to climb to the Piramida hill, it's only a short walk from the center but you can see the beautiful panorama of Maribor and surrounding Pohorje mountains. You won't be bored in Maribor as there are plenty of things to do there!
While exploring Maribor, you can stay in Hotel Maribor & Garden rooms or Baščaršija Etno House.
---
Are you perhaps interested in more off-beat, but no less spectacular places? Then Prekmurje region in Slovenia might be an ideal place for you!
Yes, I'm shamelessly promoting one of my articles, but also – I'm deadly serious about this place being ideal for all those who are into nature, cultural heritage (fancy sleeping alone in the castle?), rich cuisine, and tasty wines, plus –  prefer less crowded places. Sounds exciting? I knew it would. 😉
---
4. ZAGREB, CROATIA
Suggested by Stephanie from Sofia Adventures
While Croatia's coastline might be it's biggest draw, Zagreb, its inland capital, is worth a stop of at least a day or two. Here you'll find the stunning St. Mark's Church with its red, white, and blue-tiled room. Climb up Lotrščak Tower for absolutely fantastic views of the church roof from above. You will also want to visit Ban Josip Jelačić Square, considered to be the unofficial living room of the city. Other important sites include Zagreb Cathedral and the Croatian Museum of Naive Art. For a more quirky experience, spend some time at the Museum of Broken Relationships. This heartbreaking yet cathartic experience is perfect for anyone who has ever experienced a broken heart or a broken relationship…so in a word, everyone.
If you want a gorgeous hotel, book a room at the Hotel Esplanade, one of Zagreb's most Instagrammable places. If that breaks the bank, Lydia Place offers a more affordable option within walking distance to the city's best sites.
5. PULA, CROATIA
Suggested by Cosette from KarsTravels
Pula is a city on the southern tip of peninsula Istria in Northwest Croatia. The center of Pula where most of the worthwhile sites are lies around a low hill with a citadel and is close to the port.
Pula is certainly one of the must-sees on a road trip through the Balkans due to its historic importance and numerous archeological sites from the Roman empire. The most important one is the amphitheater, also called the Arena. It's the 5th largest in the world, with its maximum height of 32 meters (106 ft) and the axes being 132 and 105 meters long (434 and 344 ft). The Arena was built approx. 2000 years ago under emperor Augustus. Over 20.000 spectators could be seated here to watch the gladiators fight and people being thrown to the wild animals. Once a place for cruel games, the arena couldn't be more different today – visitors can enjoy the stunning ambiance and acoustics of operas and concerts that are held here. In the dungeons, there are exhibitions about the production of wine and olive oil in the Roman era.
Other worthwhile Roman remains to visit are the Forum, the Arch of the Sergii, the Gate of Hercules, or the Temple of Augustus.
Camp Arena Stoja is a great campsite just outside the city and by the sea that presents a convenient base for exploring Pula. Another bonus – camping spots are spacious and there are lots of organized activities.
6. PLITVICE LAKES NATIONAL PARK, CROATIA
Suggested by Maggie from The World Was Here First
One of the most spectacular natural sites that you can visit in Croatia and really in the entirety of the Balkans is Plitvice Lakes National Park. The incredible network of lakes and waterfalls that nestles in the mountains of inland Croatia is absolutely stunning and it's really no surprise that it's one of the most popular places to visit in the entire country.
Though many visit Plitvice Lakes as a day trip from Zagreb or Split, you're likely going to get the most out of the park if you spend a night nearby – a great place to rest your head is Guesthouse Turkalj in the village about 5 minutes from the park. Spending the night near Plitvice allows you to get to the park as soon as it opens and will allow you to avoid the inevitable crowds that descend upon this beautiful natural site.
Once at Plitvice Lakes National Park, try to spend at least a few hours exploring this incredible area. There are countless hiking and walking trails that are suitable for different physical abilities and ensure that everyone can enjoy the park to its full potential. The lakes and waterfalls are some of the most majestic in the entirety of Europe and this national park is truly one of the highlights of the Balkan trip.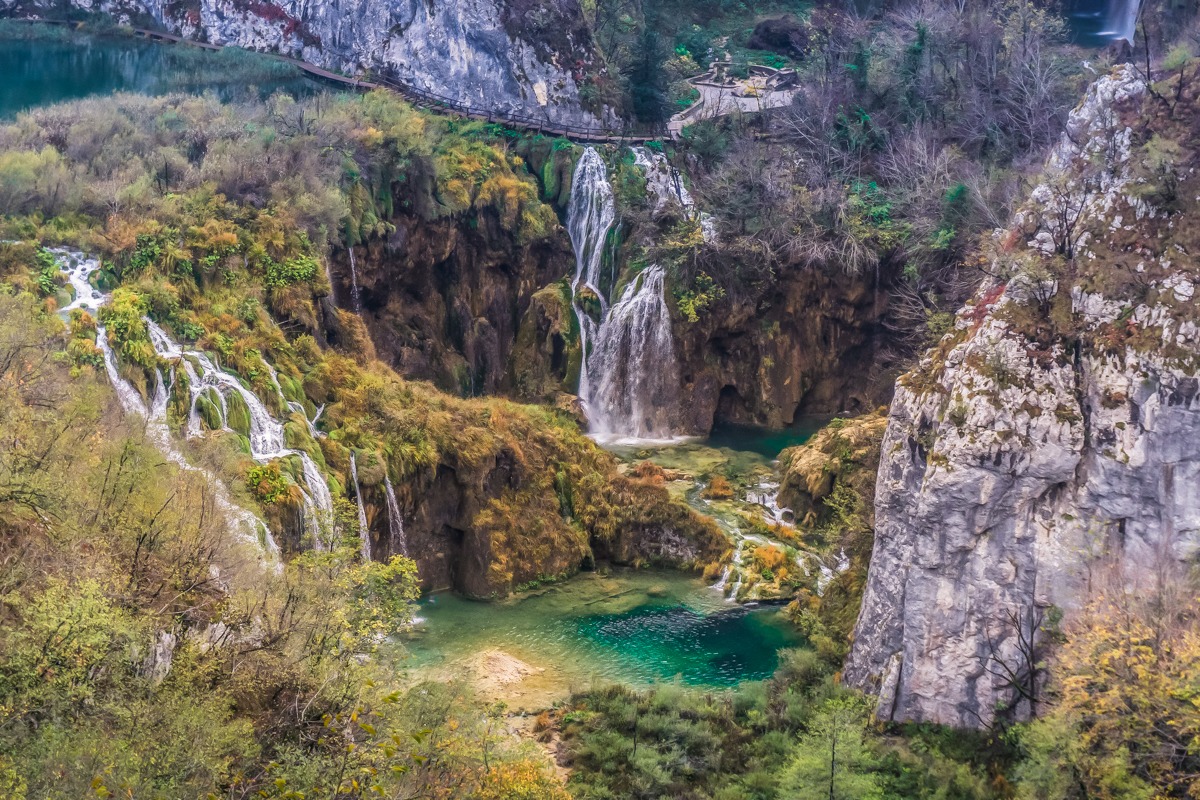 7. KRKA NATIONAL PARK, CROATIA
Suggested by me (Sandra, BlueMarble Vagabonds)
Krka National Park, which is located near Šibenik (a town in the middle of Croatia's Adriatic coast), is another national park in Croatia that impresses with marvelous landscape and gorgeous waterfalls.
River Krka which forms the valley springs in the Dinara mountain range and flows all the way to the Adriatic Sea. The stunning travertine waterfalls on the river attract countless tourists every year – actually, the park became so popular that the government decided to forbid swimming at several places to protect nature (so make sure to read the rules when visiting).
There are countless walking and cycling paths in the park, but for those who prefer to only enjoy in the views (or don't have their own transport), boat tours are available that stop at several places.
The most famous waterfalls in Krka national park are in Skradinski Buk, but Roški waterfalls, Orglice waterfalls and several others are also worth stopping by. There's also a charming Visovac monastery, located on a little island on the river that can be visited by a boat.
The best option to spend a night is a little village Skradin (we loved Apartman Ana) from where boat tours start and where you'll also find the park's information office.
---
Hey, did you know that in Slovenia we too have the Krka river? No kidding!
Actually, Bojan comes from the region where there is Krka river valley, the Dolenjska region. Krka river is my second favorite one in Slovenia (besides Soča river, obviously) – and that's not because Bojan lived there 😀 Nope, it's because you'll find plenty of stunning places along Krka river – from the lovely waterfalls and karst caves to the medieval castles, monasteries, and to the romantic island town in the middle of the river (er – we kinda have a thing with inland islands, obviously. I like to joke it's because our short coastline doesn't have any lol)
I'd totally suggest you go off the beaten path when visiting Slovenia and add at least a few of these places to your itinerary!
---
8. TROGIR, CROATIA
Suggested by Lyndsay from The Purposely Lost
If you're planning to take a road trip through the Dalmatia region of Croatia, be sure to add the beautiful, historic island city of Trogir to your itinerary. Trogir was initially founded by the Ancient Greeks and was occupied throughout most of its history by the Venetians.
It's a small city, so spending a day in Trogir is a perfect amount of time. You can relax in the Town Loggia, then climb to the top of Town Clock Tower at St. Sebastian's Church and take in the gorgeous panoramic views. In the evening, walk along the harbor on their promenade, and take in a different scenic look from the tower at Kamerlengo Castle, the city's former fortress.
Since you're on an island, there's also a beautiful beach. Villa Royal is a hotel that sits on the shore, and only a 15 minute walk away from the city center. The best part? They have free parking! If you're looking to visit a picturesque island city in Croatia, Trogir is the perfect addition to your Balkan road trip.
9. BRELA, CROATIA
Suggested by Kristin from That Traveling Family
Brela, a small seaside town in Croatia, is home to Punta Rata Beach which was named one of the best beaches in the world by Forbes Magazine.  Located only about an hour's drive down the coast from Split to Dubrovnik, Brela is the ideal place for a gorgeous beach getaway.
With a walking path that snakes along the coastline past the cliffside homes, Brela Stone (a small rock island just off the main beach), and numerous gorgeous beaches, it's easy to explore as much or as little of the coast as you like.  Podrace Beach, with its rocky outcropping protecting a small picturesque cove, is an absolute must-visit when in Brela. And located at the foot of Biokovo Mountain, there's more to Brela than just beaches; Hikers, mountain bikers, road cyclists, and nature lovers will enjoy spending some time exploring the Biokovo Nature Park, with views that stretch across the Adriatic Sea all the way to Italy.
There are plenty of options for villa rentals along the coast, or you can opt for an amazing resort experience (we loved the Bluesun Hotel Soline located right on Soline Beach).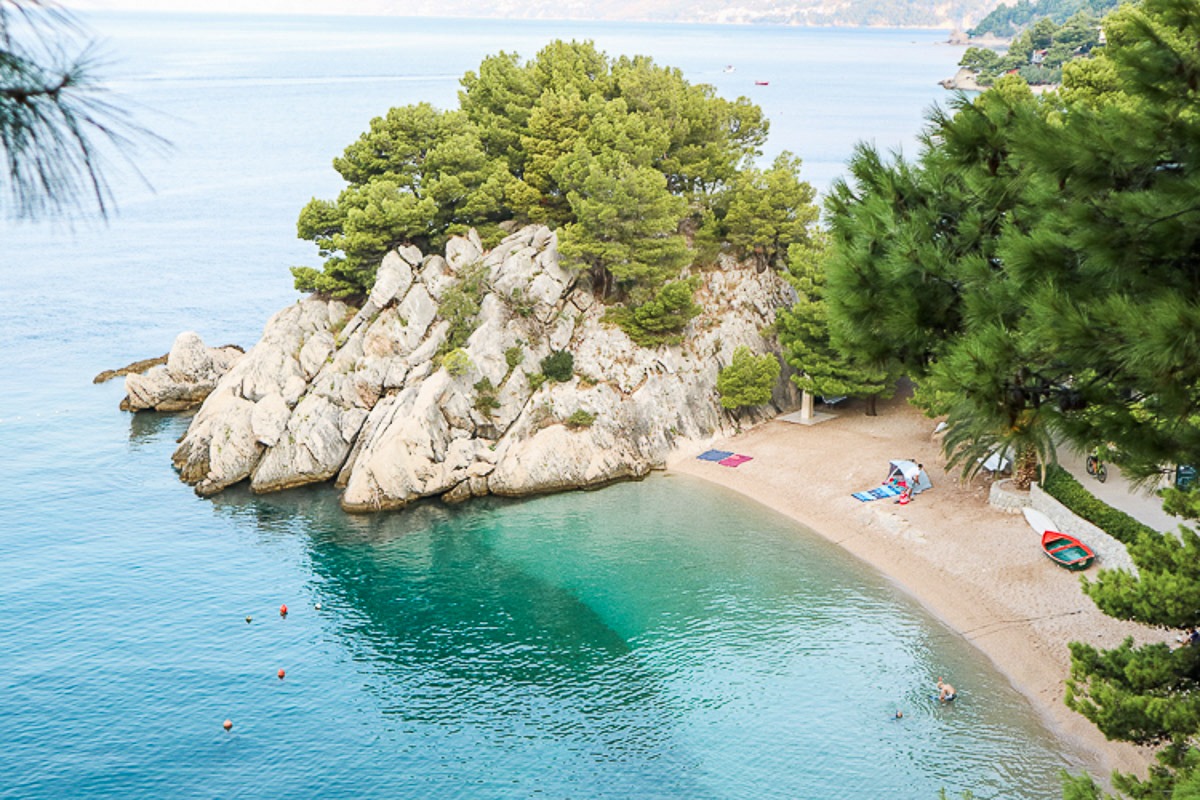 10. DUBROVNIK, CROATIA
Suggested by Wendy Werneth from The Nomadic Vegan
It's no secret that Dubrovnik is a highlight of any trip to the Balkans. Despite being shelled during the Yugoslav Wars in the early '90s, its medieval walls and stone fortresses and churches are remarkably well preserved. It's for good reason that Dubrovnik is known as the "Pearl of the Adriatic".
The best way to understand the layout of the town is by walking along the top of its city walls. From here, you have a fantastic view looking out over the orange-tiled rooftops and beyond to the Adriatic Sea. When viewed from above, you can see that some of the roof tiles are new, having been replaced after the shelling, while those that managed to escape damage look much older. To avoid the crowds, start your walk as early in the morning as possible, starting from the eastern end.
When you're ready for lunch, Nishta is a great little café in the Old Town. One of the few fully vegan restaurants in Croatia, it's also popular with meat-eaters. Villa Katarina is a great place to base yourself in Dubrovnik. It's centrally located near the historic center and the beaches and the views from the shared rooftop terrace are lovely.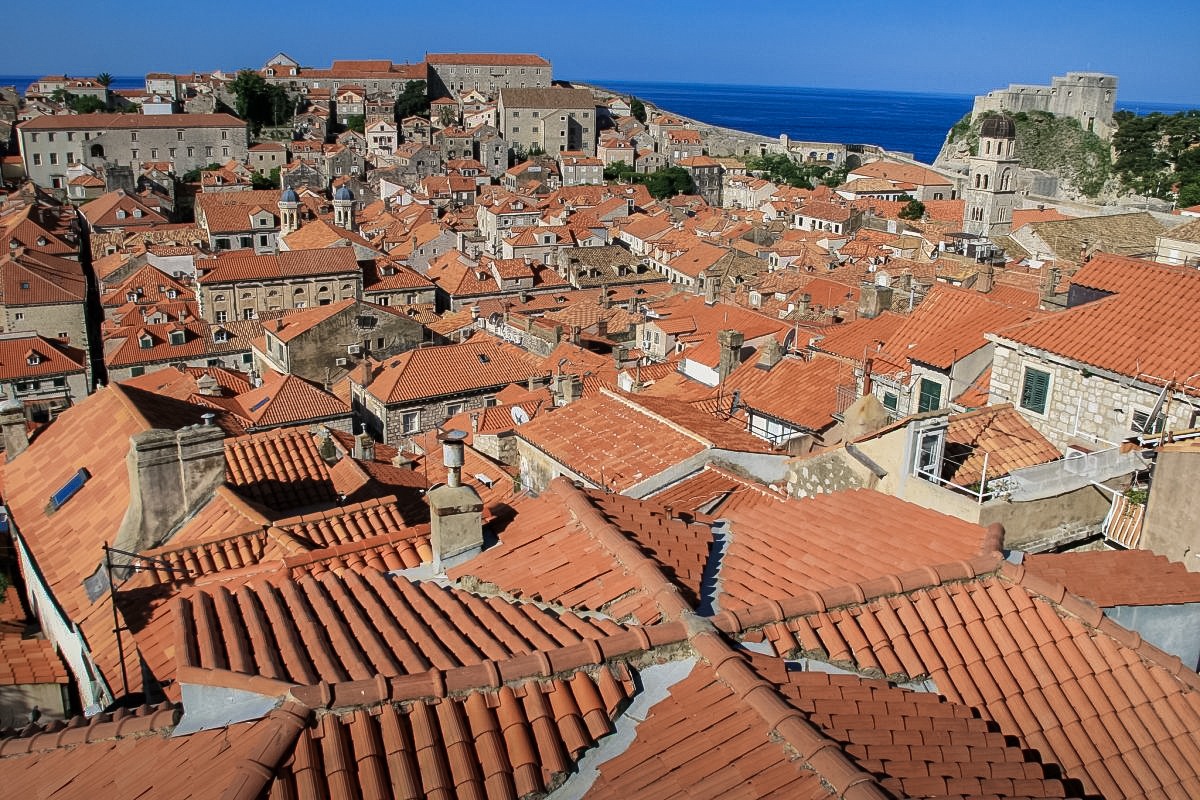 11. POCITELJ, BOSNIA AND HERZEGOVINA
Suggested by Mayuri from ToSomePlaceNew
Pocitelj is a cute village and an open-air museum located in Bosnia and Herzegovina. Its location on a hilltop, with stunning views of the Neretva river, makes for a glorious portrait to remember.
What is even better is that this place is not super crowded, and is currently a UNESCO World Heritage designate and can be easily explored on a day trip from Dubrovnik in Croatia or road tripping through Bosnia from Sarajevo.
The history of this unique village can be traced back to the Middle Ages, and then it grew prominence in the 15th century. It was later abandoned, and during the War period in the Balkans in the 1990s the village suffered a lot of damage and now only a handful of residents remain.
The entire complex is like a small town and self-sufficient in itself from an amphitheater, mosque, houses, market, and a school.
There are no hotels or accommodation here, so it's best explored from either Dubrovnik, Mostar or Sarajevo on a day trip, or as a half-day stop on a Balkan road trip.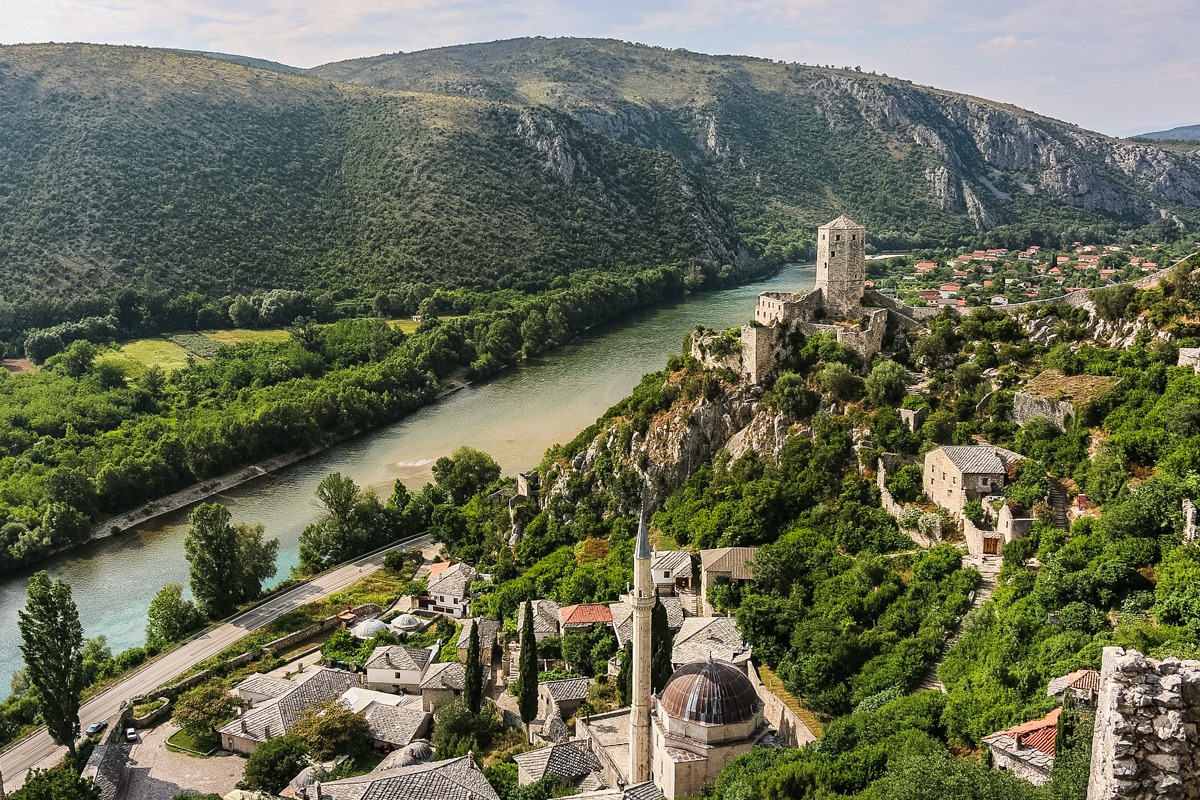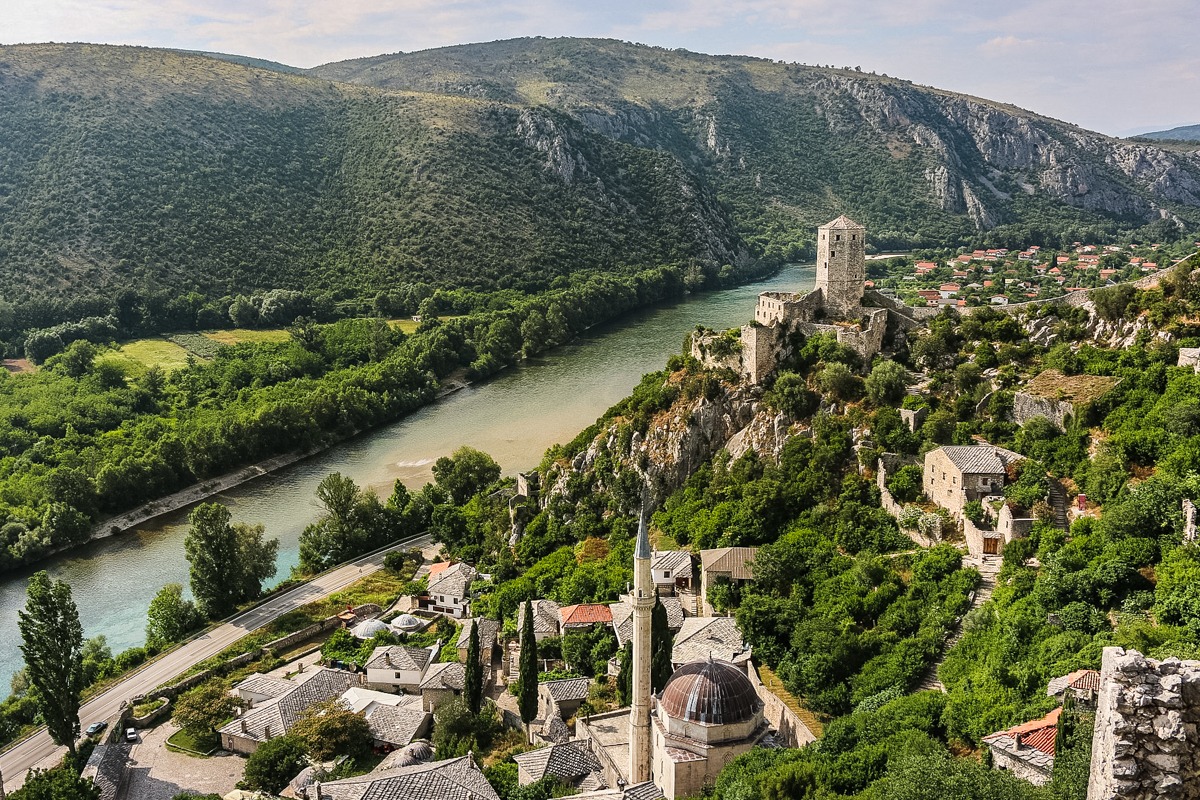 12. KRAVICE WATERFALLS, BOSNIA AND HERZEGOVINA
Suggested by Jasmine & Bevan from The Travel Quandary
Croatia is not the only place in the Balkans with beautiful waterfalls. Kravice Waterfalls have quickly become a popular hotspot for travelers on a Balkans road trip. Located in Bosnia & Herzegovina, Kravice Waterfalls are approximately 40 minutes' drive from Mostar (40km or 25 miles) and are accessible by car or day tours from Mostar. At the time of our visit, there was no public transport to reach this swimming hole and picnic area.
Parking is free but there is a small entrance fee. Bosnian Marks, Croatian Kuna, and Euro are accepted in cash. We paid 25 kunas (approx. $4) before walking down the zigzag path to the bottom of the waterfalls. There is a mini-train chauffeur service that transports passengers up and down the hill for $1 each way if you do not wish to walk. At the base of the lake, there are toilet facilities and a limited number of food and drink options at the small cafes.
Swimming is permitted at the base of the waterfalls. Depending on the season, the falls will be gushing after the rains but trickling in the dry season. There is a campground nearby (Camp Trisela) with further hotel and Airbnb options in the nearby town, Međugorje.
13. MOSTAR, BOSNIA AND HERZEGOVINA
Suggested by Juma from Places of Juma
A real highlight for a road trip through the Balkans is Mostar, the historic city in the south of Bosnia and Herzegovina. It is beautifully situated on the banks of the Neretva River and is particularly known for its Stari Most Bridge (the Old Bridge), a reconstructed medieval arch bridge. It is historically very important, was destroyed during the war, and rebuilt as a sign of peace. Before the bridge and the river divided the city into a Christian and a Muslim part.
Also worth seeing are the nearby streets and the market alleys, with their many fantastic restaurants and cafes. Also interesting is the photo exhibition in the museum on the bridge, which shows more about the terrible war.
Those who dare should definitely visit the minaret of the Koski Mehmed Paša mosque. A narrow staircase leads up to the tower, where you can enjoy the most beautiful view of Mostar.
One of the top recommended places to stay in Mostar is the unique National Monument Muslibegovic House which is a mix of a museum and a hotel. A more affordable option is Villa Acapulco that offers lovely studio apartments.
14. SARAJEVO, BOSNIA AND HERZEGOVINA
Suggested by Krisztina from She Wanders Abroad
If you're planning on doing a road trip through the Balkans, Sarajevo must be on your itinerary! You can easily spend a few days in the capital of Bosnia and Herzegovina but if you only have one day it's still possible to see a big chunk of the city.
Sarajevo has a very interesting history as it survived the First World War and then a civil war in the 1990s. If you're interested to know more about the civil war, make sure to visit the Sarajevo Tunnel which was the key to get food and supplies back in the day, and now it serves as a museum.
You will find many colorful bazaars, beautiful mosques and amazing restaurants in the Old Town of Sarajevo and getting lost in the cobbled streets is one of the best things you can do in the city. Even if you have a short time in Sarajevo, don't forget to try the traditional Cevapi dish and admire the gorgeous architecture in the city center! Sarajevo Town Hall is one of the finest examples of the architecture and for a small fee, you can even go inside.
If you want to find the best panoramic view of the city you need to visit the Yellow Bastion. Although you can visit basically any time of the day, sunset is the best timing and it can be a perfect ending to your Sarajevo trip.
---
FUN TIP BY US:
For a quirky experience, head to the Trebević mountain on the outskirts of the city where you'll find the abandoned bobsled track. It was built in 1984 when Sarajevo hosted the Winter Olympics! Today it is covered in graffiti and moss and you can take a walk or cycle down the sled. Certainly, that's among the most unique things to do in Sarajevo!
Btw, Old Town Studio Loft is a great place if you want to base yourself in the center of the city.
You can watch our (utterly amateur) video of our short Balkan road trip from Krka National Park in Croatia to Mostar, Sarajevo, and Jajce in Bosnia and Herzegovina.
---
25. JAJCE, BOSNIA AND HERZEGOVINA
Suggested by Kate from Places & Notes
Jajce is a smaller medieval town in central Bosnia and Herzegovina, built at the confluence of the beautiful Vrbas and Pliva rivers. Located between Banja Luka (70km away) and Sarajevo (160km away), it is often unjustifiably overlooked by many visitors, although it has a lot to offer. It is known for being the birthplace of the new Yugoslavia, now a former republic which B&H was a part of as well. As a result of an anti-fascist movement back in 1943, the documents were signed in a building that today hosts one of the most important museums of those times, the AVNOJ Museum in Jajce.
Other highlights include Pliva waterfall, exploring the ruins of Jajce Fortress and enjoying the magnificent views from the top, walking along the town´s defensive walls, and visiting the Temple of Mithras, churches, and mosques. Just a few kilometers away you can relax in a beautiful natural environment around Plivsko lake. Here you can see over 20 interesting old wooden watermills, have a picnic or go swimming, kayaking, canoeing, fishing, and more.
If you are camping it is nice to stay at Jajce Auto Camp, otherwise, there are lots of private rooms available all over the town.
16. KOTOR BAY, MONTENEGRO
Suggested by Inma from A World to Travel
Kotor Bay has been topping every Montenegro road trip itinerary and it's among its highlights for a reason: in addition to this place being absolutely breathtaking, it was named a UNESCO World Heritage Site.
As if it were a Balkan fjord, this wonder of nature will delight lovers of landscapes that mix the mountains and the sea. The best base to explore this bay is from Kotor, which has a series of steep routes to climb the bay's slopes, and once on the top, you can glimpse the bay from an elevated position (bring water and a snack!). You can also enjoy its wonders from another perspective – rent a boat and explore some of its islets or beautiful villages of Tivat, Risan, and Perast.
Hotels tend to be quite pricey around here in high season, but it is possible to find an affordable place to stay in one of the Airbnbs near the city walls. Enjoy!
---
⇨ Don't forget – if you aren't on Airbnb yet, book through this link and you'll get up to $44 off your first trip! 
---
17. DURMITOR NATIONAL PARK, MONTENEGRO
Suggested by Deb from The Visa Project
While studying in Spain, I got a chance to do a Balkan road trip during my study break. And without doubts, Durmitor national park was one of the highlights of my trip. Renowned for its glittering glacial lakes, deep canyons, and unspoiled natural scenery – it's a mecca for anyone who loves the outdoors.
You can explore the glacial lakes like the Black lake and the Devil's lake. Swimming is allowed, although the water is very cold. For thrill-seekers, white-water rafting along the Tara River Canyon and zip-lining are a must. If you love hiking, you'll enjoy many breathtaking hikes in the national park.
To get to the park, you can drive to Žabljak, the closest town to the park. There are regular buses that run to Žabljak from Podgorica and other places in Montenegro as well.
April to October is the best time to visit Dumitor national park. The lone hostel in Žabljak and the campgrounds are open during that time as well, and there are plenty of private apartments available in the town.
18. LOVCEN AND LAKE SKADAR NATIONAL PARKS, MONTENEGRO
Suggested by Dhara from It's Not About the Miles
If you are planning a road trip through the Balkans, you must definitely add Lovcen and Lake Skadar National Parks in Montenegro to your itinerary!
Set not too far from each other, the two parks offer two different views of Montenegro's spectacular natural beauty.
At Lovcen National Park, climb the 400+ steps to the top of the Njegoš monument, from where you get panoramic views of the countryside and the old capital of Cetinje far below. You can also go hiking in the park, especially if you visit in the fall when nature is dressed in dazzling colors.
At Lake Skadar National Park, a boat tour is a must, to see the many species of birds that call the lake home, as well as the thousands of water lily pads that float on the lake. You can do the tour from Rijeka Crnojevica, or from Virpazar.
Eco Villas Merak in Virpazar is a good choice to spend the night, or you can also base yourself in the larger town of Kotor and do a day trip to Lovcen National Park and Lake Skadar National Park.
19. BERAT, ALBANIA
Suggested by Emily from Wander-Lush
Home to one of the country's two UNESCO Heritage-Listed Old Towns, Berat is a must-see in Albania and a staple for any Balkan trip itinerary.
Berat is located in southern-central Albania, roughly 100km south of the capital, Tirana. Known as the 'city of a thousand windows', Berat is best-known for its traditional architecture, namely the stacked stone houses that creep up two opposing hills over the river basin. Mangalemi Old Town, the traditional Ottoman Quarter, and Gorica, the old Christian Quarter, are both a joy to explore on foot. The National Ethnographic Museum is housed inside a historic building and worth a walk around. Otherwise, it's just a matter of winding your way through the cobbled alleyways and seeing where you end up.
Berat Kalaja, the biggest castle in Albania, tops the city and is Berat's main tourist attraction. As well as various ruins, it offers amazing views of the entire city, especially at sunset. Within the castle grounds, the Onufri Iconography Museum boasts a wonderful collection of Orthodox art from all around Albania.
For adventure lovers, Osumi Canyon and Bogove Waterfall can be combined into a day trip from Berat. Here, you can swim in a mountain stream and stretch your legs on an easy hike, ideal if you've been driving around.
For budget-friendly, comfortable accommodation with street parking in Berat, Guesthouse Arben Elezi has tidy rooms and a lovely rooftop terrace.
20. BELGRADE, SERBIA
Suggested by Mark from Vogatech
Belgrade lies at the confluence of the Sava and Danube rivers, more precisely on their left banks. It certainly fulfills the wishes of even the most demanding visitors. So, no matter if you are visiting for vacation or fun, it will satisfy all your desires.
There is a lot to see and do in Belgrade, so it's difficult to pick only a few must-see places, but certainly don't skip the Belgrade Fortress, which is located within the Kalemegdan Park and is the pride of the city of Belgrade.
Skadarlija is a street located near the National Theater, so it has long been a haven for artists and actors after plays. The recognizable, slippery cobblestones lead to the taverns that have been the second home of the bohemians since the 19th century. That picture has survived to this day, very successfully.
The Church of Saint Sava is the largest Orthodox church in the Balkans. Words cannot evoke its beauty, so it is an unavoidable stop for all visitors.
Restaurants "Tri Sesira", "So i biber", "Salon 1905" are just some of those worth mentioning.
Belgrade is also known for its crazy nightlife, so if you're into that, certainly visit the "rafts" – unique floating lounges on the Danube and Sava rivers ('Port by Community' or 'Sindikat' are a good choice) or the most famous club on the roof of Beton Hall  – "Freestyler".
Panorama Central Apartments are one of the best-rated and affordable apartments in the city center.
21. DEVIL'S TOWN, SERBIA
Suggested by Monica from This Rare Earth
One of my most memorable stops while road tripping around Serbia was in the southern part of the country, in a small place called Devil's Town, roughly four hours south of Belgrade.
Though a small area, I wanted to visit Devil's Town because of the strange natural rock formations found there. Legend says that these 200 rock formations are humans-turned-to-stone as a punishment by witches or gods. But science tells us that these were actually formed due to erosion from highly acidic spring water nearby.  Each tower has a stone "cap" that balances mysteriously on the top.
These towers range anywhere from 2-15 meters tall and you have to walk a short and easy hike through the woods to reach the viewpoints.  They are definitely worth a visit on any Serbian road trip. And besides – the place is not crowded at all!
The nearest hotels are in Kuršumlija, about 30 minutes away, and I highly recommend Motel Joksim which is a comfortable and cosy place to spend a night.
22. TARA NATIONAL PARK, SERBIA
Suggested by Mark from Vogatech
Tara National Park is located in the western part of Serbia. With its natural beauty and full of various plants and animal species, Tara is one of the most stunning landscapes in Serbia and thus well worth adding to your Balkan itinerary. In the immediate vicinity of Tara mountain, the river Drina flows, from which the artificial lakes Zaovine and Perućac stretch.
The national park attracts many tourists because it offers various activities to its visitors – from skiing and hiking in Tara Mountain, to horseback riding, boating and species observation (the park is home to many native species of plants and animals). The highest peak of Tara mountain is Kozia (Goat), with a height of 1591 meters (5220 ft) above sea level.
There are many luxury hotels in the proximity of Tara National park, but for more authentic experience choose one the cottages or country houses (such as "House of Judmila" or "Mountain House"). For those eager for adventure, Tara is an ideal place for camping with several campsites available around.
23. PRISHTINA, KOSOVO
Suggested by Katarina from  World Map Duo
Prishtina is the capital of Kosovo, the youngest country in Europe. Its population is mostly Albanian, but it was part of Serbia (Yugoslavia) for many years, which left a mark on its history and architecture.
One of the highlights of Priština is the National Library of Kosovo. It was designed and built in the sixties in the brutalist way, which means the concrete was used in huge amounts. The library is made of several concrete cubes, all covered with white domes. As unusual as it seems from the outside, from the inside it is quite charming. The domes disperse the light just perfectly, so it is never too bright or too dark to read there.
At one edge of the Library, one can see ruins of a Serbian orthodox church. The construction of this church began in 1999, just before the independence war. After Kosovo became independent and Serbians were not welcome anymore, the church was left as it is – unfinished. On the other side of the library, a brand new catholic church of Mother Theresa was built recently. Even though Kosovo is a Muslim country, Kosovars are very proud of this building.
Of course, there's much more to see in Prishtina besides these buildings. I'd suggest you spend at least 2 days here to have enough time to explore the city and experience how history and present are interlaced in this part of the Balkan.  Hostel Prishtina Center is a good and affordable option to stay in the city center.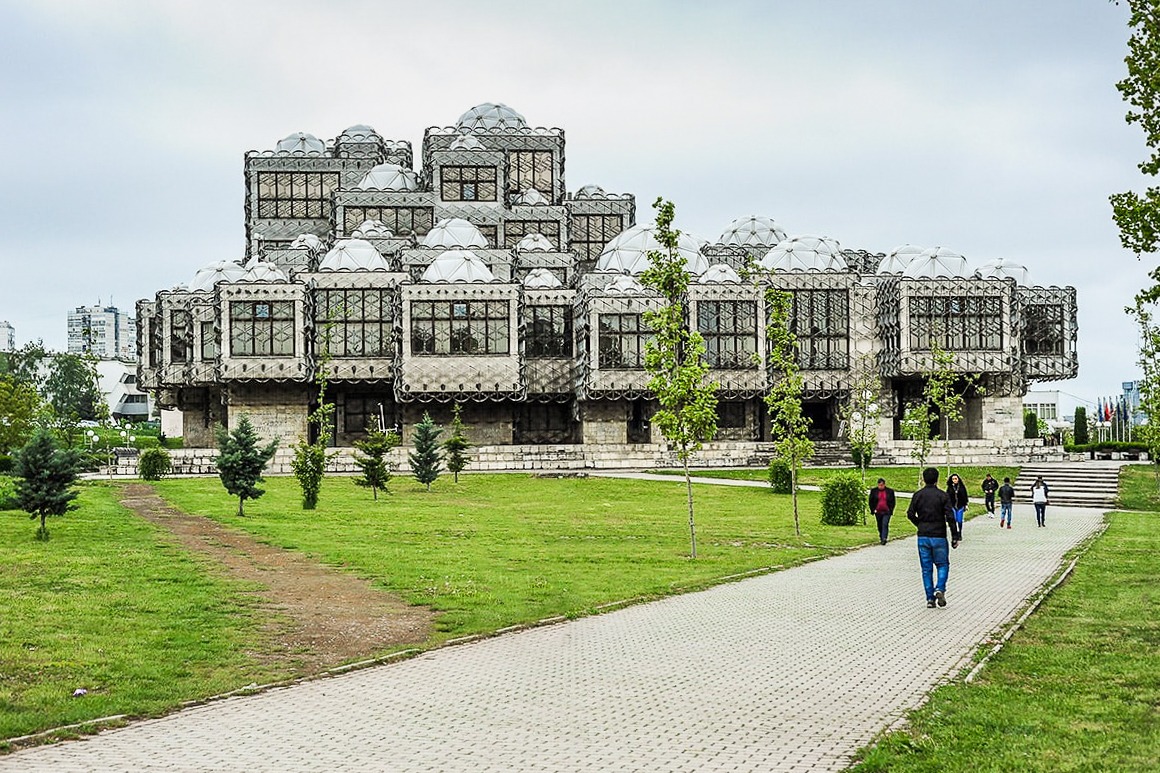 24. BANSKO, BULGARIA
Suggested by Maria & Katerina of It's All Trip To Me   
Situated at the foot of the Pirin Mountains in southwestern Bulgaria, Bansko is the most popular ski resort in the country. That said, this gorgeous mountain town is so much more than just that. In fact, Bansko is one of the best places to visit in the Balkans.
Strolling around the Old Town of Bansko is probably the best thing to do there. Bansko Old Town is incredibly quaint with cobbled streets and traditional stone buildings. Once you're done with walking, it's time to try the most mouthwatering local food at one of Bansko's many mehanas, which are traditional restaurants with folklore decoration and delicious food. Last but not least, you can't leave Bansko without trying the superb local wine.
As far as accommodation is concerned, Bansko is the ideal destination for any type of traveler and any budget. You can either stay at a 5-star hotel such as Kempinski Hotel Grand Arena Bansko and enjoy spa sessions and heated pools or at a traditional guesthouse right in the heart of the Old Town such as Khan Kadiata so as to experience the authentic Bulgarian hospitality.
25. SEVEN RILA LAKES, BULGARIA
Suggested by Alex from TheEarthOSea
The Seven Rila Lakes are set up on one of the highest peaks of Rila mountain in Bulgaria and are of glacial origin. Each of the lakes has a name that is associated with its most characteristic feature. The first lake is called the Lower lake and is followed by the Fish, Trefoil, Twin (two lakes in one), Kidney, Eye, and the Tear lake (due to crystal clear water). The Rila lakes are one of the most beautiful lakes in Bulgaria and are a famous tourist attraction, so they are a must-stop on a trip around Balkans for all outdoor lovers. Although a hike around them is not the easiest one as they are situated between 2000 and 2500 meters of elevation (6500 – 8200 ft), many people go for it, as the lakes are simply breathtaking!
It takes around 2 hours of driving from the base of the mountain to get to Pionerska from where you can start your trip. However, you can also use the lift to climb to the Seven Rila Lakes hut. Once up, you can start the hike by choosing the path going above the lakes or the one that goes near them. The hike to the last lake – the Eye, takes around 4 hours (depends on the pace).
If you plan to stay for the night, you can do that at the Seven Rila lakes hut and I guarantee that you won't be sorry! The Seven Rila lakes hut has been renovated recently and has all amenities one would need. In addition to that, you will be able to admire the beautiful starry sky in the evening.
26. THE BUZLUDZHA MONUMENT, BULGARIA
Suggested by Marco from Nomadic FIRE
On my quest for a retirement visa for Europe, I spent a summer living in the former Soviet bloc country of Bulgaria. About 3 hours east of Sofia, sitting on top of a hill, surrounded by beautiful forested valleys, stands the Buzludzha monument, one of the quirkiest places you can visit in the Balkans.
The Buzludzha monument is officially named the "House-Monument of the Bulgarian Communist Party." Dubbed the "Bulgarian UFO," the design is something out of a 1950's science-fiction movie. The area has historical significance. In 1868, the site was the battleground for Bulgarian independence against the Ottoman empire. A few decades later, in 1891, the roots of the Bulgarian communist party were formed here. Unveiled in 1981, the massive building stood as a symbol of Bulgarian communist power.
After the communist government fell from power in 1989, the UFO building was abandoned. Urban explorers, souvenir collectors, and graffiti taggers have been visiting Buzludzha since then. The beautiful views contrasted against a massive Soviet structure makes Buzludzha a great Instagram shot.
INSIDER'S TIP: You can no longer enter the building. Do not try to break in. They have guards 24/7 and they never look happy. 🙂
Near the country's literal center, there are not many good hotels or hostels to stay at. I recommend taking this road trip as either a day trip from Sofia or as a stop on a road trip from Sofia to Plovdiv.
27. VELIKO TARNOVO, BULGARIA
Suggested by Anda from Travel For A While
Veliko Tarnovo is a lovely little town in central Bulgaria, about 120km (75 miles) south from the Romanian border. It's one of the oldest settlements in Bulgaria and had its golden age during the medieval times when it became the capital of the country. The old part of the city is fairly well preserved, with white traditional houses built on a hill, looking as if they were hanging on top of each other. A walk on the narrow cobblestone streets is enough to charm anybody, but Veliko Tarnovo has a lot more to offer. The medieval Tzaravets fortress is a must-see attraction, dominating the city from the top of the hill. Right next to it, there is a miniature park containing 80 reduced-scale Bulgarian landmarks from all over the country.
There are also a few museums, working artisan shops, and great food in Veliko Tarnovo. Moreover, the area is quite popular for hiking as well as for rock-climbing.
Gurko Hotel is the best option to stay in a beautiful traditional building in the old town central area.
Don't forget to visit a traditional village situated only a few kilometers away on a high rock plateau, Arbanassi.
28. TRANSFAGARASAN HIGHWAY, ROMANIA
Suggested by Veronika from Travel Geekery
The Transfagarasan Highway is surely one of the most scenic roads in the world and as such one of the highlights on a Balkan road trip. It crosses the Fagaras Mountains in Romania and does so in crazy serpentines on its way up.
Each hairpin turn is a viewpoint on its own into the stunning landscapes around and below. Waterfalls can be often seen straight from the road too, as well as leftovers of snow (even in summer!).
The road is open only in summer but one can still get to the highest point year-round by a cable car. The highest point on the highway is where Balea Lake can be found. The beautiful glacial lake reflects the mountain peaks around in a stunning way. Once the lake freezes over, an ice hotel is built in it. In summer, you could stay at a chalet right by the Balea Lake.
You can drive on the road from June to October, weather permitting. It's the fastest land route on the way between Bucharest and Sibiu.
29. BRASOV, ROMANIA
Suggested by Cassie from Casie The Hag
Brașov city that lies in the Transylvania region of Romania, is a must-see stop on your trip around the Balkans. This charming city is home to many historical buildings and fortifications, one of them being a picturesque 15th-century Catherine's Gate. While wandering around the old city walls, you'll have the opportunity to peer over the White and Black Tower. Hiking or taking a cable car up Mt Tampa is another way to get a great view of Brasov.
You probably already know the cultural heritage of the Transylvania region – vampires! A day trip to Bran Castle, coined by tourist agencies as Dracula's Castle, is a must-see addition to any Transylvania itinerary.
Another castle in proximity is Peles Castle, which is often named as the most beautiful one in the region. This castle was also the setting of A Christmas Prince movie – if you're more into cheesy romcoms than gothic horror.  Rasnov Citadel (Rasnov Fortress) is another historic monument close to Brasov that is worth visiting.
Nature-lovers can drive to the nearby Bucegi Mountains or Piatra Craiului National Park for hiking and skiing.
Safrano Palace is a beautifully decorated and affordable hotel right in the center of Brasov.
30. CLUJ-NAPOCA, ROMANIA
Suggested by Alina from World of Lina
Cluj-Napoca is the gorgeous capital city of the region Transylvania in Romania. If people hear Transylvania, most of them immediately associate it with Dracula. This is because there's a castle in the region that fits the description of Dracula's Castle: Bran Castle.
However, Cluj-Napoca doesn't really have anything to do with it. The second-largest city in Romania is a very modern and trendy city. It has a great nightlife scene but is also a major cultural hub. Medieval landmarks, architectural masterpieces, and a huge botanical garden attract many tourists every year.
Even though it's a rather big city, the laid-back and relaxing atmosphere makes time flow differently. It seems that in Cluj-Napoca, life happens at a slower pace. Take a walk along the river, watch a play in the national theater or climb the stairs to Cetățuia Park where you can enjoy a panoramic view of the city. If you get tired of exploring, head to one of the many hip cafés, and recharge your batteries with a good cup of coffee.
As Cluj-Napoca is fairly big, you'll find plenty of accommodations all around the city.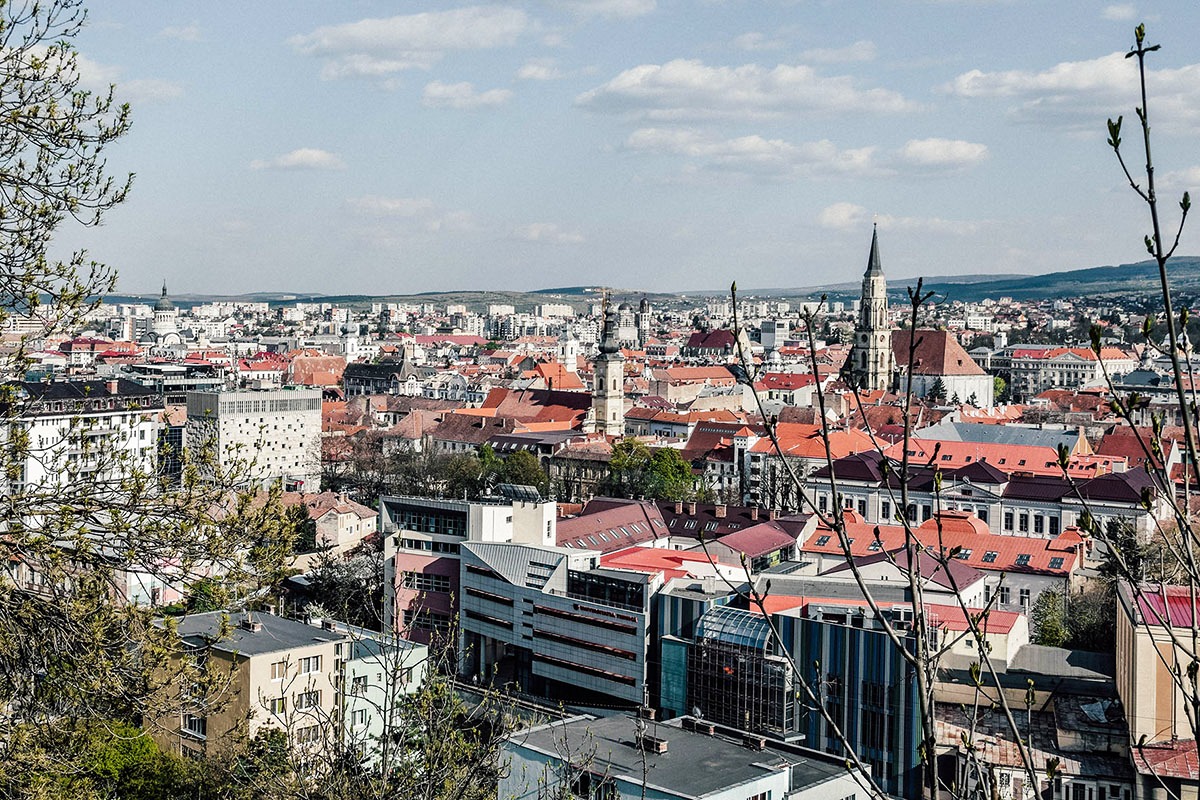 FINAL THOUGHTS
If the first thing that comes into your mind when you hear "Balkans", is that of a forgotten land somewhere far in Eastern Europe, which was once part of the Soviet territory and also later a place of war conflicts and drug dealers – er, then it's about time you paint a different picture in your mind.
I know I know, Hollywood movies that are always featuring at least one bad guy from Serbia or Albania with a Russian English accent certainly don't help with getting rid of the idea of a poor, crime-infested area, but the truth is far away from that. Yes, it is true that in some of the southern countries you'll still see holes from bullets in the houses (90s are not so far-away-history, after all!) and that infrastructure is not THE best everywhere, but apart from that, this not yet so touristy region is a gem well worth exploring.
Btw, did you know that Slovenia is considered to be one of the safest countries in the world? #justsaying
I (and all the bloggers who were kind enough to help me prepare this article) can assure you that trip to the Balkans is one of the highlights of Europe travel and will make a memorable impression.
Happy Vagabonding!
P.S. Do you also have a travel blog and feel like I should certainly add something else to this list of the stunning places in the Balkans? Hey, just shoot me a message and tell me about it! 🙂
And, don't forget – every good plan starts with a pin. So pin this for later!