When you're planning a trip to the Czech Republic, Prague is usually at the top of your bucket list, isn't it? I get you – Prague is GORGEOUS, and I think it's one of the most beautiful European cities.
But Brno charmed me so much that I wished I'd be in my student years once again because I'm pretty sure I'd choose Brno to study here for a semester or two.
I spent almost a week in Brno, but I know you probably don't have so much time, so I've put together the perfect Brno itinerary for 1, 2, or 3 days in Brno –  the second largest city in the Czech Republic. I've included some of the most unusual sights in Brno and even an optional day trip from Brno. Yes, yes, bars and breweries are in there too. Duh!
But let's start with something quite a few people asked me…
IS BRNO WORTH VISITING?
I think I've already given you the answer, haven't I?
But, as always, the answer lies in the kind of things you're looking for. I mean, Brno isn't particularly known for its luxurious beach resorts. 😉  On the other hand, if you're looking for charming European towns that offer a unique combination of historical beauty and modern vibrancy – then absolutely yes! This relatively unknown city in the Czech Republic is full of quirky attractions (these are my favorite!) and vintage landmarks, and there are plenty of exciting and fun things to do in Brno. Plus, Brno is not expensive (yes, I stuffed down as much food and beer as possible), which is excellent news if you're traveling on a budget.
1-DAY BRNO ITINERARY: THINGS TO DO IN BRNO IN ONE DAY
Start Your Day with Coffee With a View of the Cabbage Market (Vegetable Market)
Oh, you're wondering if they sell cabbage at the Cabbage Market? Absolutely! But you can find many other vegetables and fruits at Zelný trh. 😉
The farmer's market has been located at this square for centuries, and while initially a variety of goods were sold here, you'll mostly find fruits and vegetables nowadays. There are cute cafes around the square, and this was my favorite place for breakfast or brunch in Brno. So yes, the best way to experience the Vegetable Market in Brno is with coffee in your hand while watching everyone pass by.
FUN FACT: The Vegetable market is full of unusual statues. Try to find those in the photos below!
Go on a Brno Walking Tour
The best way to explore any city is on foot, and if you have only one day in Brno, spend your morning by taking a stroll along the cobblestone streets and exploring the landmarks like St Peter and Paul Cathedral, Church of St James, and Freedom Square.
The historical center of Brno is not that big, and you can cover most of the sights in under two hours.
St Peter and Paul Cathedral is practically impossible to miss, as it is located on top of Peter's Hill in the very heart of Brno. It is considered one of the most important and beautiful sights of the city – for a reason. I'm not the first in line to visit churches on my travels, but the architecture of this cathedral is absolutely stunning, and even if you are not interested in the interior, this Brno sight makes every photo pretty remarkable 😉
Freedom Square (Náměstí Svobody Square) is the main square in the Old Town. Like many other Brno sights, it dates back to the 13th century and was built at the junction of several trade routes. There is no shortage of pubs around the square (but wait with your beer until a little later), and the square often hosts various festivals. I visited Brno in September when the wine festival was taking place, and the square was full of stalls with the season's early wine (called Burcak in Czech) and various traditional Czech dishes. Yes, I stuffed down a bit too much food. No regrets whatsoever.
There are plenty of unusual sights in Brno, and you'll find one of them at Freedom square. In fact, you'll probably spot the strange black "statue," which at best resembles a grenade (yes, that wasn't my first thought either) instantly upon entering the square. But this pointy black thingy is actually an astronomical clock that "releases" a waterfall of glass marbles every day at 11 a.m., and tourists can catch them and take them home as a souvenir.
FUN FACT: Are you wondering why precisely at 11 a.m.? In 1645 (during the Thirty Years' War), the locals tricked the previously invincible Swedish army. The city had been besieged for three months, and the Swedish general decided that if the city did not fall by noon the next day, he would order a retreat. Frustrated locals shortened the fight by setting the clock on the town tower back one hour – to 11 o'clock. What I find fascinating is that the clock in the bell tower still announces noon one hour earlier – even today!
Not far from Freedom Square, in front of the Moravian Museum, there is another hard-to-miss statue of Brno. A  huge statue of a horseman on a horse with unusually long legs is amusing by itself, but a bird's-eye view reveals another " kinky secret." Nope, I'm not telling you what it is; you'll have to figure that out yourself!
Just do as all the other tourists do – stand between the horse's front legs, turn in the direction of the horse's head – and look up. 😉
PRO TIP: If you'd like to learn more about the history and the famous Brno legends, then perhaps trade your self-guided stroll with a Brno walking tour.
Visit the Spilberk Castle
After the Brno walking tour and a quick lunch, head to the castle. A lovely path through the park leads to Spilberk Castle, which overlooks the city. The castle dates back to the 13th century and is – sadly – known for being one of the worst prisons during the Austro-Hungarian Empire. Unfortunately, it played a similar (or even worse) role during the World War when political prisoners were tortured there.
Now there are several museum collections in the castle, among them a baroque pharmacy and prisons with a torture chamber. I'm always drawn to prison museums, and I always semi-regret my choice because I find them spooky. Visit the castle's website for up-to-date information about various tickets and opening times.
While the place has such a grim history, the views from the castle are way more cheerful. If you're staying several days in Brno, you can come back for a sunset view over the city!
As many paths lead up to the castle, you can choose a different one when you return to the Old Town. Your next stop is a must-see addition to your one-day Brno itinerary – the ossuary.
Stop at the Brno Ossuary
If you're really, REALLY scared of bones, you'll maybe want to skip this one, but I assure you, visiting the Brno ossuary is foremost an eerie experience, not a scary one. The ossuary was discovered not so long ago by accident. (Can you imagine digging a hole, falling into it, and er – landing among millions of bones? Well, that IS kinda scary.)
It contains the remains of over 50,000 people and is the second-largest ossuary in Europe (the largest is in Paris, and Bojan and I also visited it during our trip to Paris). And while it might have looked spooky then with all the skeletons scattered around, meters and meters of neatly stacked bones now look more like decorations than a scene from a horror movie. Visiting this place is undoubtedly of the most unusual and memorable things to do in Brno!
Climb Brno's Old Town Hall Tower
I suggest doing one more thing before unwinding for the day – marveling at the 360* view of the city. You'll probably pass by the Old Town Hall while walking around in the morning, but save this visit for just before the sun goes down (if you're lucky with the weather, that is).
The Old Town Hall (Stará radnice) was built in the 13th century (aha, again!). Today, it houses a gallery, and it draws the attention of the visitors mainly by the unique large Gothic doors and the 63m high tower. After you climb the wooden stairs to the top and take a few steps over the creaky floor to the small door, you are treated to a gorgeous panoramic view of the city. A narrow balcony surrounds the tower so you can see all Brno's major sights from a bird's eye view – ah-mazing!
FUN FACT: A famous "Brno dragon" is also suspended from the ceiling in the tower's underpass, and many legends of the city of Brno are related to this unfamous animal. If you take a good look at the photo below, you'll quickly realize that the dragon is suspiciously similar to an animal much more familiar to us. Curious? Read about the most famous legend here.
After a long day of exploring, finish your one day in Brno in one of Brno's many restaurants that serve traditional Czech cuisine. Yes, you deserve a pint or two now!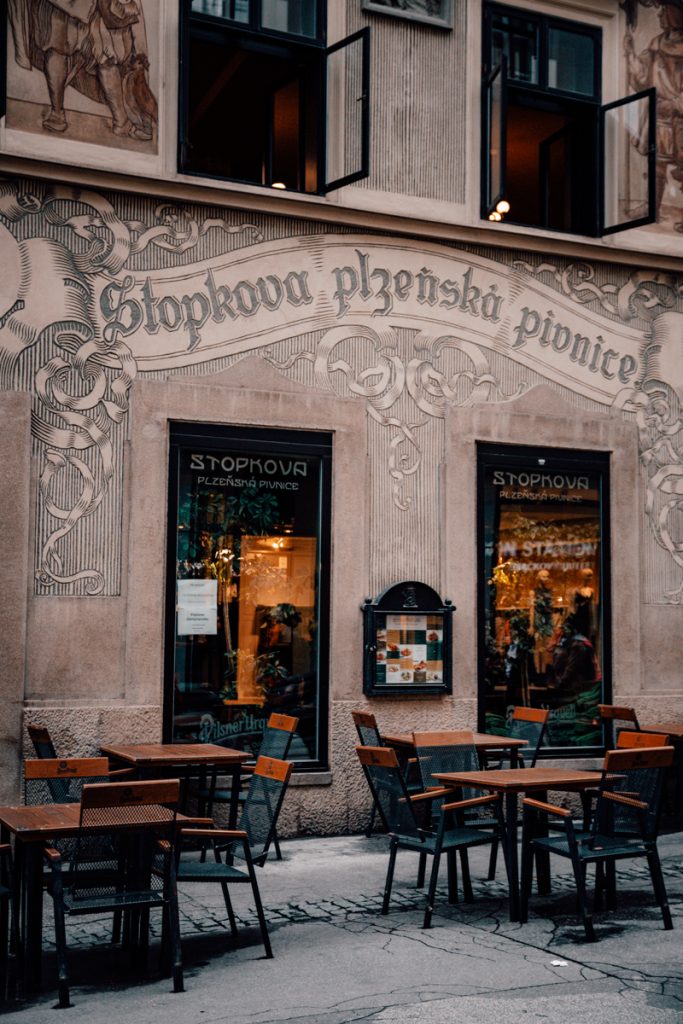 TWO DAYS IN BRNO
You've got one more day to explore Brno? Awesome!
On the first day, follow the Brno itinerary described above, and head back to the Old Town on the second morning.
I don't know about you, but I can't start my day without a proper coffee, and there are plenty of cafes to choose from in Brno. Once again, you'll go in the direction of the Cabbage market, so you might as well choose one on your way.
(Don't) Get Lost in the Labyrinth
You see, there's much more to the Vegetable market than meets the eye. The *real* attraction is actually hidden – underground! 6-8 meters below the ground, there is a mysterious maze of corridors and tunnels built under the square in the Middle Ages because people soon realized that cellar-like conditions are much more favorable for storing food and drinks.
On a guided tour of the Labyrinth under the Vegetable Market, you can learn about how food was stored in the past, see archeological artifacts found in the tunnels, visit an alchemist's laboratory and sit in an underground tavern. There's even a room that displays the "mild torture" objects to show various punishments popular during that time. Ah, those Middle Ages, what a wonderful time to be alive.
Z-Bunker – Another Quirky Brno Sight
Here's the thing – if you follow this Brno itinerary, you'll spend a good portion of the second day below the ground 😀 I told you there are plenty of quirky things to do around here!
The 10-Z bunker is a nuclear shelter at the foot of castle hill that was classified as top secret until 1993. It was built during the German occupation as protection against American and Russian bombing. During the Cold War (and later on), it could provide protection in the "unfortunate" event of a nuclear attack and could shelter up to 500 people for three days. And not only that is now open to the public – there's even a unique hostel in it!
I know a few people that stayed there and loved it, but it was a tad too claustrophobic for my taste 😀
I highly recommend visiting the bunker, as you can see everything from the bunker kitchen and offices to the telecommunications room and the room intended for executions. What's wrong with us people, right? Informative, interesting, and as is obviously true for Brno – unusual!
A small part of the bunker near the entrance is transformed into a retro bar, so if you're into having your meal in the tunnel, this is the place to go.
Visit Starobrno Brewery
As you probably know, the Czech Republic is famous for its beer, so adding at least one brewery to your Brno itinerary is almost a must (unless you don't drink beer, of course). The Starobrno brewery is the largest in Brno, and they've been brewing beer there since 1872 (it is now owned by Heineken – like most big breweries, lol).
What's interesting about Starobrno brewery is that it was built in the same spot where a small brewery had stood before. It was part of a Cistercian monastery and was "in operation" at this place since 1325. I guess the Czechs do love their beer.
The guided brewery tour teaches you about the history and shows you the individual steps of beer production, from brewing to bottling (the production area here is huge). A well-deserved pint of beer awaits you at the end of the tour.
Peek Into the Capuchin Crypt
Beer might give you a little bit of courage needed to finish your two days in Brno with another quirky attraction; this unique place to visit in Brno will most likely give you goosebumps.
Near St Peter and Paul cathedral is a small Capuchin church. But it's not the church that attracts visitors, it is the tomb of the adjacent Capuchin monastery, which hides a rather unusual and somewhat scary collection. Namely, a very realistic collection of human remains. The skeletons are preserved to such an extent because of the combination of soil and the ventilation system, which enabled natural mummification.
You see, despite your brain telling you there's nothing to be afraid of, the subconscious screams at you to get out and save yourself every time you feel the empty eye sockets stare silently at you.
The tomb contains the preserved bodies of monks and prominent townspeople who helped build the monastery. They are marked, and you can read about these people's lives, so the crypt's visit is quite a poignant reminder of the passing of time. Heck, there's even writing next to the chamber full of skeletons, saying something like "what we are now, you shall be." Hey, thanks for reminding me.
When I visited the crypt toward evening, I was utterly alone in it, so hanging out with semi-mummified skeletons lasted less than 10 minutes, but I'm sure the experience is way less scary if you're not the only living soul in there.
If you are going on a trip to Brno with children, you might skip this one, but otherwise, it is quite a unique and fascinating place, so go for it. Even if only for five minutes. 😉
3-DAY BRNO ITINERARY: CULTURE & ART or DAY TRIP FROM BRNO
As I know you might be interested in different things, I'll give you two possible itineraries for your 3rd day in Brno.
A) CULTURE & ART IN BRNO
After another yummy breakfast in the Old Town, spend your morning wandering around Moravian Museum. The country's second-oldest (and second-largest) museum is a perfect place for those who want to learn more about Czech history and culture. It houses everything from prehistoric collections and mineral exhibitions to a display of a Czech medieval village and collections related to the country's more recent history. Plan a few hours for this place!
Starobrno is not the only brewery in the city – in Brno, you can find a bunch of microbreweries that have been gaining popularity in recent years and are springing up like mushrooms after the rain. One of them is EFI Craft Brewery, with a production area no bigger than a 4-room apartment, but the owners certainly do not lack enthusiasm! You can combine a visit to this brewery with lunch, as they also have a pub with excellent local food.
If you have time and crave something sweet after lunch, stop by the Chocolate Ajala!
I attended their chocolate-tasting workshop and you know what surprised me the most? That the very origin of cocoa beans can have such a strong influence on the taste of the "final product", despite the fact that the ingredients, their ratio, and the method of production are exactly the same!
In this chocolate shop, they follow the "bean to bar" principle, which means that they are responsible for the entire process, from the procurement of beans to the finished product (many chocolate shops just buy cocoa butter). They are also committed to supporting local farmers and they personally visit plantations in Africa and Central America to ensure proper working conditions. Btw, each bar of this dark chocolate is wrapped by hand!
I brought Bojan home a whiskey-flavored chocolate bar, which he really liked, but I was most convinced by the "plain dark one" without any additives. A great Christmas gift for your travel friends, for example!
Another popular thing to do in Brno is to visit one of the several villas from the period of modernism and art nouveau. If you're into art and architecture, this is a nice way to spend your last afternoon in Brno. I haven't visited those, but my fellow travel bloggers (who know how to appreciate architectural gems more than I do) were impressed. The most famous one is the Tugendhat villa, which is also the city's World Heritage Site,  and the other impressive buildings are Villa Stiassni, Villa Jurkovič, and Villa Löw-Beer. Visit their websites for opening hours and info about the tours!
B) A DAY TRIP FROM BRNO
There are many options for day trips from Brno – from visiting caves in Moravian Karst to marveling at beautiful Czech castles scattered around South Moravia.
One of the day trips I went on was a combination of wine tasting and castles, and it was a perfect choice!
For more ideas for day trips from Brno, you can also look at my Moravian Tuscany Road Trip post.
Approximately one hour southwest of Brno, there is the second biggest tourist attraction in the Czech Republic – Lednice Castle. This fairytale castle is one of the most beautiful in Europe (well, at least in my opinion), and both the interior and the castle grounds are pretty fascinating. Our guided tour only covered the main rooms, but you can also visit the princesses' rooms and several other areas in this majestic building. Good news – the tour is fun and engaging!
The huge greenhouse gives you all the Harry Potter vibes (or Bali vibes once you step inside), and the lovely gardens are perfect for a picnic lunch. You can easily spend hours here!
Near Lednice castle, there is a winery called Annovino Lednice. Not only can they show you around and tell you more about their wine production, but you'll also get to taste their wines! Part of the winery is a gorgeous large shop with a selection of wines, so you can get a few different-kind-of-souvenirs to take home with you.
Whether you explore Brno on your last day or opt for a day trip, I suggest you finish your Brno itinerary on a quirky note. Quirkiness could be a Brno theme, indeed! 😊
If you aren't traveling in a large group (4 people is a maximum for this place), Super Panda Circus is a place to be. This cocktail bar is more than just one of the best bars in Brno – it's an experience. Somewhat psychedelic design, impeccably dressed staff (yes, we're talking circus costumes), and the most unique cocktails I've ever tried.
But that's not all.
When you step into the lobby, you become part of the story. You are welcome by a valet who takes your coat, gives you a welcome drink, and introduces you to various mythological figures and their characters that are painted on a huge canvas in the lobby. After you choose which creature's character is your favorite, you receive a tablet, and you lead the character through the story – and each decision leads you to a new cocktail. That's right, you don't choose the cocktails by yourself, so brace yourself for delicious surprises! Of course, you can end the story early because I think you have to make seven decisions in total, which would probably result in me ending up in a hospital. I'll pick up where I left off next time I visit Brno!
WHERE TO STAY IN BRNO
Since I visited Brno by myself to (among other things) attend a travel blogger conference, I wanted to have some company, so I had chosen to stay in one of the best hostels in Brno. Brno Wellness Hostel is located near the train station and only a 10-minute walk to the center of the Old Town. It is clean and neat, has shared and private rooms, and the reception features a mini cafe. An excellent choice for solo travelers, groups, and families, as the hostel was (surprisingly) quiet.
Other hotels recommended to me by other travel bloggers are:
WHERE TO EAT IN BRNO
You'll certainly want to try some traditional Czech cuisine when in Brno! Goulash, bread dumplings, sauerkraut, and roasted potatoes are just a few of the traditional Czech dishes you can find in one of the many pubs and restaurants in Brno. And you MUST try fried cheese! This dish seems weird to many tourists, but I'm sure once you try it… you'll be hooked. Fried cheese is probably one of the favorite childhood dishes for many people from central Europe – I know it's not healthy at all (and for this reason, I only eat it a few times per year), but just thinking about it makes my mouth water!
Since Czech dishes are similar to Slovenian ones, I didn't have the need to visit only traditional restaurants while in Brno, so I visited other places too. I have added a few other restaurants and cafes that I can recommend to the list below!
(links can be saved directly in Google Maps)
U MAMLASŮ  (pub food)
Středověká krčma (traditional Czech)
Bistro Bastardo (tacos)
Jean Paul's Restaurant Běhounská (Italian)
Momenta Cafe (breakfast/brunch)
Cafe Mitte (breakfast/brunch)
Yummy Lamy (cute cafe)
Now that you know how to spend one, two, or three days in Brno, all that's left to do is start packing your bags! If you have any questions about this Brno itinerary, let me know in the comments below! And don't forget to save this post for later to help you create your own Brno itinerary! 😊
Thanks for reading & happy vagabonding!
——
The following activities I attended were hosted by Traverse Events: Starobrno Brewery, EFI brewery, Ossuary, and Ajala Chocolate tasting. All opinions and – foremost – all sassy comments are entirely my own.