Ok, let's talk about why autumn might be the best time to visit Torres del Paine!
Wait, or perhaps we should start at the beginning?
Does the name Torres del Paine ring a bell at all?? Hands up all those enthusiasts who get utterly excited just upon mentioning this name!
Er – and now, how many of you keep staring blankly and have no idea what  I am talking about?
Well, hello fellow travelers, I was JUST LIKE YOU once (yep, I was half-blushing as well while trying to remember where I'd heard that word before). Actually, I was just like you until a few years ago when my friend (a hiking addict, you guessed) went to Chilean and Argentinian Patagonia and came back completely thrilled. She kept rambling about Torres del Paine, which was supposed to be a stunning national park in Chile and a trekking mecca I should totally visit one day. And since she wouldn't stop gushing about it for months, that kinda put it on my radar and I made a mental check to visit it if I ever found myself in Patagonia.
Fast forward two years later, we're on our yearlong honeymoon, relaxing by Lake Atitlan in Guatemala and planning as we go – because that's what happens when your big plan consists of buying a one-way plane ticket and you're like "Ahhh, we're gonna figure out the rest later".
So, already fed up with the buses, we decided we wanted to explore South America with a van. Soon after that, we realized it's easiest to buy a car in Chile.
Ooooh. Now, that changed things. I remembered my excited friend, browsed through some pics on Google and suddenly we were both convinced that that's a place we want to be.
BUT!
Yeah, there's a but.
It was already January. The high season for Patagonia.
And we were in Guatemala. And still had El Salvador and Nicaragua already planned out.
Nope, we didn't fly straight to Chile, but –  long story short –  we skipped Costa Rica and Panama (San Blas Islands, I'm still crying for ya!), flew to Chile, waited what felt like an eternity for our van (which was coming back from Patagonia), got it ready and hit the road in the middle of March.
The middle of March, my friends, means autumn in Patagonia.
We quickly realized that driving the Carretera Austral in Chile and going to Torres del Paine first, would mean reaching our ultimate goal, Ushuaia, in May, which was kinda a big no-go (remember, sleeping in the van and all that!).
---
FUN FACT: Ushuaia aka Fin del Mundo is the southernmost city in the world and one of the most unique towns in Patagonia.
---
So we crossed the Andes into Argentina and after exploring the Pacific coast, we eventually came to the end of the world. (Yaay!).
And then, finally, after zig-zagging Tierra del Fuego, stopping in Punta Arenas and Puerto Natales, we reached the all-famous national park Torres del Paine in Chile.
Phewww, that was a long introduction! But on the bright side – now you know why we visited Torres del Paine in autumn. 😀
We didn't go to the W trek, but we hiked independently for three days and slept in the park (in our Pisco the Van) in the designated areas.
Another confession – we hadn't quite understood all the hustle and bustle about the place until we went there. I guess it has something to do with us wanting to avoid the biggest tourist traps and all that.
But man, this was…WOW.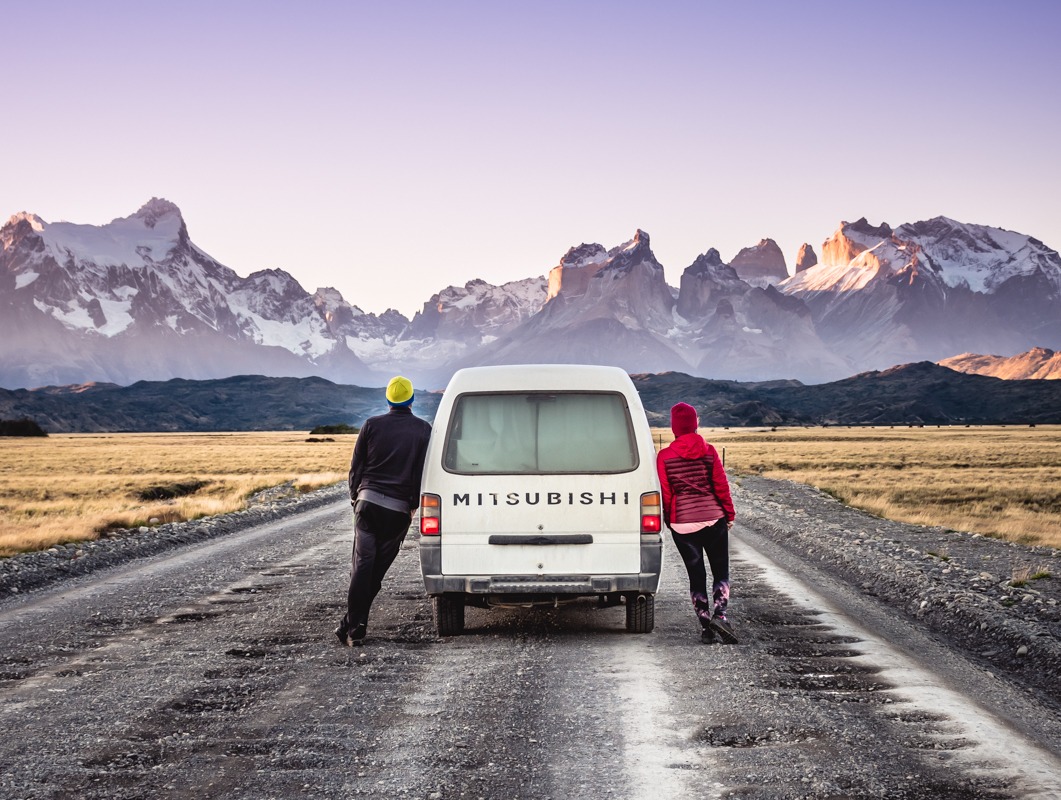 Skipping Torres del Paine would probably be the most idiotic thing we could do while in Patagonia! The landscape there is truly amazing and even though we prefer loop hikes (er – as opposed to going back down the same way we go up which is utterly boring), the whole day hike to Mirador de las Torres was every bit as rewarding as the tourist brochures promise.
And after leaving Torres del Paine National Park behind us, we both agreed that coming to Torres del Paine in autumn just might be the best decision we made.
Now, let me finally explain why.
TOP REASONS WHY AUTUMN MIGHT BE THE BEST TIME TO VISIT TORRES DEL PAINE IN CHILE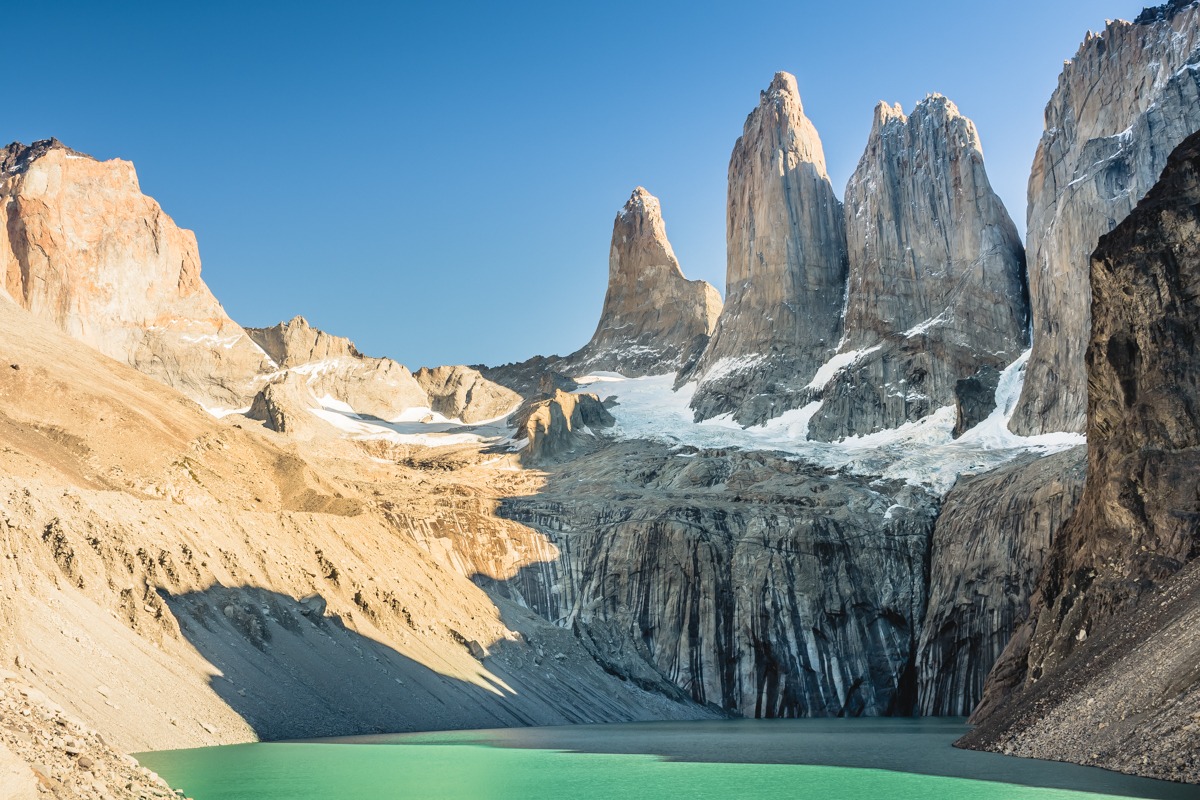 1. THERE'S GONNA BE LESS PEOPLE IN AUTUMN
I'm gonna start strong – the most obvious and our favorite reason why autumn might be the best time to visit Torres del Paine.
Now, after my long intro, I guess we're all on the same page – Torres del Paine is one of those must-see destinations when you are in Patagonia. If you're into hiking, then Torres del Paine is surely on your bucket list anyway. But even if you're an "opportunistic hiker" (this includes us since we kinda prefer going downhill with bikes) or have seen mountains only on TV*, a visit to Chile is not entirely complete without hiking in Torres del Paine National Park – at least advertisements say so. 😉
*Talking about those who embark on a 9-hour hike in jeans, sneakers, and with a plastic bag in their hand (stuffed not with water but with a colorful carpet for doing selfies at the top). True story. We've seen them. Wanted to make a joke about it, but can't bring myself to do it- perhaps just nobody told them there's gonna be walking involved. Perhaps.
So, from December through February, when it's the high season and supposedly the best time to visit Torres del Paine, the park is crowded. Even though it's enormous, there'll be tons of people and buses coming there and on the famous shorter and multiple-day hiking routes, you'll find yourself practically walking in line. No kidding, my super-excited-about-hiking friend told me so!
I don't know about you, but our image of an ideal hike and being one with nature somehow doesn't involve walking in a line. 
Besides, even though we hiked the Mirador de las Torres in April, there were still a few hundred people going there – but by slowing down or picking up the pace a bit, we were always able to walk without anybody in the 20m radius around us.
But, on the other hand – a few shorter hiking trails were basically empty and we had "the whole place" just for ourselves. I guess during those hikes we could truly appreciate the beauty around us and finally understood what my friend was so thrilled about!
And also – the park ranger told us that during the summer there are so many people that sometimes they have to limit the number of visitors and those who don't have a multi-day trek booked in advance can't enter into the park. Imagine! You come all the way to Patagonia, decide to go on a few shorter hikes in the park, and upon showing up at the entrance in the morning – ACCESS DENIED.
Jeez, that's not fun at all!
We dare to claim that for a more authentic experience autumn is the best time to visit Torres del Paine!
2. YOU DON'T NEED TO BOOK EVERYTHING IN ADVANCE 
This is related to the above fact of course.
The majority of people who plan to visit Torres del Paine, want to go on a multi-day  (4-5 days) W-trek which takes you to some of the park's highlights. Only the starting points of the W-hike are accessible by car or by bus and along the hiking trail, there are simple, designated campsites (wild camping is prohibited in the park) and "refugios" (i.e. shelters with shared bedrooms and a kitchen). And the W-trek is so popular that these accommodations in the high season are booked months in advance  (the same ranger who told us about crowds, said that sometimes even a  year in advance).
In the fall, however, this is not quite the case. Most campsites are not full and it can even happen that refugios have free beds. When we went to register ourselves for the hike to the Mirador de Los Torres (the most popular one day hike in the park) and circled the option "2-5 days" by mistake, the lady at the counter kindly asked us whether we had already booked rooms in advance, or if we'd like to book and pay there on the spot.
Now, don't take my word as gospel, book plane tickets to Patagonia for April and show up in Torres del Paine, claiming "Sandra said you're gonna have free beds"! But, if the W-trek is not your priority, but you would consider it if having an option – your chances to do so are much higher in autumn than during the high season (ok, they are non-existent during that time).
Good to know: The second most popular trek in Torres del Paine is the O-circuit, a 7-10 day hike that takes you to more offbeat places of the park as well. This hike is more demanding and the trail goes over mountain passes where snow in autumn is not unusual. It's not possible to hike there in those conditions, that's why the O-circuit is closed from April 1st on! So if you're planning to go on an O-circuit trek, go in the early autumn!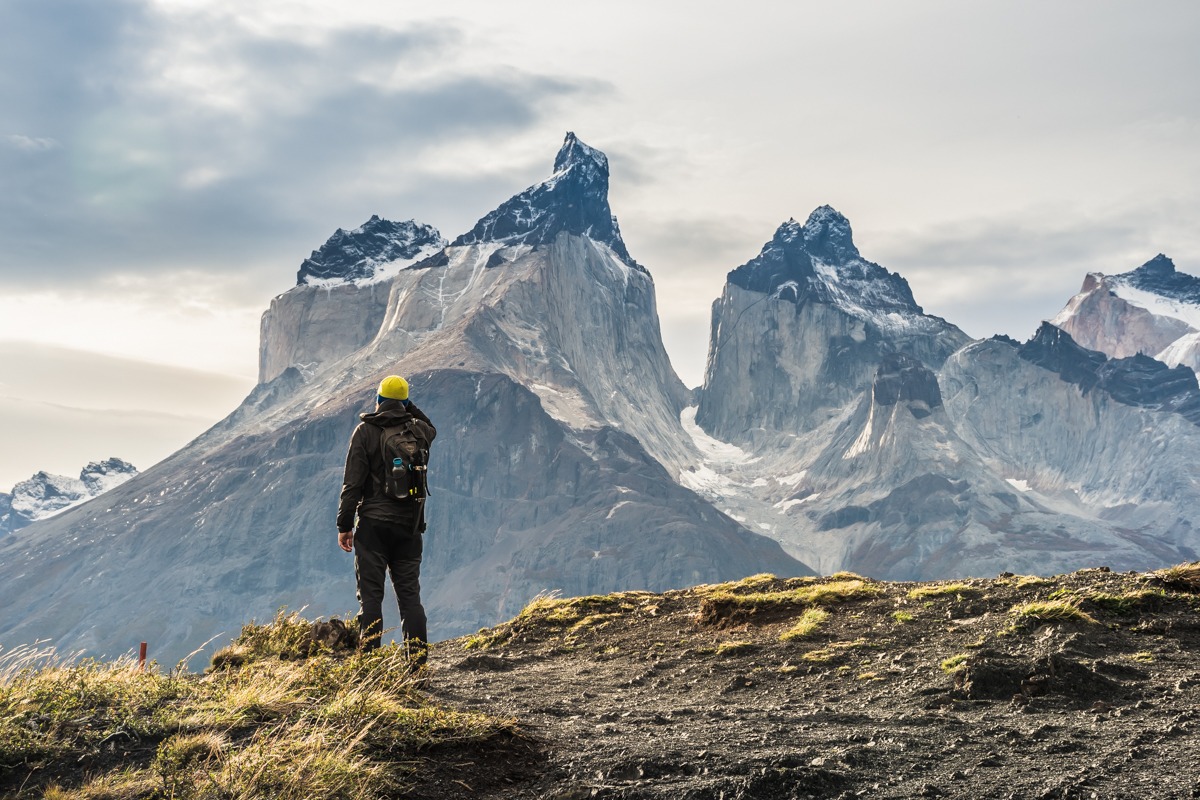 3. PRICES ARE GOING DOWN, DOWN, DOWN
Okaaay, that's a fun one! Fewer people means empty rooms and while empty rooms may mean you don't need to book everything in advance, they also mean discounts!
It's common that during the shoulder season hotels and restaurants in the park offer discounts to compensate for empty capacities. This way it might be easier for you to afford that place with a stunning view over the peaks, that is clearly out-of-your-budget otherwise.
During the off-season, several agencies offer packages for a discounted rate as well, so it might be worth checking those out in advance if you're planning to go on a multi-day hike or one-day trips (i.e. visiting glacier Gray in Torres del Paine with a boat).
4. THE WEATHER CAN BE GREAT IN AUTUMN
Now, before you jump and call me crazy for claiming the weather can be better in autumn than during summer, let me explain.
It's true that in January and February the days are much longer (daylight is until the late evening!) and that the probability of being caught by a snowstorm is extremely low (we didn't even think about that until this happened to us while hiking in Ushuaia 🙂 ). And, there are indeed more sunny days during the summer as well.
But, Patagonian summer is known for another thing – the almost constant winds! And I'm not talking about a gentle breeze or moderate windy weather, but about gusts of wind from 40 and all the way up to 75 mph (60 to 120km / h)! We encountered the real Patagonian winds just a couple of times during our 2 months there and oh my, I wouldn't want to be on a multiple-day hike, possibly going against the wind. Of course, I don't want to discourage you – I'm just saying that hiking will be slightly more difficult, and "wind in your hair" during those days won't be as romantic as it may sound now.
Of course, dark clouds, rain (preferably mixed with snow), and slightly lower temperatures can be quite common in the fall – and TBH, doing a 5-day W-trek during a downpour isn't exactly a piece of cake either.
Actually, we caught a "sunny window" of a couple of days with beautiful weather but then left the park one day before planned, since it started to rain heavily on the last morning (and the weather forecast for the next few days wasn't too promising either).
But the sunny autumn days are the best! The temperatures during the day were almost 15°C so it wasn't too hot, the sun was still strong and there was only a light breeze now and then. Ideal weather for hiking!
5. AUTUMN COLORS
Another more-than-a-good reason why autumn is the best time to visit Torres del Paine, are autumn colors.
Autumn is such a great time of year in general – nature dresses in dazzling colors and anyone who has ever walked in the woods in autumn (so, basically everyone) will know that the sound of cracking dry leaves under your feet is incredibly satisfying.
And in the fall, Torres del Paine is a true painter's masterpiece. A large part of the park is covered by vast grass steppes, from which a group of mighty peaks rise. The Torres (towers) and the Cuernos del Paine are dominating the landscape and while their bases are surrounded by woods, their granite spiky peaks plunge into the blue sky.
In autumn, the steppe turns into many shades of golden yellow, and the forests are glowing in all the shades of orange and red. These warm colors are a striking contrast to the massive granite walls and the vibrant blue mini icebergs and give the park a special touch in this time of the year.
If one considers beauty, autumn is surely the best time to visit Torres del Paine.
6. BONUS: TORRES DEL PAINE IS A PHOTOGRAPHER'S PLAYGROUND IN AUTUMN
Why the bonus reason? Well, TBH, not everyone is into photography and that's totally ok. But for all those who are relentlessly running around with your camera and trying to capture every rock or that yummy looking pizza, whether the result has potential to look good or not  (I can feel my hand raising; who cares, enthusiasm counts!) – I've got good news for you!
Combine what I've mentioned above – the stunning landscape in autumn colors, fewer people, and the fact that you don't need to wake up at 5 am for a golden light photoshoot – what else could you possibly wish for amazing pictures?
Oh, interested in perhaps adding a puma or two to your shots? In autumn there's a much higher chance you won't need to photoshop those puma cubs onto your pic since pumas breed around January and by autumn cubs will be presented to the world (Yep, I totally have The Lion King picture in my mind). Yaay, National Geographic reward coming my way!
Well, or not really.
When we were preparing milk rice in the van after the hike to the base of Los Torres (clearly a completely unimportant fact), a couple close to the van shouted: "Look, there's a puma!" (er – we were parked literally in front of the reception building). I had all the intention of getting that incredible pic, but of course, before I clumsily stumbled out of the van (starting to feel those sore muscles), the fluffy beast was long gone.
So, eyes out, you could be the next one on the cover of the magazine! 😉
Have I already convinced you to start planning your Torres del Paine trip in March or April? (Yasss, I'm good. I'm so good. And no, not sponsored by any means, just want the best for you, dear reader! 🙂 ).
Has anyone been to Torres del Paine in the summer or even during the winter? Tell us in the comments below what are, in your opinion, the benefits of visiting Torres del Paine during those seasons!
Happy Vagabonding!
Pssstttt…pin now & hike later!