1500 m above sea level sits a giant sparkling lake, nestled among mighty volcanoes and dotted with villages along its shores. A postcard-like picture? Hell yeah.
Lake Atitlan is one of the top attractions in Guatemala for a reason and when you descend to the lake from the villages above, the views are literally jaw-dropping (I'm talking "Johny Bravo jaw-dropping" here). If you add to this view peace that is disturbed only now and then by motorboats rushing between the villages, sounds of tuk-tuks on the streets and by the occasional party or three, lake Atitlan is indeed a place to find your inner zen. See, I can get poetic if I want to!😁
Wondering how to get to Lake Atitlan, where to stay and what to do? Don't worry, we've got you covered – we've put together a travel guide to Lake Atitlan that will answer all of your questions.
LAKE ATITLAN GUIDE
STORIES AND LEGENDS
Many claim Lake Atitlan is one of the most beautiful lakes in the world which has inspired many writers in the past. It is said that the lake was an inspiration even to the one and only Mr Saint – Exupery, who wrote The Little Prince.
Wonder why? At the lake there is a hill called Cerro de Oro, which is supposed to resemble the famous picture from the book. You know, the one for which adults say they see a hat and the children see an elephant being eaten by a boa constrictor (Don't know the story? Omg, you should buy the book right now, it's totally one of those "have to read in your life" books).
Well, there may be some truth in that assumption, since the writer actually stayed by Lake Atitlan for recovery after having been involved in an airplane crash near Guatemala City. A coincidence or a truth? I'll let you decide for yourself. But please tell me you see that elephant, duh!
The lake is said to have magical properties as well. Thus, in one of the villages that are scattered around the lake, gringos from around the world are gathering to attend various spiritual rituals and discuss lucid dreams (i.e. dreams in which you realize that you are dreaming and lead the course of events. Yep, I didn't know that's a thing either! 🤯).
Maybe it really is something about those deep waters, since I had such vivid dreams during the week we stayed in Lake Atitlan and I was waking up quite exhausted every morning. 🙄 But even if the lake does not have supernatural properties, the view over the lake at sunrise when mists roll over the water is quite magical itself.
WEATHER IN LAKE ATITLAN
The climate in Guatemala is pleasant year-round and same goes for Lake Atitlan. Due to its high altitude, it will never get too hot and the temperatures will rarely drop below 15°C (60°F).
Two distinctive seasons – the dry and the rainy season – determine when lake Atitlan gets more crowded. Between December and March, the weather is pleasant with average temperatures between 20 – 25°C and this is also a high tourist season.
The rainy season lasts between March and October, with the most rain between June and September. While this doesn't mean it will rain all days, it's possible that due to heavy rainfalls from time to time landslides may occur. So, it's kinda not cool if you're on a tight schedule and you realize you won't be able to catch an airplane back home. In this case, it's not a bad idea to adjust your Guatemala itinerary and visit Lake Atitlan first.
Just after the rainy season might be the best time to visit Lake Atitlan – the landscape is lush, prices are lower and the crowds are smaller. Ya' know, same as goes for a shoulder season in most places on the Blue Marble. 🙂
---
Wondering what to take with you? Enter your name and email in the form below and we'll send you a printable Guatemala packing checklist!

You'll also be subscribing to our monthly(ish) newsletter. We promise we'll try to keep you entertained but you can unsubscribe at any time. And no spam, we promise!
---
HOW TO GET TO LAKE ATITLAN?
There is no airport by lake Atitlan, so you'll have to arrive by land. The easiest way to get to the lake is from the capital (Guatemala City) or from Antigua. If you're traveling from Mexico, your first stop may be Quetzaltenango or you'll go straight from San Cristobal de las Casas in Mexico to Lake Atitlan.
GUATEMALA CITY TO LAKE ATITLAN
If you're flying in, it's easy to arrange a group shuttle bus from Guatemala City directly to Lake Atitlan. It is possible though that shuttles will make a stop in Antigua and it will take you around 4-5 hours to get to Lake Atitlan. The price for the shuttle bus from the airport to Lake Atitlan should be around $25/person.
You can find a public ("chicken") bus from Guatemala City to Panajachel, but as I mentioned in Guatemala backpacking tips, we were advised not to use chicken buses in Guatemala City. Of course, it's totally up to you – if you're feeling adventurous (YOLO and all that) and you're on a super tight budget, that may be your way to go to Lake Atitlan. A chicken bus to Lake Atitlan will only cost you a few bucks.
Another option is a private shuttle or a taxi, which will take slightly less time but will be considerably more expensive (regular price is from $100 up, but you can always try to haggle).
Would you like to drive by yourself? Check Rentalcars.com to find your options for cars in Guatemala City.
ANTIGUA TO LAKE ATITLAN
It's super easy to go from Antigua to Lake Atitlan since there are tourist agencies around every corner in Antigua and shuttles leave several times per day. Make a reservation a day before and you're set!
PRO TIP: Shuttle buses (aka rusty old vans) usually drive to Panajachel. However, ask around – we were able to find one which took us directly to San Pedro la Laguna and the views on the lake from above really are amazing.
A shuttle bus from Antigua to Lake Atitlan costs $12 and takes around 3-4 hours.
A cheaper option is once again a chicken bus to Panajachel for around $2-3 (those out of Guatemala City are supposed to be ok). We just kinda didn't want to take a risk since we were traveling for a long time and had so many electronics with us.
QUETZALTENANGO TO LAKE ATITLAN
Going from Quetzaltenango (Xela) to Lake Atitlan is pretty straightforward as well – book a shuttle at one of the agencies or at your hostel or hop on a chicken bus. While the latter will go to Panajachel only, the shuttle can drop you off at San Pedro (or San Marco) as well. The ride will take around 2 hours.
SAN CRISTOBAL DE LAS CASAS (MEXICO) TO LAKE ATITLAN
It's possible to go straight from San Cristobal in Mexico to Lake Atitlan. A bus will take you to the border (where you'll have to pay the departure tax – read here how to avoid this) and then you'll continue your way with the shuttle. But beware, this is gonna be a long one! Google says 9 hours, but considering you'll cross the border and the shuttle will stop at several places, add 3-4 hours to this. At least.
GETTING AROUND LAKE ATITLAN
TUK-TUK
Not only found in Asia, Guatemala has tuk-tuks as well! 😀 If you're too lazy to walk or just getting tired, you can get a tuk-tuk for going around the village and between the nearby villages. This is a cheap and convenient form of transport.
During the day the price should be 5Q /person and in the evening 10Q/person.
BOAT
I meant to write "a ferry", but those little boats really aren't ferries. You're more likely to have the company of a chicken or two, so they could be called chicken-boats as well. 😉 Just kidding. Boats are a common form of transport between villages and you'll see locals using them all the time. However, don't expect to see any set timetables.
They come when they want to (Ok, they are usually always in the ports) and they'll leave when they are full…. or immediately. Who knows.
The price is between 10-25Q /person for a one-way ride (depending on how far away the village you're headed to is).
WHERE TO STAY IN LAKE ATITLAN?
Ok, with all the villages and options around the lake, you can easily get overwhelmed. We'd suggest you don't move too much since you can explore villages during the day (by taking the boat) and you'll be more relaxed if you won't need to pack and unpack every other day.
Choose the village that best suits your idea about what to do in Lake Atitlan and then perhaps choose to stay in another one (or not).
PANAJACHEL
Panajachel is the largest village and the main transport hub where your bus or shuttle will usually drop you when you come from Guatemala City or Antigua. This place has a lot of bars and restaurants and a large market, but it lacks that tranquillity that you'll experience in other villages. It is a good place to stay if you're a digital nomad since the infrastructure is better in comparison to other places around the lake.
Where to stay in Panajachel:
Backpacker's Budget: PanaHouse A simple place for backpackers, with a kitchen, terrace and bicycle rental.
Somewhere in the middle: Villas Jucanya are beautiful private villas that will make you feel at home – and hey, maybe you won't want to leave! 😀
Feeling swanky? Fancy a private dock, free kayaks and a hot tub? Ok, Villas Balam Ya it is then.
SAN PEDRO LA LAGUNA
The majority of backpackers choose to stay in San Pedro La Laguna. While some argue it is too touristic, we did not have this feeling – but that's probably cos our apartment was 10-15 min away from the downtown (gringo area), so we were among the locals and it was actually really quiet at night.
San Pedro is a good base since you'll find many activities here and it's also a starting point for renting kayaks and climbing to the San Pedro volcano or Indian nose.
Where to stay in San Pedro La Laguna
Backpacker's Budget: Mikaso Hotel y Restaurante
 –> Our accommodation: Mynor's Apartment 
Somewhere in the middle: Zoola San Pedro Atitlan – this place has actually more of a backpacker's vibe, only with higher prices. 🙂 But it does come with a bar and a pool overlooking the lake and we liked the vibe when we went for a drink there.
---
⇨ Not on Airbnb yet? Book through this link and you'll get up to $44 off your first trip! 
---
SAN MARCOS LA LAGUNA
Remember I mentioned a hippie place? Well, this is it!  If your main goal is relaxation, yoga*, meditation and healing ceremonies (and you don't mind the abundance of open-market stalls with hand made jewellery), this will be the place for you. Vegan restaurants included.
Where to stay in San Marcos La Laguna
Backpacker's Budget: Casa Madera Atitlan  is a budget accommodation, perfect for backpackers. Oh, did I tell you there's an amazing view from the terrace?
Somewhere in the middle: Lush Atitlan – a place not too far from the docks with an amazing interior and lush garden. Yep, that's why it's called Lush Atitlan, obviously.
Feeling swanky? Then Anzan Atitlan will be for you. It's further from town, but it does come with a you-can't-beat-this-view feature.
*For the ones who are considering yoga retreats: Check out Yoga Forest.
SAN JUAN LA LAGUNA & SANTA CRUZ LA LAGUNA
San Juan and Santa Cruz are two smaller, more peaceful villages, with less infrastructure but with more authenticity. Our friends who stayed in Santa Cruz said it's the perfect place to disconnect.
In Santa Cruz, there is also a diving center (more about that below).
Where to stay in San Juan La Laguna
There aren't many options to stay in San Juan since it is so small, but these two both have excellent reviews:
Backpacker's Budget: Eco-Hotel Mayachik
Somewhere in the middle: Eco Hotel Ulabil Atitlan
Where to stay in Santa Cruz La Laguna
Since relaxing is the main goal if staying in Santa Cruz, the accommodations are clearly following the idea – here you'll find gorgeous lakeside cottages and villas, and if you want (ok, if you have money!) – the sky is the limit. 😀
Backpacker's Budget:  (Santa Cruz): Casa Kaktus
Somewhere in the middle: Atitlan Sunset Lodge
Feeling swanky: Casa Prana (Omg, yes please! Er – only if somebody pays for us.)
JAIBALITO
Jaibalito is the smallest village and if you really want to disconnect, you'll head here. There's not really much to do here besides relax, but if you're seeking some solitude, it's the perfect place for you. Consider the fact that you'll probably have to cook your meals (or head to the bigger village for lunch) as restaurant choices are… more than limited, and the same goes for accommodation. Hotel y Cafe La Casa del Mundo has reasonable prices, the rooms are charming (and once again – with stunning views) and they offer breakfast.
WHAT TO DO IN LAKE ATITLAN
Are you keen on hiking? Would you prefer to relax? Are you all about getting to know the culture or you're just here to hang out with your backpacker friends? Care to learn the language or you're just into yoga? I mean, Lake Atitlan indeed has that all-in-one package and you're clearly not going to be bored.
Here are 17  things to do in Lake Atitlan:
1. ENJOY THE MOMENT (aka DO ABSOLUTELY NOTHING)
Before coming to Lake Atitlan, we were already more than 2 months into our yearlong honeymoon, so our goal was only one – to slow down a bit and rest for a while.
I knooow, it sounds kinda weird that you have to take a break from traveling. But believe it or not, when you move to a new place every couple of days, spend (what seems like) endless hours on buses and visiting countless attractions, you eventually arrive at the point when you need … to press a pause button. Anyone who has traveled for a longer period of time will be able to tell you that there are moments when you couldn't care less whether you will ever visit those famous ruins or see yet another coffee plantation (and I love coffee, btw). Cos let's be honest here folks, coffee looks exactly the same either in Cuba, Guatemala or in Bali (but, if we are talking about the taste, this is COMPLETELY another thing and I will never, I repeat – NEVER – say no to another cuppa).
Ok, back to Lake Atitlan (Somehow I always get carried away by coffee...)
We booked an apartment in San Pedro la Laguna on AirBnB and it was the best decision ever. Especially when we realized it came with a rooftop terrace (with a 360° view!), a washing machine (omg, a backpacker's luxury!), a coffee mill and two cute dogs (from the owner, but we like to pretend they were there for us). Every time we went from or arrived at the house, we were obliged to "pay a tax" in the form of cuddles. Needless to say, we enjoyed paying such taxes very much (unlike those when crossing borders).
See what's happening here? Got carried away again.
Bottom line,  Lake Atitlan is the best place for relaxation in Guatemala, so don't feel guilty if you end up spending your days on a terrace with a Kindle in your hand. Totally legit.
2. RENT A KAYAK OR SUP
From chillout to workout! San Pedro is the best place to rent a kayak or a SUP and hit the waves (oh yes, waves – don't be deceived by the smooth-looking surface).
Won't lie here, we aren't THE biggest fans of SUP since we find it kinda, er – boring. Nevertheless, I'm pretty sure that finding balance on those waves is still challenging, so if you fancy trying it out, you should totally give it a go.
We rented a kayak instead and had a lot of fun!
You can rent a kayak from various agencies in the village of San Pedro La Laguna at a fixed price of 15Q/person/hour (less than $2), regardless of how long you plan to stay on the lake. However, if you go to the coast and approach owners directly, you'll be able to get a discount.
It goes like this: 1 hour … 15Q (per person), 2h … 25Q, 3h..30
We hired a kayak for two hours, and it turned out that it was more than enough. Um, it was almost too much since the current is remarkably strong in the afternoon so we were paddling hard AF to be able to return to the shore. Well, at least Bojan was. 😉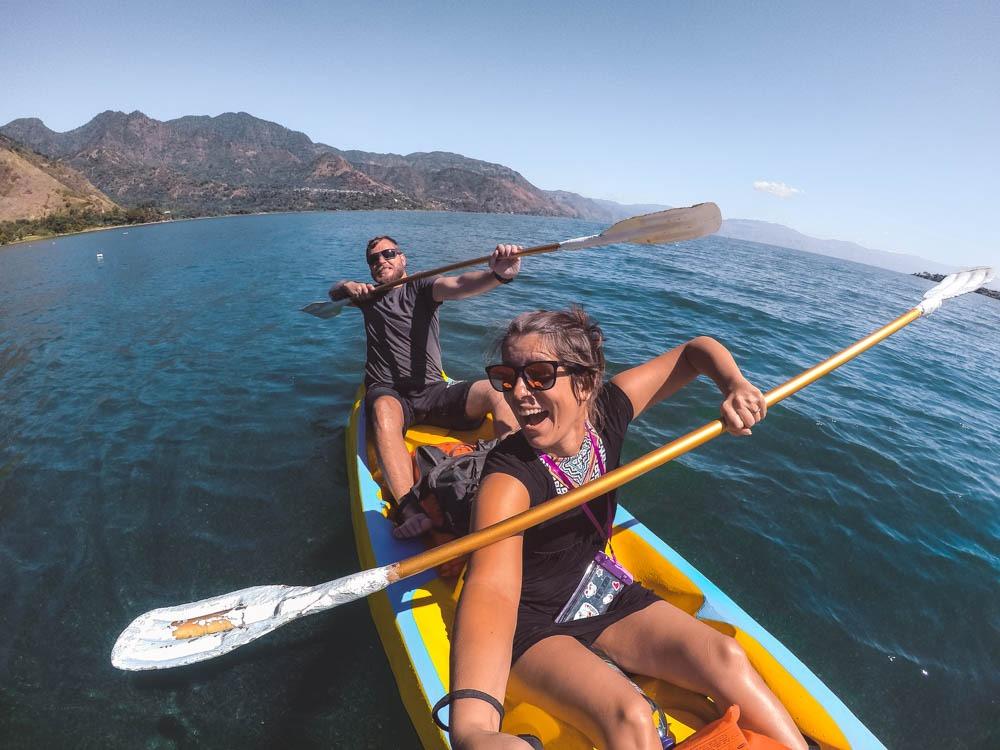 3. AN ACTIVITY FOR THE "BRAVE ONES" – GO SWIMMING or DIVING
If you wonder whether you can swim in Lake Atitlan, the answer is yes – at least there aren't any rules against it. But whether you'll want to, that's another question.
Here's the thing – the water in Lake Atitlan is known to be polluted and there's a lot of algae on the surface, at least around villages. Wastewater is still going to the lake and with it many toxins, locals are washing clothes in it and solid litter is dumped on its shores. We weren't convinced to go for a swim.
However, across the lake from San Pedro, there is a lovely sandy beach and we saw a few travelers swimming – at this part of the lake the water also looked cleaner, so perhaps if it would be really hot, we'd even consider jumping in it.
Oh, feeling extremely brave?
Then you should try scuba diving! Yeah, don't expect to see THAT much sealife lakelife? and all that, but Lake Atitlan is a great place to experience diving at high altitude (or even get PADI Altitude Specialty) and there are whole buildings under the surface because the lake level is still rising.
Since we had just barely got our PADI certificate in Cozumel (Mexico) a few weeks before, we didn't feel confident enough to try the murky waters of Lake Atitlan, but it's surely something that we'd try now if we went back again!
You'll find a PADI dive center ATI Divers in Santa Cruz village.
Ok, now back to the shores.
4. BUY GROCERIES AT A LOCAL MARKET
Going to the shopping center on Saturday morning or even to the local farmer's market (with usually pretty steep prices) is not the same as visiting local markets in foreign countries. If this foreign country is a place where the fruit is so juicy it makes you wanna cry with happiness, that's even better. 
One of our favorite things to do in Lake Atitlan? Waking up early (+ obligatory terrace coffee), grabbing a market basket and going shopping for breakfast.  
And the best thing about it is that nobody will try to scam you – you'll get that watermelon for the same price as the little granny in a colorful dress standing beside you.
Talking about prices? 🙂
1 avocado…1-2 Q ; 1 watermelon…10 Q
(1Q = 0,13 $)
Yeah baby, one super yummy smoothie on the way!
---
---
5. LEARN THE LANGUAGE!
Would you like to learn some Spanish? Lake Atitlan is probably one of the best places in Latin America for this. The classes are affordable, they speak very clearly and slowly (especially in comparison to Chile or Argentina ) and you'll learn from native speakers who usually don't speak much English so you'll be properly "thrown into the water" and thus learn to swim – er, talk –  quickly.
Besides, have I mentioned the lake and its surroundings are stunning?
6. GO WINDOW SHOPPING IN SAN PEDRO
San Pedro is flooded with expats – probably the ones who came here on purpose and the ones who came and somehow couldn't leave. The result? Shops and stands with all kinds of clothes and crafts along the streets – charm bracelets, rings, paintings, dreamcatchers, rugs,… just wandering around will keep you busy for an hour or two at least.
7. TAKE PART IN CACAO CEREMONY
Wait, what? Yes, you heard that right. Cacao has been in medicinal use by the Mayan for centuries and you can take part in a ceremony. Cacao is prepared in a traditional way (talking rituals here!) and the ceremony is supposed to open your heart chakra and help with soul healing.
Now, I actually regret I didn't know about this while we were there cos I'm usually the one interested in quirky stuff and that would surely be on my list! That's why I included it in this Lake Atitlan guide – don't be like me, know things before you go! 😀
FUN FACT:  Did you know that a rough translation of the word Cocoa actually means "food of the gods"? I mean, from now on I'm gonna throw that at anybody who tries to prevent me from eating that third bar of chocolate.
8. CATCH A SUNRISE AT INDIAN NOSE
Indian nose is a hill that has the shape of – yep, you guessed it – a nose from an Indian. This is a sacred place for the locals and from the summit, there is a beautiful view over the lake and surrounding volcanoes.
Now, during the day you can visit it by yourself, but if you want to admire the views at sunrise, we recommend you take a tour due to safety reasons. At 4 am in the morning, they pick you up with a van and take you to the neighboring village (about 30min), where the ascent begins. The latter lasts from 30 min to an hour (depending on your pace) and you get to the top just before the sunrise.
Price:  with the tour around 100Q, if you go by yourself 50Q (it's private land and you pay the "entrance fee" to the owner)
9. HIKE SAN PEDRO VOLCANO 
Now, this is a bit more demanding (huh, and I was all about chill out and stuff).
The inactive volcano San Pedro rises above the village of San Pedro La Laguna and at first glance, it doesn't look high at all. However, looks can be deceiving, as in reality, the ascent is almost 1500m (5000 feet) and the hike takes around 6 hours (including an hour of rest at the top) in total.
It's best to go on a hike early in the morning, as clouds accumulate around the peak in the afternoon (cute from the bottom, not so fun if you're IN the clouds).
How to go there?
You can climb the volcano by yourself. With a tuk-tuk (for 5Q/person) go to the starting point of the ascent (they will know where to take you), and you'll pay 100Q/ person for the entrance fee. By paying the entrance fee, you'll get a local guide to accompany you as well (or they can only show you the way if you prefer to go by yourself).
I do not know about you, but Bojan gets super cranky every time he learns he has to pay an entrance fee "to climb the hill" (something unheard of in our part of Europe 🙂 ). But hey, at least you can hike this volcano by yourself and not in a group!
What to take with you?
Water and food (remember, 6 hours!), hiking shoes, sunscreen, a fleece/sweater and a wind jacket (I have this one and I love it!).
10. TREAT YOURSELF WITH A DELICIOUS ICE CREAM!
Well, after all that climbing you deserve one (or three), right?
In San Pedro, you'll find quite a few ice cream shops with a broad selection of regular and vegan ice creams. They explain to you how many scoops and flavors you can get for a certain amount of money, and you can also taste as many flavors as you want before choosing your own.
It's a touristy thing to do, for sure, and therefore a bit pricey (you know, compared to a bag of avocados). For example, the middle cup (with two flavors) costs 20Q and the large cornet 25Q (both in the picture).
But damn, it was sooo delicious it was totally worth the splurge. 🙂
11. GET WARM IN HOT TUBS
After hiking the volcano, the idea of a hot tub is pretty appealing. In San Pedro La Laguna, you can find two such "spas" next to each other.
Los Thermales have – er, let's say rustic hot tubs (round concrete pools), but they have a nice view over the lake. A bit more modern is their neighbor (Solar Pools), where unfortunately there is no view over the lake but you can get a massage or beer as well. Guess which one we went for? 😛
You have to make a reservation at least an hour in advance because they need to heat the water which will then be poured into the pool. Then you can soak in your hot tub as long as the water is warm (as it is heated only once). But when I say hot, I mean hot!
For the first time in my life, I needed a few minutes to get into the tub and then I needed a break every 10 min because it was so hot. Water was around (or slightly over?) 40° and it cools down quite slowly. Bojan was making a fool of me … that is until he tried to go in.
Price: 50Q/ person (if you want to have eucalyptus leaves in your pool – 40Q more) + 30Q for two Coronas 🙂
12. JOIN A MAYAN COOKING CLASS
While wandering around San Pedro, we noticed quite a few advertisements for cooking classes. If you're looking for a fun experience, where you'll learn to cook traditional Mayan cuisine, get to know the locals and at the end enjoy your meal with a view, then you should surely try this one out!
13. GO TO YOGA
While you'll find yoga classes in all touristy villages, San Marco is THE place to go for yoga or meditation…or that lucid dream thing.
Or hey, why stop at just one class, right?! You can go on a few-day yoga retreat at one of the yoga resorts (but yeah, that will strip you of money) and disconnect from the crazy world, or you can even tuck yourself in for months and become a yoga instructor. I admit I was pretty much into this idea, just couldn't quite figure out what Bojan would do in a "hippie-plant-based-community" for a month. 😀
14. TAKE A WEAVING CLASS
No, I'm not kidding. In the village of San Juan, you'll find an association of women weavers. You can join and take a class – this just might be a great opportunity to be a part of the community.
Price: from $20
Duration: 2 – 5 hours
15. TRY GUATEMALAN COFFEE
See, we're back at coffee! I know I keep talking about it, but let me emphasize it one more time – Guatemala has some of the best coffee in the world. It would be a sin not to try some! You have two options – either get your cup at one of the hipster-looking cafes in San Pedro or make yourself one!
You can buy coffee beans in any coffee shop and if your accommodation has a coffee grinder (don't be shy, ask around), you can get your freshly ground coffee first thing in the morning. Heaven, I know!
16. GO VILLAGE HOPPING
Yep, it's a thing, especially if you won't stay for long in Lake Atitlan, but you'd like to get a glimpse of everyday life around the lake.
Every village has a distinct culture and handicrafts, so even if you're not planning anything else but to walk around (and drink that coffee) it's gonna be a worthwhile experience.
17. VISIT CHICHICASTENANGO
From Lake Atitlan, you can take a day trip to the town of Chichicastenango, where the biggest market in Central America is held twice per week.
Don't get lost among all the stalls and, er – don't get carried away and buy all the souvenirs you see, otherwise, you might need an extra backpack or five.
IS LAKE ATITLAN SAFE?
Now, that's a question we actually hadn't ask ourselves before we went there, but upon arriving we were warned about certain things by our Airbnb host, that's why we are adding them to this Lake Atitlan guide. And perhaps we didn't really put too much thought into it until later when not long after we were in Lake Atitlan, there was news about a woman backpacker who disappeared during the night and was later found dead…. 🙁
But, please don't get scared, we don't want to discourage you from going there! This was a really really horrible event, but all who travel, know that sometimes bad things may happen to them – we aren't an exception. Lake Atitlan is as safe as the rest of Guatemala – meaning, you should take some precautions and you'll be fine.
But, to be honest – we didn't feel unsafe at all while in Lake Atitlan, but we were cautious about a few things.
Safety tips for Lake Atitlan
Do not wander around by yourself in the middle of the night.

After dark, it's best to use a tuk-tuk.

Find yourself a travel companion if you're visiting more remote places or go hiking.

We were advised not to walk between San Pedro and San Juan La Laguna (even during the day), but rather to take a tuk-tuk.

When going on a hike by yourself, don't take valuables with you – this means, perhaps it's better to leave your flashy new camera at the hostel.

For a sunrise hike to Indian Nose get a guide, the same goes if you'd like to hike Cerro de Oro (aka elephant hill) since robberies were reported.
WHERE TO NEXT? 
As far as we're concerned, it's best to put Lake Atitlan at the end of your Guatemala Itinerary – it's like a cherry on the top for your trip. But you can either continue your way to Xela or to Antigua (or to Guatemala City if you're heading back home).
From Antigua, you can arrange transport (a shuttle) straight to El Salvador (Santa Ana or El Tunco – we did the latter! 🙂 ).
---
---
Sunrises and sunsets, fresh Guatemalan coffee, yoga and meditation, hot springs, weaving and hiking – it's perhaps not surprising that this place is visited by so many travelers and that many stay for much longer than they originally planned.  Lake Atitlan is definitely a must-see if you ever visit Guatemala!
---
Planning to travel to other countries in Central America as well? Then you may also like:
---
Is there anything else you'd like to know or we should add to this Lake Atitlan guide? Let us know in the comments!
Don't forget to pin this for later!