Tropical forests with hidden Mayan ruins and refreshing waterfalls, colonial towns, surrounded by mighty silhouettes of active volcanoes you can climb on (saaay what!), breathtaking lake Atitlan, delicious coffee (cuz, who can live without coffee, right?) and unbelievably friendly people – if this sounds like your type of adventure, then this 14 day Guatemala itinerary will be peeeerfect for you.
And if you're wondering if Guatemala is safe, let me tell you how our conversation went:
"Are you sure we should go to Guatemala?" Bojan asked when we were talking about which countries to visit during our yearlong honeymoon.
"Of course, lake Atitlan is on my bucket list! Why on Earth wouldn't we go there?!"
"You know, safety issues and all that. Like, what if we get killed…or robbed?" (Yes, he should work on setting his priorities straight. Yep, I told him that.)
But after spending more than a month in Mexico he quickly realized that TV and reality really are two different things and if you're playing it safe (you know, not wandering alone at night and not sticking your nose into drugs kinda things), you'll be ok. Actually, it's very likely you'll fall in love with Guatemala, just like we did. While I'm obsessively planning where else to drink coffee in Antigua, he is dreaming about all the mountain bike tracks around the city waiting to be explored.
We spent more than 3 weeks in Guatemala and you can easily adjust this itinerary to do so as well and if you want to visit all these places in 10 days, that's also possible. Er – in theory at least. If, you know, a road or two doesn't get blocked or if you realize you just don't need that "dulce far niente" ("the beauty of doing nothing") day or two. The latter is highly unlikely. You'll see why once you're there.
2 weeks in Guatemala is a perfect amount of time to get the first taste of the country and see the highlights. But before you dive into this Guatemala itinerary, I have a question for you:
Have you read our Guatemala backpacking tips already?
YES? Great! NOPE? Then do that first! You'll find some useful info there about when to go to Guatemala, about food, transport and safety in Guatemala and more (No, sorry, if you click on the link in the next 5 minutes you won't receive an extra necklace. But hey, you'll know more about the country you want to visit, which counts for something as well. Yes? Yess!)
2-WEEK GUATEMALA ITINERARY (day by day):
Day 1: GUATEMALA CITY – FLORES
The usual arrival by air takes you to the capital Cuidad de Guatemala (Guatemala City). You can give it a day for exploring the museums and the central market – if you're uncomfortable walking around the city with a not-so-awesome reputation, you can always take a tour and explore it in a group. 🙂
Otherwise, head straight to Flores. Either take a domestic flight (they are short but tend to be pricey, so they surely didn't fit into our Guatemala budget) or take a night bus.
---
ARRIVING FROM ONE OF THE NEIGHBOURING COUNTRIES?
Arriving from Mexico (northern border), your first stop will most likely be Lake Atitlan (or a nearby city Quetzaltenango), so just turn this Guatemala itinerary upside down and start there 🙂 .
If you come by land from Yucatan peninsula (Mexico) / Belize, your first stop will be Flores anyway (oh, and in this case make sure you read our article about going from Chetumal to Flores in one day).
From El Salvador you'll arrive to Guatemaly City and if you arrived from Honduras, head to Flores (or perhaps make a day stop at charming Rio Dulce first – that's also one of the awesome places to visit in Guatemala).
---
Day 2: FLORES
Explore this cute island on the lake, which is connected to the mainland by a road. In the afternoon a bunch of stalls with street food are set along this road and the area is packed with locals. There are tacos, burritos and tortillas with countless different fillings, desserts and sweet juices. Delicious? Sure. And even better, it's dirt cheap. Ah, and don't be shy, just yell "dos tacos por favor" at the top of your lungs, like everybody else.
For those who prefer a proper sit-down, the island is packed with waterfront restaurants and bars. For the best view over the lake, pick one of the rooftop restaurants.
Vagabonds' tip for accommodation:
Budget: Hotel Posada Tayazal – Simple but spotless place. Ask for a rooftop room with a terrace – we were there for New Year's Eve and had the best views in the town! 🙂 
Somewhere in the middle: Hotel Casazul
Swanky: Bolontiku Hotel Boutique – this one is not located on the island but by the shore. Flores island is easily reachable by boat.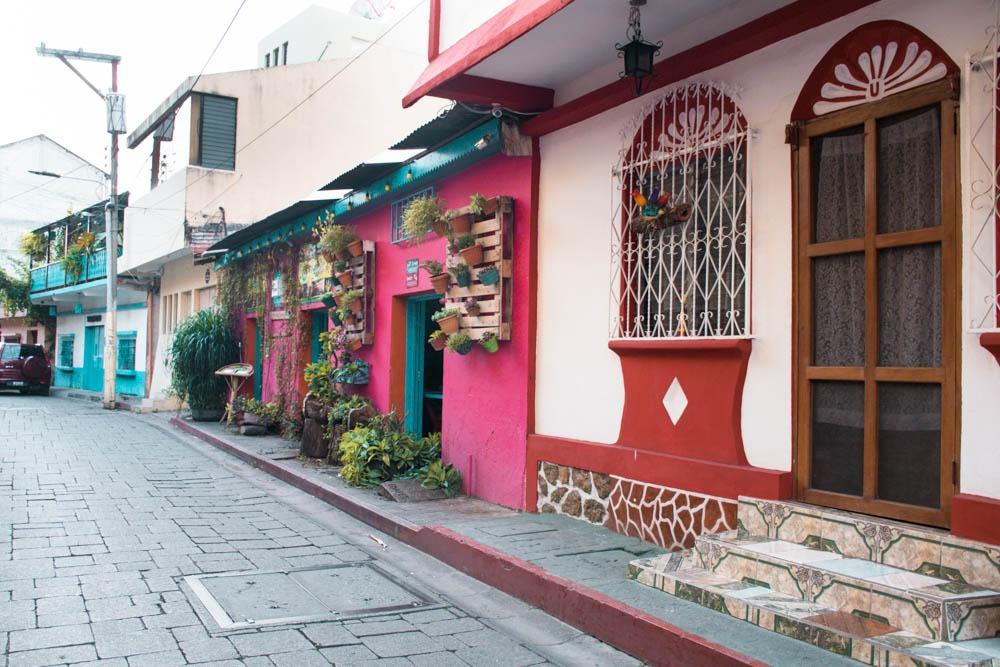 Day 3: TIKAL RUINS
Visit the Mayan ruins of Tikal. They are about a 2-hour drive away from Flores and while you can also go by yourself, we suggest you take a sunrise tour. Well, that is if you can get yourself out of bed at 4am in the morning. For not-so-early-birds, tours during the day or at sunset are also available.
During the day it can get quite hot and humid around here, so make sure you bring enough water and sunscreen.
Day 4 – 5: SEMUC CHAMPEY
Semuc Champey is one of these "best of Guatemala" places everybody is raving about. Also, it's one of those places we skipped simply because going there seemed like a real pain in the ass. Er, and to be honest – we hadn't heard of it before and hadn't seen any pictures. And yes, now we regret our decision, big time.
So, don't be like us, include Semuch Champey in your Guatemala itinerary if you can. Because it is gorgeous – a cascade of natural pools and waterfalls in which – duh – you can swim all day long. And behave like a child. Nope, not us. Never. Ehm.
One could say it's kinda sorta on the way to your next stop, Antigua, but it's still an 8-hour drive from Flores and then another 8 hours to Antigua (or so we were told), therefore you'll need two days for it.
Vagabonds' tip for accommodation:
The nearby town of Lanquin is a base to visit Semuc Champey (and that's where you'll take a bus to Antigua).
Budget: Pachamaya River Hostel
Somewhere in the middle: Mountain Nest
Day 6: ANTIGUA
Antigua is one of our favorite cities in Latin America! With its cobbled streets, colonial-era buildings (some of them are magnificent ruins), colourful markets and cute cafés and restaurant will quickly steal your heart and make you feel like you've come home. We liked it so much that we stopped here again for a couple of days when coming back from lake Atitlan. 
Perfect plan for the first day in Antigua: wander around the streets and tuck yourself in one of the many cafés in town (or go from one to the other and try how much caffeine you can take in 😛 ) Not a coffee lover? Don't worry, an assortment of smoothies, juices and tea are abundant as well! 
Vagabonds' tip for accommodation:
Budget: Barbara's Boutique Hostel – a place that instantly gives you the feeling that you won't want to leave!
Somewhere in the middle: Los Olivos Boutique Hotel Antigua Guatemala
Swanky: Hotel Museo Spa Casa Santo Domingo Did somebody say Spa??
Day 7: ANTIGUA
Find one of the chocolate shops in the city and join the chocolate class – you can make your own chocolate, yummy!
In the afternoon walk to the Cerro de la Cruz – a viewpoint above the city. Watch how the sun slowly descends behind the glorious volcanoes surrounding the city while the last rays of sunlight spill over the old buildings.
Are you already loving this 14 day Guatemala itinerary? Wait, the best is yet to come! 
Day 8: ANTIGUA DAY TRIP – A VOLCANO HIKE
Time for volcanoes!
If you're into hiking and you are in good shape, go on a two-day hike to the Acatenango volcano (departure in the morning and return midday the next day). From sunset to sunrise there are incredible views on the next-door Fuego, an active volcano erupting lava almost every day. 
But, the hike is definitely not to be underestimated – if your "fitness level" is similar to the one of your neighbour's pug, you should skip Acatenango and go to the Pacaya volcano instead. There is only an hour and a half of (rather steep) ascent to the top and at sunset, the views are simply stunning. There are no words to describe the feeling when you see lava for the first time in your life.
Oh, and you'll also bake marshmallows in a couple-of-weeks-old-lava at the top! Nope, this is not only for children. Yes, I qualify as well. Absolutely.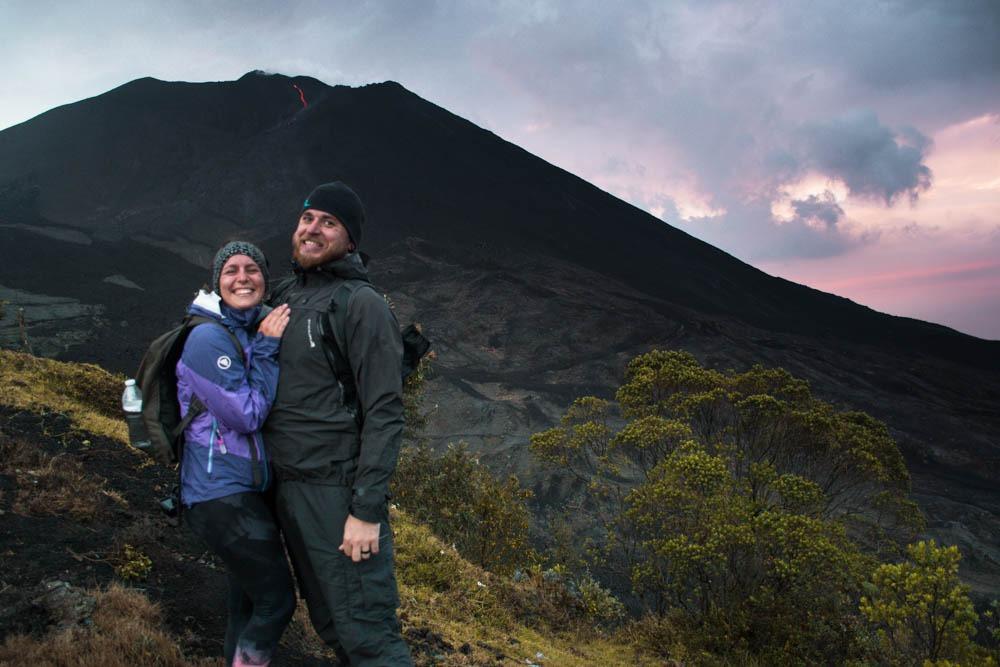 Day 9: ANTIGUA
In the morning take a tour to see coffee plantations (with obligatory testing of coffee at the end of course). In the afternoon visit a local market – west from the central park (10 min walking) there is a huge marketplace where they sell everything from food and clothing to souvenirs. It is cheaper than the one in the city center as well.
Finish your day on the terrace of the craft brewery Antigua Brewing Company – a beer overlooking the blowing Fuego volcano? Definitely worth those $6 😀
Day 10: ANTIGUA – LAKE ATITLAN
Head from Antigua towards Lake Atitlan. Prepare the camera, the views on the way down to the lake are magnificent! 
There are multiple shuttles available every day and the ride takes about 3-4 hours, depending on which place you'll stay. Most shuttles take you to Panajachel and then you have to take a boat to cross the lake, but it's also possible to go directly to other villages (that's what we did).
Day 11 – 13:  LAKE ATITLAN
Staying in one of the villages along the shores of mystical lake Atitlan is absolutely the best way to end your 2 week Guatemala itinerary. When you sip your morning coffee (er – ok, smoothie? Tea? Wine?) with the superb look over the lake surrounded by perfectly shaped volcanoes, the time will kinda sorta stop and then you'll remember my "dulce far niente" advice.  
But don't worry, we get you – you can't JUST SIT AROUND for three days (or can you?). Anyhow, there are plenty of things to do around here as well – hiking, kayaking, learning Spanish, ….. just check our Lake Atitlan article for ideas on what to do at lake Atitlan and which village to stay in. Some villages are more tourist-friendly while others are more "offbeat", so it depends on what you're after.
Day 14: LAKE ATITLAN – GUATEMALA CITY
From Atitlan Lake, there is a shuttle service directly to the airport of Cuidad de Guatemala. Time to go home …or further to El Salvador or Honduras perhaps?!
---
Check out our video – best of Guatemala!
---
WHAT TO PACK FOR 2 WEEKS IN GUATEMALA?
Guatemala is not as hot as its next-door countries, and it can also be chilly in the evenings. It's good to pack sports clothes for hiking – at the top of Acatenango volcano, it can be below zero during the night!
5 top things you should take with you:
Hiking shoes (especially if you plan to climb Acatenango volcano!) – I am super happy with my Salewa shoes!
Nikon – cos y'know, the views are stunning!
SteriPen – to reduce use of plastic (and besides, you'll look like a badass, drinking tap water and all that)
Motion sickness pills or Wristbands – believe me, those curvy roads just go on and on!
Kindle – Antigua with its cafés and lake Atitlan are those places when you can unwind and catch up with your latest book. Or read Harry Potter for the 10th time.
Want a full printable Guatemala Packing Checklist? Enter your name and email in the form below so we can send you one!
You'll also be subscribing to our monthly(ish) newsletter. We promise we'll try to keep you entertained but you can unsubscribe at any time. And no spam, we promise!
---
Heading further south or north? Then read these articles: 
---
We'd love to hear from you! Have you already been to Guatemala? What was your favorite place there? Tell us in the comments!
Pin this Guatemala itinerary right away!