Nicaragua is a lovely country in Central America, known for its active volcanoes, beautiful lakes, and paradise beaches of the Corn Islands in the Caribbean Sea.
Oh, wait, did I forget something? Yep! Best news – Nicaragua is a budget-friendly destination as well! *rubbing hands with excitement*
We had to skip the beautiful Corn Islands since we were short on time (*sighs*), so we only spent 11 days in Nica, but we visited quite a few places in the western half of the country.
So, let's hop straight to our Nicaragua travel budget breakdown!
OUR NICARAGUA TRAVEL BUDGET BREAKDOWN
Travel time:  11 days
Travel costs: $923
Average costs per day: $83,9 or $41,95 /person
(All prices are in USD)
ACCOMMODATION: $197 (approx. 21%)
While in Nicaragua, we spent an average of $17,9 per night on accommodation, which is approx. $10 less than in Mexico or Guatemala.
In Granada, we spent only $13 for a room with a private bathroom! (it was this hostel)
The disadvantage is that the air conditioner is more an exception rather than the rule in Nicaragua or they charge you almost double for a room with air-con. I gotta say, having only a fan in the room was almost unbearable at times – especially in Leon! But you know, backpacker's gotta do what backpackers gotta do. #savemoneyforbeer
Our favorite place to sleep in Nicaragua was this little treehouse in a local community on Ometepe Island! We had a lot of fun with this lovely family. 🙂
We booked all accommodation in Nicaragua on Booking.
TRANSPORTATION: $358 (approx. 39%)
So, here we go – that's where our money went! Actually, we didn't realize we had paid a lot for transportation until we made this travel budget breakdown for Nicaragua.
The major part of the transportation cost was the car rental for 7 days ($227  with basic (!) insurance) and other costs related to the car (gasoline and ferry to Ometepe Island). We had little time to explore this lovely country, therefore we opted for a rental car. If we'd stuck to public transport (buses + ferry ticket only for people) our total travel budget for Nicaragua would be considerably lower!
We included the transport from El Salvador to Leon into these costs as well ( $27/person including a dorm bed in Poco a Poco Hostel in Leon).
FOOD AND DRINKS:  $222 (approx. 24%)
Out of this:
GROCERIES: $20
RESTAURANTS: $172
ADDITIONAL BEER/COFFEE: $30
Now, I'm gonna be honest with you here – we weren't super excited about food in Nicaragua. Perhaps we should give it a second chance, but the things we tried…well, the majority of them tasted just..oily. Fried food is not our thing I guess.
So we kinda gave up and mostly ate in restaurants where they served grilled meat (next to French fries and fried banana of course), pasta and pizza. I felt pretty awful though since I love trying local food when traveling. Wait, cross that. I felt double pretty awful (is that a thing?) since dinner in restaurants was $10 or more per person. Ouch. 😣
There was one bright exception though – their Desayuno tipico,  Nicaraguan typical breakfast called Gallo Pinto was delicious! I dunno what's the thing with it, but eggs with avocado and rice with black beans don't taste as good anywhere else in the world!
Prices in supermarkets are quite high in Nicaragua, especially for any imported food.
AVERAGE PRICES OF FOOD AND DRINK IN NICARAGUA:
Water: $1,1
Lunch/dinner in restaurant: $9-12
Snickers: $1,7
Coffee: $2,7
Beer (national): $1,6
TOURS AND ENTRANCE FEES: $98 (approx. 11%)
Tours in Nicaragua are affordable and perfect for a backpacker's budget.
We spent $29 per person for boarding down the Cerro Negro volcano,  which was one of the most fun experiences during our yearlong honeymoon!
To be able to stare into the gates of hell (ok, it was a volcano crater, but the gates of hell sound much cooler!) we had to pay an entrance fee to the Masaya National Park which was $10 per person.
On the other hand, we paid only a dollar to climb to one of the bell towers in Iglesia de Merced in Granada, which offers a beautiful view over the city and the ticket for the Leon cathedral was only $3! 🙂
---
⇨ Traveling to Nicaragua? Make sure to read our Nicaragua travel tips before you go!
---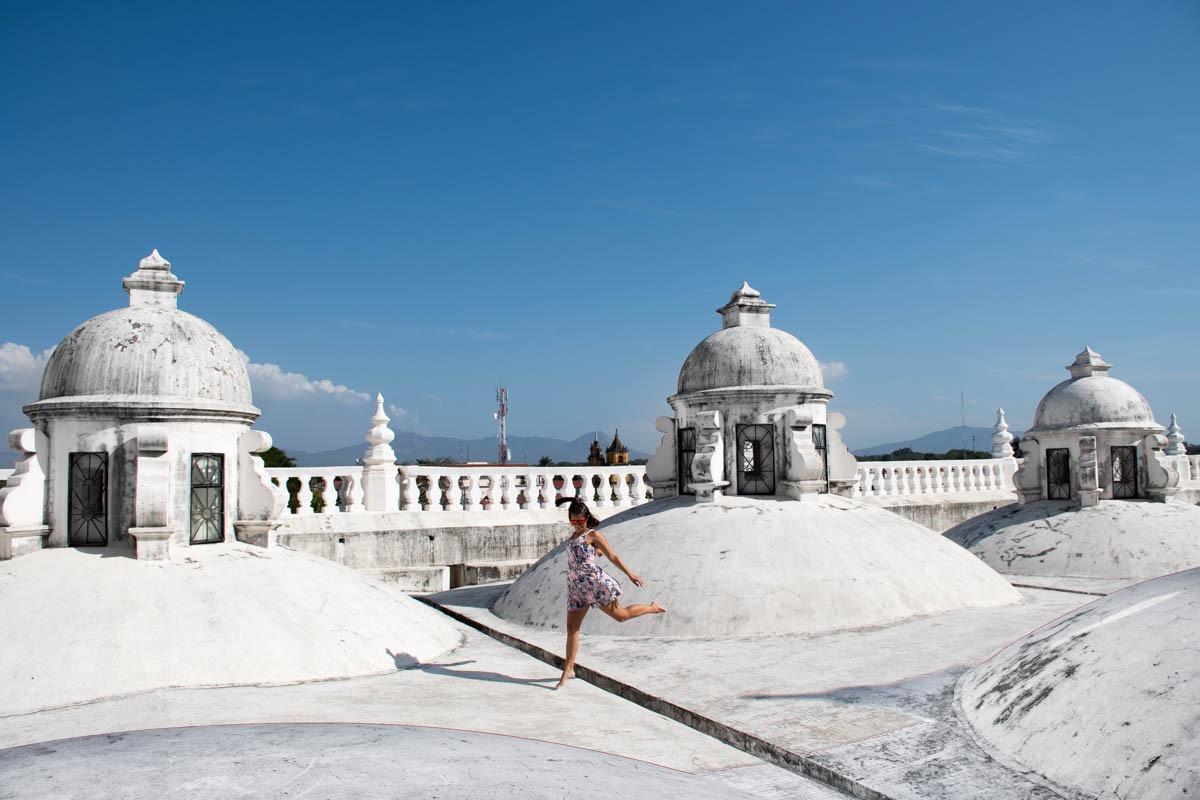 MISCELLANEOUS: $47 (approx. 5%)
Ha, another success! Miscellaneous expenses were low and we surely stuck to our preferred Nicaragua travel budget at least here. Almost half of this cost was a SIM card for Nicaragua ($22) and other costs include laundry, purchase of magnet and postcards and Bojan's visit to a hairdresser & barber. 🙂
A FEW EXTRA TIPS
The Nicaraguan currency is cordoba (NIO), and the ratio is: $US 1= approx. 34,4 NIO (April 2020)
ATMs were available in all major tourist places, and money could be withdrawn with debit and credit cards (Maestro, Mastercard, Visa).
On Ometepe Island, there are ATMs, but we were warned they may be empty sometimes, so it's better to bring enough cash with you.
If you're planning to visit  Little Corn Island, you'll need a lot of cash with you (for lodging, diving, etc.) because there are no ATMs on the island.
SO…DID WE STICK TO OUR NICARAGUA TRAVEL BUDGET?
Spoiler alert, we didn't.
When embarking on a journey, we expected our average daily budget to be around $65 (well, silly silly us for thinking the budget for Latin America would be the same as for Southeast Asia).
But!
If we wouldn't opt for a rental car and perhaps stick with the street food a bit more, Nicaragua would definitely be one of the cheapest countries we ever visited!
We didn't spend as little as we wanted. But we COULD. We could! Already knowing this makes me feel better. 😉
But, also – the car gave us the freedom to go wherever we wanted, so it was definitely worth the splurge! Btw, we named that cute green little bug Fernando. 😉
---
Wondering how much money do you need to travel around Mexico or Guatemala? Check it out here:
---
If you already visited Nicaragua, we'd love to hear what your travel budget was! Let us know in the comments! 
And don't forget to pin this for later!