Thinking about New Zealand North Island road trip? Congrats, your idea is awesome!
New Zealand, a country at a somewhat remote part of our Blue Marble (OK, depends on where you are), is essentially made up of two islands named … North and South Island. Quite innovative, right?
Though the main destination for many is South Island, a visit to this awe-inspiring country wouldn't be complete without including North Island as well.
Here you'll find our 12-day (or more!) New Zealand North Island road trip itinerary that will also take you off the beaten path.
New Zealand may appear small on the map but don't let this mislead you! It is a huge and diverse country with tons of things to see and do.
We couldn't fit everything in that we wanted to due to lack of time and the tiny fact that we were there in winter. But we've added suggestions for more activities into this article and if time, weather and money let you extend your travel, you can make even more out of this New Zealand North Island road trip!
NEW ZEALAND NORTH ISLAND ROAD TRIP – a day by day itinerary:
Day 1 and 2: Arrival to Auckland + Auckland
Driving distance: 20 km (from airport) + approx 35 km 
Arrival to Auckland
Chances are good that you'll land in Auckland to start your New Zealand North Island Road Trip.
It's most convenient to pick up and return a rental car from the airport as this will save you some time and money on transportation to/from and around Auckland.
However, if you prefer to explore Auckland without a car (and rent it later), you have several other options avaliable to get from Auckland airport to the city.
Car Rental in New Zealand
Our research shows that Apex Car Rentals (located a few kilometers away from the airport for 27€/day with full insurance for a station wagon) has proven to be the most affordable option for renting a car in New Zealand. If you book a car with them, they also offer a free shuttle from the airport and back.
It's best to book in advance so that when you arrive the process is super easy and fast, and there are absolutely no hidden costs (which I can't say from our bad experience in Mexico…).
Within 10 minutes we had keys in our hands and were able to drive away.  When flying back out of  New Zealand we just left the car in their parking lot and took their shuttle (which comes every 5 minutes) to the airport.
However, you can always check for other special deals and best offers on Rentalcars.com.
What to do in Auckland
Auckland is a lively city where you can indulge in nature (contrary to our expectations) or adrenaline activities or explore the culture and eat your way through it.
Here are some suggestions:
Climb Mt Eden

Go up or jump from the iconic SkyTower

Stroll through Auckland Museum

Relax (and eat!) in Wynyard Quarter
For a detailed guide about what to do in Auckland read our in-depth article: How to spend 3 days in Auckland.
Vagabonds' tip for accommodation in Auckland:
 JUCY Snooze hostel. Great downtown hostel with a well-equipped kitchen, living room and shared bathrooms. The rooms are simple (with bunk beds, chairs, and shelves) but clean. The hostel has a private garage (additional fee).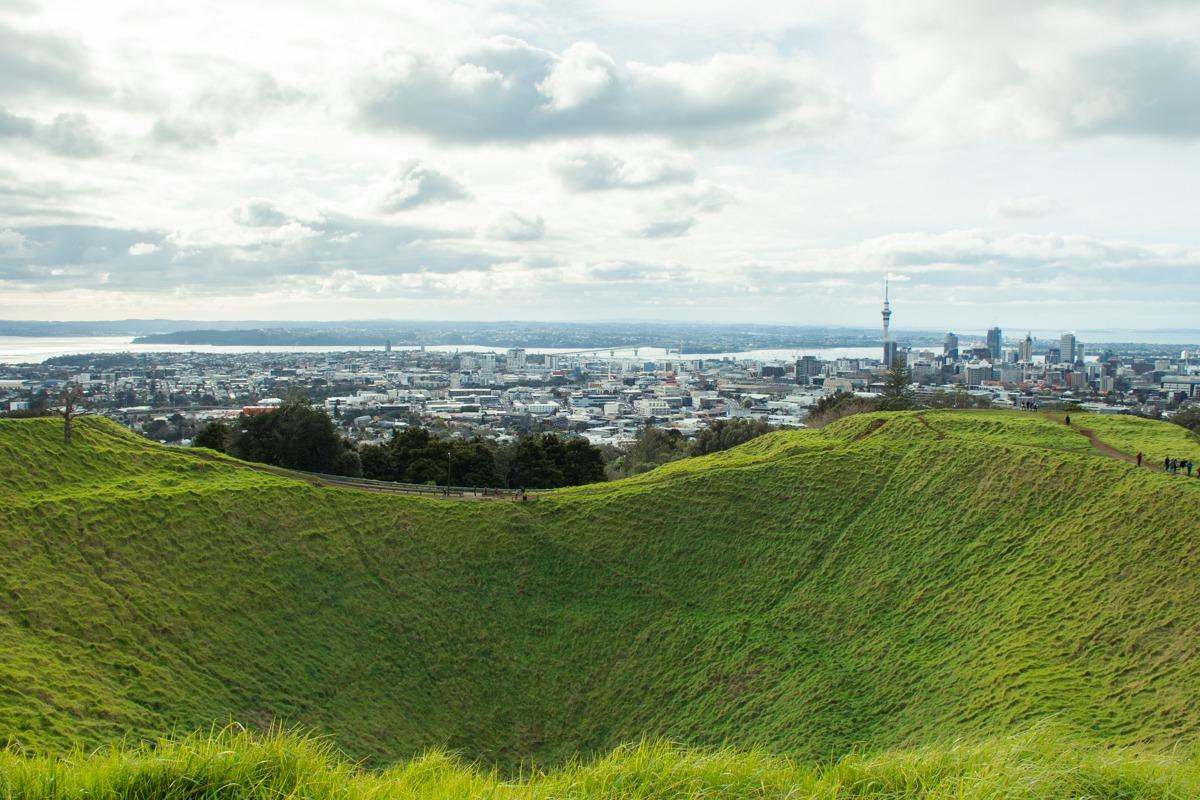 Day 3: Auckland – Hobbiton – Rotorua
Driving distance: approx 230 km
Now, this is where your road trip really begins!
After breakfast drive South towards the village of Matamata. On the way make a stop at Auckland Botanical Gardens, which are located about 25 km south of Auckland. Admission is free. Yeah baby!
We were there in the late winter and the gardens were still gorgeous, with pink tree blossoms and quacking ducks crisscrossing the ponds. When all the roses proudly wear their colors in spring, it must be even more beautiful!
There is a peacock walking around that seems extremely fond of posing for the camera. Or he's just being a peacock, I guess.
Continue your journey to Matamata and grab a quick lunch. Not far away from the village is your next destination.
Time to pay a visit to the Hobbits! We have already written about everything you need to know about visiting Hobbiton.
---
PRO TIP for EXTRA DAY:
If you can add one more day to your New Zealand North Island road trip itinerary, I suggest that you head to the Coromandel Peninsula, where the most famous thing to do is dig and soak in your own thermal pool at the Hot Water Beach.
Walk down the beach at Cathedral Cove and make that perfect Insta photo (just joking) or explore the mining history of the peninsula in Karangahake Gorge.
---
Later continue to Rotorua. Get some rest, because your next adventure is waiting for you!
Vagabonds' tip for accommodation in Rotorua:
 Base Rotorua. Large hostel with en-suite bathrooms, a huge kitchen and a geothermal pool. This means that the temperature of the water is not regulated and it just might be ridiculously hot, so you'll wanna check it beforehand. Don't be surprised if you'll need a couple of minutes to climb into the pool and take it as a victory if you manage to stay in another 5 minutes. 😉  It's a damn hardcore jacuzzi.
Day 4: Rotorua
Driving distance: approx 50 km
Rotorua area is known to be a geothermal wonderland and the first place where you'll notice this is in Kuirau Park.
Here you'll find some stinky and muddy ponds scattered around  (never thought muddy bursting bubbles would be so much fun). In the middle of the park is a smaller pool in which you can dip your (somehow always cold) feet.
Now the adrenaline kick!
The most popular thing to do around here is white water rafting at Okere Falls. With its 7m vertical fall, this is the highest commercial rafting waterfall in.the.world!
Not an adrenaline junkie? No worries, walk the circular path next to the river and make it your mission to capture some action on the camera. There might be some real action if the rafts get knocked over!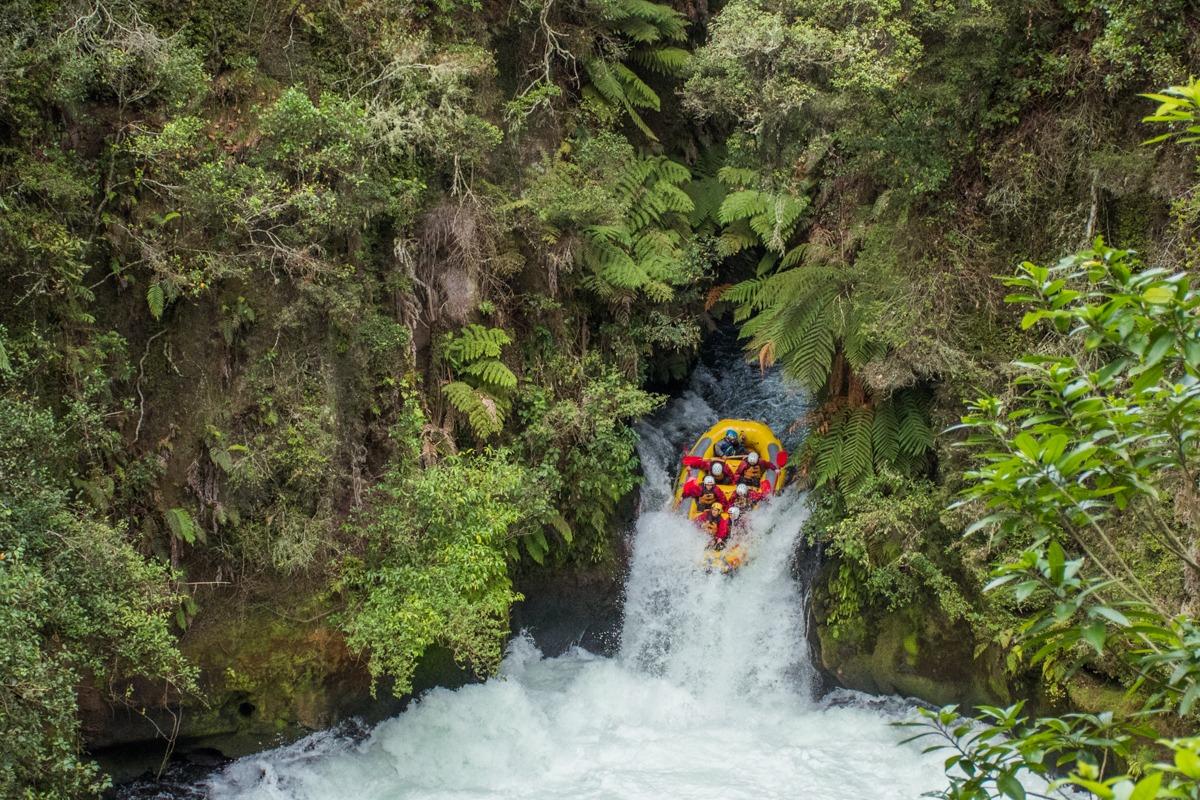 Redwoods Forest is a great place to go if you want to get lost among ancient giants. While you can really "walk among them" on a canopy walk about 10m above the ground, observing them from a frog's perspective may be even more intriguing.
Trails in the forest are well-maintained  (never seen paved stairs in a forest before) and well-marked.
History geek? Drive to Buried Village, which was destroyed by a volcano at the end of the 19th century. The volcano also buried limestone terraces nearby (natural terraces with thermal water).
There is also a café next to the museum and here you'll find deliciously creamy flat white and THE best raspberry muffins in the world. By the way, who knew that flat white is supposed to be originally from New Zealand?!?
During the drive back to town snap a pic at the viewpoint between Blue Lake and Green Lake (the latter is sacred to Maori therefore swimming is forbidden). It's probably not hard to guess why they are called Blue and Green. 😉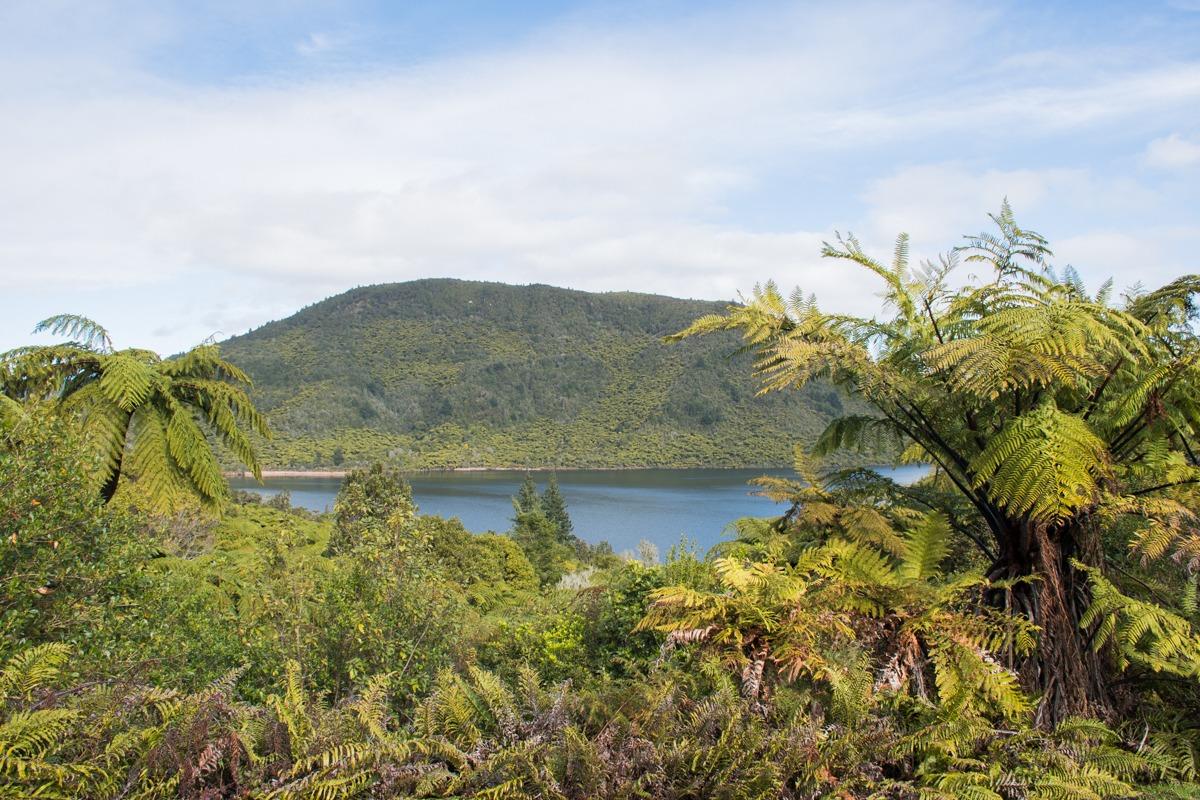 For a  perfect end to the day, take a cable car to the top of the hill above Rotorua, where you'll find several things to do:
If rafting wasn't enough, increase that daily dose of adrenaline with luge, zipline or sky swing (check Skyline Rotorua for more info).

Another alternative is just as appealing though – wine tasting with a view over the town. 5 tastings for 9.5€, view included? Yes, please.
---
PRO TIP for EXTRA DAY: Rotorua offers many things to do, so if you can extend your New Zealand North Island road trip for another day or two, this would be the perfect place to do so!
---
Some more suggestions on what to do in Rotorua:
Canopy tour – another popular adrenaline activity with ziplining included!
Two mountain bike parks (one at Skyline Rotorua, one near Redwood Forest)
Rainbow springs – an amusement and nature park that is great for families with kids. You'll see kiwis and a  kiwi hatchery here. In the evening you can attend Maori Cultural Experience – dinner, dance performance and an opportunity to mingle with Maori in traditional dress.
Te Puia Geothermal Park – besides a geyser and other geothermal wonders there is also a Maori settlement in the park.
Hell's gate – a place that looks  (and smells) exactly as the name suggests. 😊 These extremely popular muddy and stinky baths are said to have healing effects.
Whakarewarewa thermal village – similar to Te Puia, except that there is no geyser in this park.
Ohinemutu Maori village
Polynesian spa – a place with thermal pools for a relaxing evening (or romantic, if you book a  private one 😉)
Day 5: Rotorua – Taupo
Driving distance: approx 90 km
Day 5 of your North Island road trip is going to be packed, so start early!
The area around Rotorua is full of geothermal parks and one of the biggest is Wai-o-Tapu.
It's best to visit in the morning as a geyser named Lady Knox erupts at 10:15 am every day.
Wait, what? It erupts at the exact same hour every day?!
Spoiler alert: it erupts on command. 😀
Lady Knox receives help in the form of a soap product that triggers the geyser  (this is how it was accidentally discovered in the first place). However, the quantity and number of eruptions after that is in the domain of mother nature.
The entrance fee to Wai-o-Tapu is 19€, and the circular walk (taking photos included) takes approx 2 hours (add another half hour for Lady Knox). The most well-known attractions are the "champagne pool", which is a vibrant yellow color and a fluorescent green pond with very low pH.
No, you don't want to swim in it.
I was mentally preparing myself for a strong smell of rotten eggs, but it really wasn't too bad.
The park was full of people even in winter, so expect large crowds during high season.
So where's the fun in only watching thermal pools, right?
Hop in the car and head to  Kerosene Creek, natural thermal pools where you can soak in warm water for free and as long as you want. Just be careful not to dip your mouth or head underwater – amoeba can be found in geothermal waters which can cause amoebic meningitis.
Make your next stop sweet. Near Taupo is Huka Honey Hive, where they sell a variety of cosmetics (with honey extracts), liqueurs and honey. you can also see live bees at work.
The best part of this place is the free tasting (I mean, don't you absolutely love the word free?!?) of different varieties of honey and mead. Top this off with a honey ice cream to make your life even sweeter. 😛
Ever wanted to walk on the moon? Me too, but Bojan says I should lower my travel expectations.
Nevertheless, geothermal park Craters of the Moon does the job well – it does feel as if you were on the moon. In addition, there are two huge craters in the park with bubbling and boiling mud, which are quite impressive.
This park is smaller than others and receives far fewer visitors, so you may walk around alone. The entry fee is only 5€.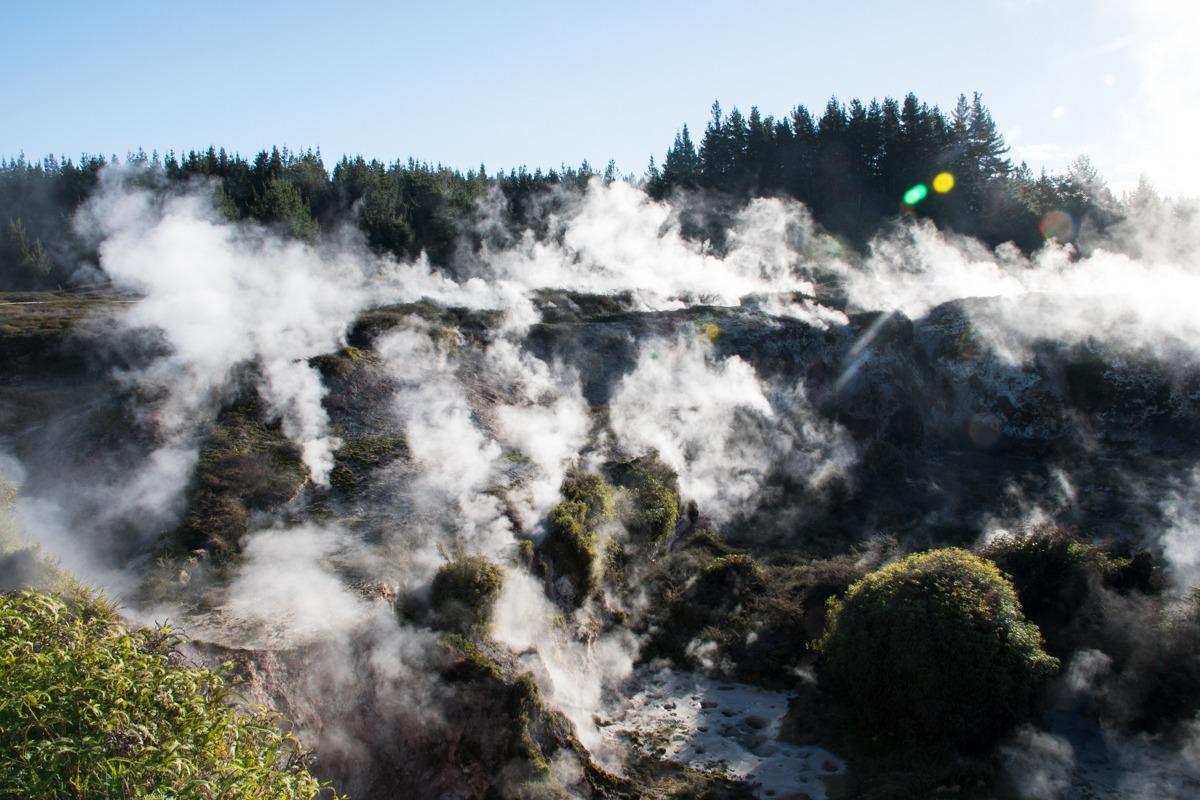 Before dark, head to the enormous Huka Falls with enough water flow to fill an  Olympic-sized swimming pool every 11 seconds! (If you run out of time, come here the next morning – there is even a nice walking/biking trail along the river from Taupo to the waterfalls.)
Some more suggestions on what to do between Rotorua and Taupo:
There are plenty of geothermal parks on the route between Rotorua and Taupo (best known are Orakei Korako and Waimango Volcanic Valley)
Wairakei thermal pools and terraces – either jump in the pools (14€) or just go for a walk on the limestone terraces (9€ )
Climb a hill named Rainbow mountain (I think it has nothing in common – besides the name – with the one in Peru 😊)
Heli Adventures – take a tour in a  helicopter
Skydiving – the most popular adrenaline activity around Taupo
Vagabonds' tips for accommodation in Taupo:
Rainbow Lodge Backpackers. Cozy and tidy hostel with bunk beds, shared bathrooms and a large kitchen and common area with plenty of books. The hostel offers a bunch of activities and even a sauna. The owner's fluffy Border-Collie is an extra bonus! 
Day 6: Taupo – Hawkes Bay (Napier)
Driving distance: approx 140 km
If it is not Monday or Tuesday, you can have your morning coffee at Cafe L'Arte coffee shop, which looks like it was designed by the famous Spanish artist Gaudi (it is located 9 km from the city center).
Then head to the city's Spa Thermal Park, where you can soak in the natural springs for free. The water is pleasantly warm and the pools have great views.
It may be a bit more difficult in high season, but during winter months it is easy for everyone to find their own hot puddle.😉 There are toilets and changing rooms in the park as well, so you don't have to worry about where to (more or less awkwardly) pull off your wet swimsuit.
Walking in the park (or up to the Huka falls) is a pleasant way to spend the morning as well, especially if you wait for your friends or significant other to speed down the trails in nearby Craters bike park.
---
PRO TIP for EXTRA DAY: Taupo area is best known for Tongariro Crossing, which is said to be one of the 10 most beautiful one-day treks in the world.
Due to winter conditions, we had to skip this one (it's possible to do it with the right equipment and guide though), but otherwise it's well worth adding another day to this New Zealand North Island road trip for this trek.
---
After a relaxing morning, drive in the direction of Hawkes Bay (don't forget to stop for a look at the Waipung waterfalls along the way). Soon you will be surrounded by lush green hills with hundreds of fluffy sheep.
For a view of  Napier, you can go to Otatara Pa Historic Preserve – this is basically a circular walking path in the area of ​​the former Maori settlement and along the way you'll find explanatory boards.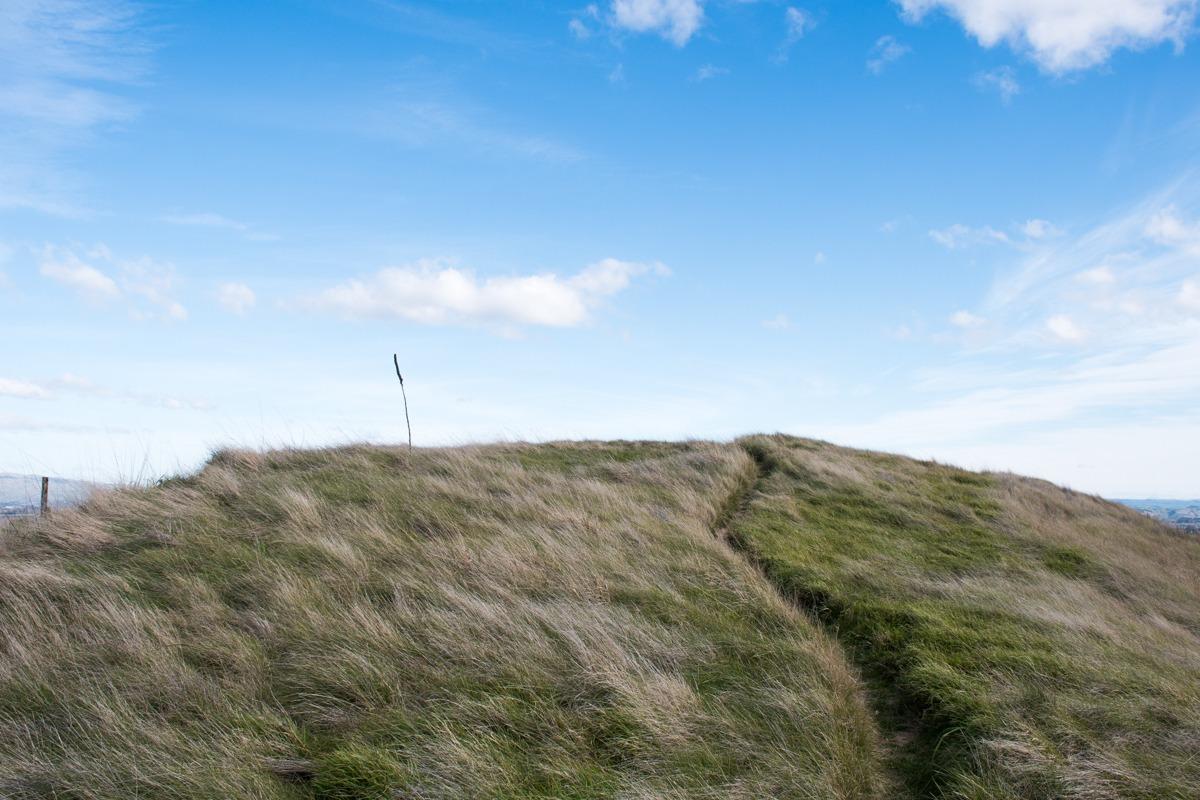 The Napier area is well known for its vineyards with Mission Estate Winery being one of the best.
For a mere 3€, you'll taste 7-8 different wines (well, if you aren't driving that is!) and receive a complimentary glass. If that's not a great deal, I don't know what it is!
Some more suggestions on what to do in Napier:
Self-guided walking tour (you'll  find a lot of Art Deco style around here)
Botanical gardens
Prison museum
Arataki Honey Visitor Center (if you didn't visit Huka Honey Hive near Taupo, this might be an alternative)
Vagabonds' tips for accommodation in Napier:
Stables Lodge Backpackers.  Man, the owner of this hostel must love horses! The name suggests how the hostel looks, but besides all the horsey-decorations it's a cozy place to spend the night with a shared kitchen, bathrooms and warm rooms.
Day 7:  Napier – Wellington
Driving distance: approx 330 km
The early bird catches the worm! Or in your case, sees as much as possible.
Today your New Zealand North Island road trip will take you all the way to the southern tip of the island!
Start the day early in the morning and drive to the halfway-point of  Te Mata Peak. Hike the second half to the top for superb 360 ° views. If it is downright pouring, or if your fitness level is the same as your granny's, you can choose to drive up all the way to the summit.
Here too the hill is covered with mountain-bike trails (as seems to be the case for the whole of New Zealand).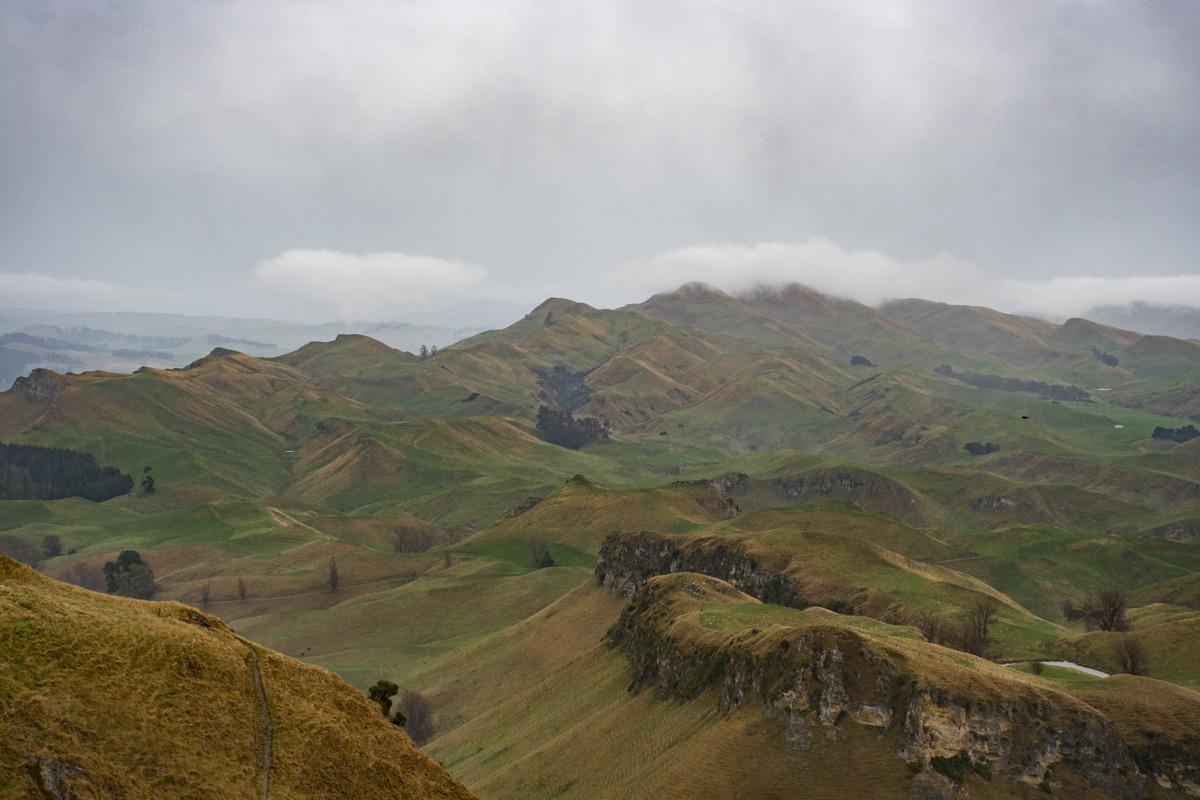 A perfect pit stop on the way to Wellington is Tui Brewery where you can join a tour around the brewery twice a day. Because all you came here for is a tour.
Yeah right.
You came for a pint of velvety liquid of course. Let me assure you – tastings are available throughout the day (single glass or a flight of 6 tasters).
No drinking and driving of course. Which is a good thing, because you'll get to drink most of your friends' beer. 😉
In the afternoon visit Pukaha National Wildlife center, home to the only white kiwi hatched in captivity.
The cute white fluffy ball is called Manukura and has a huge Facebook following  (I mean, this chick is surpassing us by thousands 😀 ). However, when we visited her majesty, she seemed quite oblivious to all her fans peeking through the glass and was focusing all her attention on some worms in the ground.
The center also has a good number of rare parrots and three species of eels, which reminded us more of excited puppies at dinner time than dangerous predators. In fact, they are quite gentle but may get overexcited and trip you when they curl between your legs if you aren't careful.
---
PRO TIP for EXTRA DAY: From Pukaha to Wellington it's about a 2-hour drive, but if you can add another day to your New Zealand North Island road trip, spend the night in Martinborough.
Next day drive to the most southwestern part of the island. Hike around the rugged landscape of the Putangirua Pinnacles (rock formations), where scenes from Lord of the Rings were filmed and head to the most secluded lighthouse in New Zealand, Cape Palliser.
On the way to Wellington visit Kaitoke Regional Park, which was also a filming location for Lord of the Rings (this place was used for  Rivendell, home of the elves).
---
Vagabonds' tips for accommodation in Wellington:
Trek Global Backpackers. Huge downtown hostel with a similar concept as Jucy Snooze in Auckland. It has many common areas and offers a lot of activities.
Day 8: Wellington
Driving distance: approx 18 km
Spend the day exploring the capital of New Zealand, Wellington.
Climb  Mount Victoria, take a stroll along the coast and visit (according to many NZ's best) Te Papa Museum (Free admission. Yes!).
Te Papa Museum is huge and here you can find everything from dinosaurs and endangered animal species (no, they aren't real darling) to giant squid in formalin.
And then there are things like earthquake simulations, Maori culture exhibits, modern art and the migration history of New Zealand, just to name a few.
It's easy to get lost for a few hours here!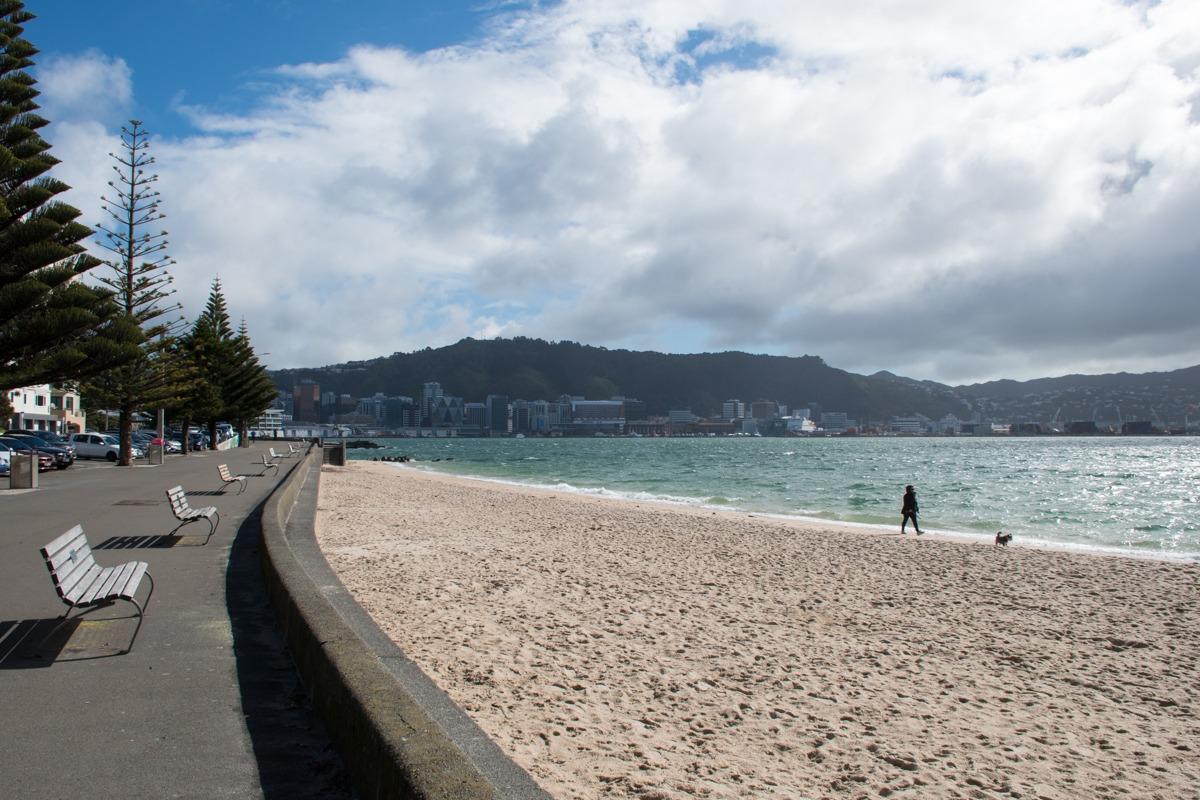 In the afternoon, take the funicular to the Botanic Gardens and stroll around the observatories.
Visit Weta cave – this is one of the largest studios in the world, specializing in masks and special effects for the film industry.
Must-do for fans of Lord of the Rings and The Hobbit, though they are also involved in many other famous movies as well!
The short presentation movie and the mini-museum are free of charge. Workshop tours start from 16€.
Some more suggestions on what to do in Wellington:
Zealandia – another wildlife center
Wellington ZOO
Parliament ("Beehive") tour
Day 9: Wellington – New Plymouth
Driving distance: approx 400 km
In the whole New Zealand North Island road trip itinerary this will be the day with the most driving!
But the surroundings are beautiful and picturesque, so you won't get bored easily. Make a pit stop at Peka Peka beach and ascend to Durie Hill Tower in Whanganui and Water Tower in Hawera.
To New Plymouth, continue along the coast road. At Opunake beach there are fantastic cliffs, and a little further along you'll find the photogenic Cape Egmont lighthouse. 😉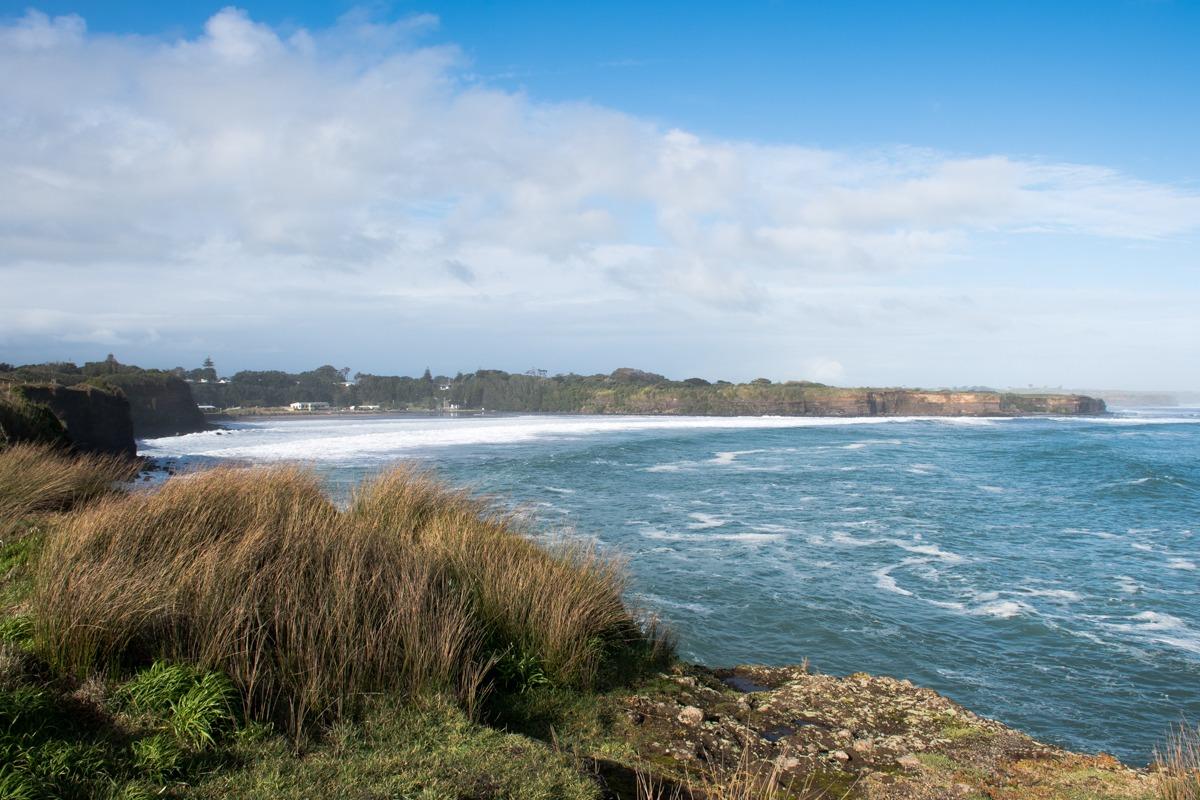 Vagabonds' tip for accommodation in New Plymouth:
There aren't many hostels in New Plymouth, so either choose a B&B or motel. We have stayed in Coronation Court Motel, which had small clean apartments. It was a bit out of town, but since we had a car this wasn't a problem.
Day 10: New Plymouth – Mt Taranaki – Forgotten World Highway – Waitomo
Driving distance: approx 320 km
In New Plymouth take a walk to Te Rewa Rewa Bridge,  where you will have a superb view of Mt Taranaki, your next destination.
There are many hiking trails surrounding the volcano. The circular path to Dawson Falls will lead you through Goblin Forest, which looks like an enchanted forest from a  fairytale.
Here it's not difficult to imagine how Snow White must have felt when she got lost in the forest!
In the afternoon drive through the most beautiful part of the North Island – The Forgotten World Highway. The last part of its name may be extremely misleading though. 😉
Never mind, the countryside is insanely beautiful!
Fluffy hills of incredibly green colour with sheep and cows happily chewing everywhere around. You'll spot a bunny now and then or a colourful pheasant lazily strolling by the forest edge. Little wooden farmhouses are painted in vibrant colors and smoke is slowly puffing through the chimneys, almost inviting you to stop and ask for that mince pie.
I mean, it's just like in a fairytale!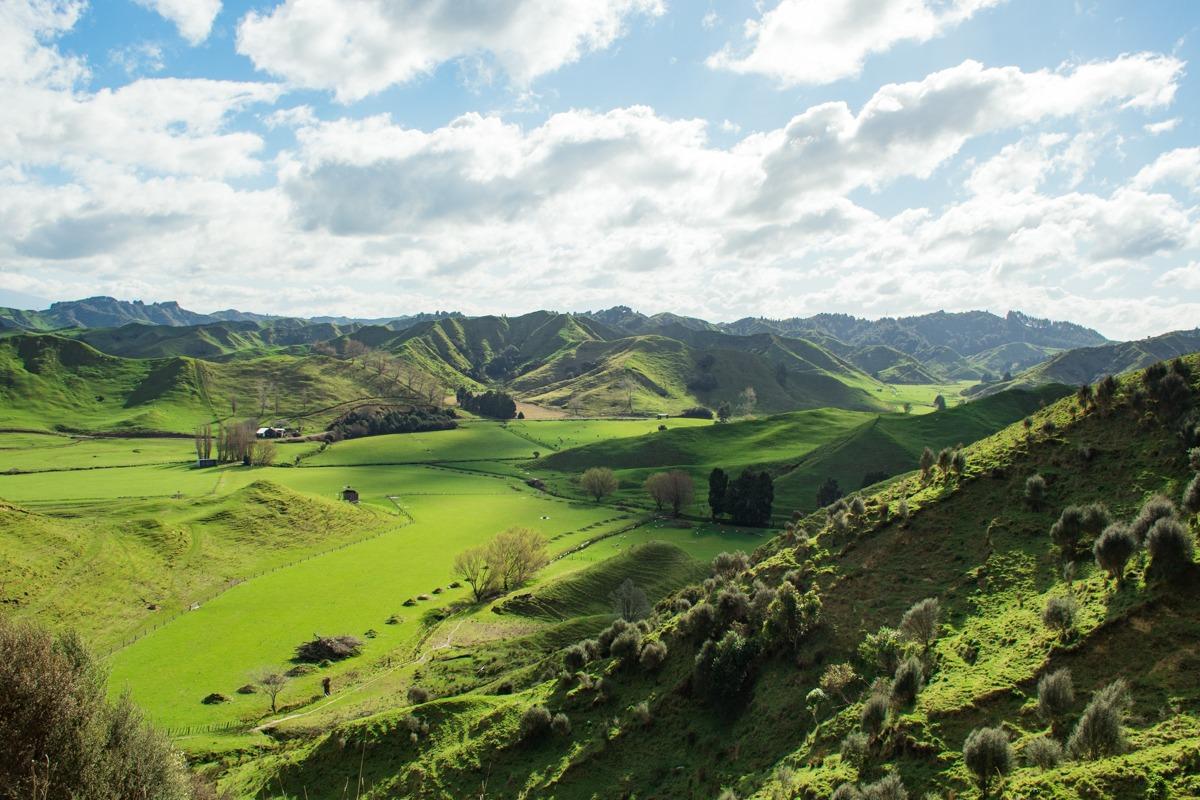 Make sure you don't just drive past "Whangamomoma Republic". This is a place where besides people,  goats and dogs sometimes get to be presidents as well, where you can drink beer in the most remote bar in New Zealand and get a real stamp in your passport.
Say what? Yep, true story. But you'll have to come here for yourself to find out more… 😉
You'll reach Waitomo in the dark probably, which is just fine.
Grab a headlamp and drive a few kilometers more. Ruakuri Bushwalk is a perfect place to watch the glowworms in the dark!
I mean, worms with butts that glitter in the dark like stars in the sky? That's a pretty damn cool thing. ( I wish my butt would shine too)
Vagabonds' tip for accommodation in Waitomo:
Waitomo Caves Hotel Antique hotel with big, modern rooms, super comfy beds and tasty breakfast. And it's close to Waitomo Caves!
Day 11: Waitomo – Hamilton – Auckland
Driving distance: approx 270 km
In the morning, explore the (wider) area of ​​Waitomo – Piripiri Cave, Marokopa Waterfalls and Mangapohue Natural Bridge.
---
PRO TIP: Ruakura Bushwalk is a place to see glowworms for free, but most people come to Waitomo for black water rafting in Waitomo Caves where you can see thousands of them. If an adrenaline rush is what gets you going then this will be an experience for you!
---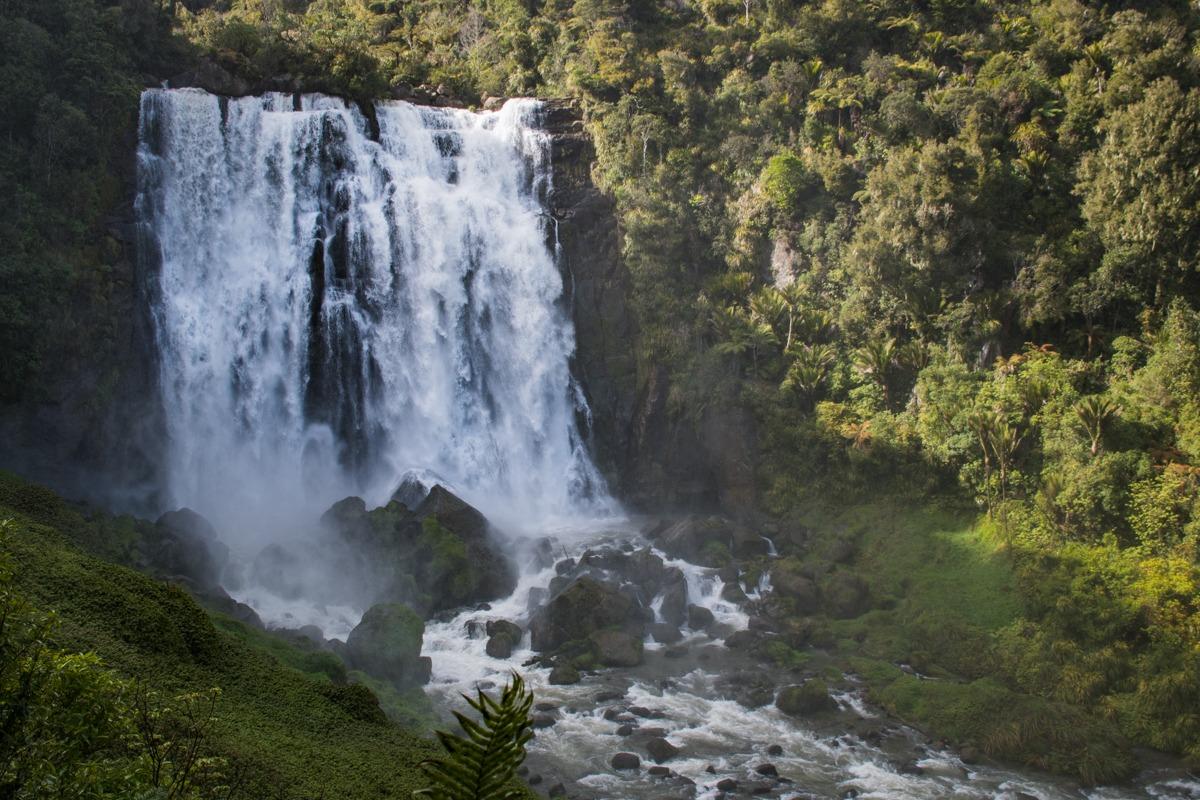 On the way to Auckland stop in Hamilton.
Hamilton Gardens is a complex of beautifully decorated gardens from different historical periods and styles – tropical, herbal, Tudor, Renaissance, English, Japanese, modern… You get the idea.
Take time to smell the flowers. That's the quote we live by. 😛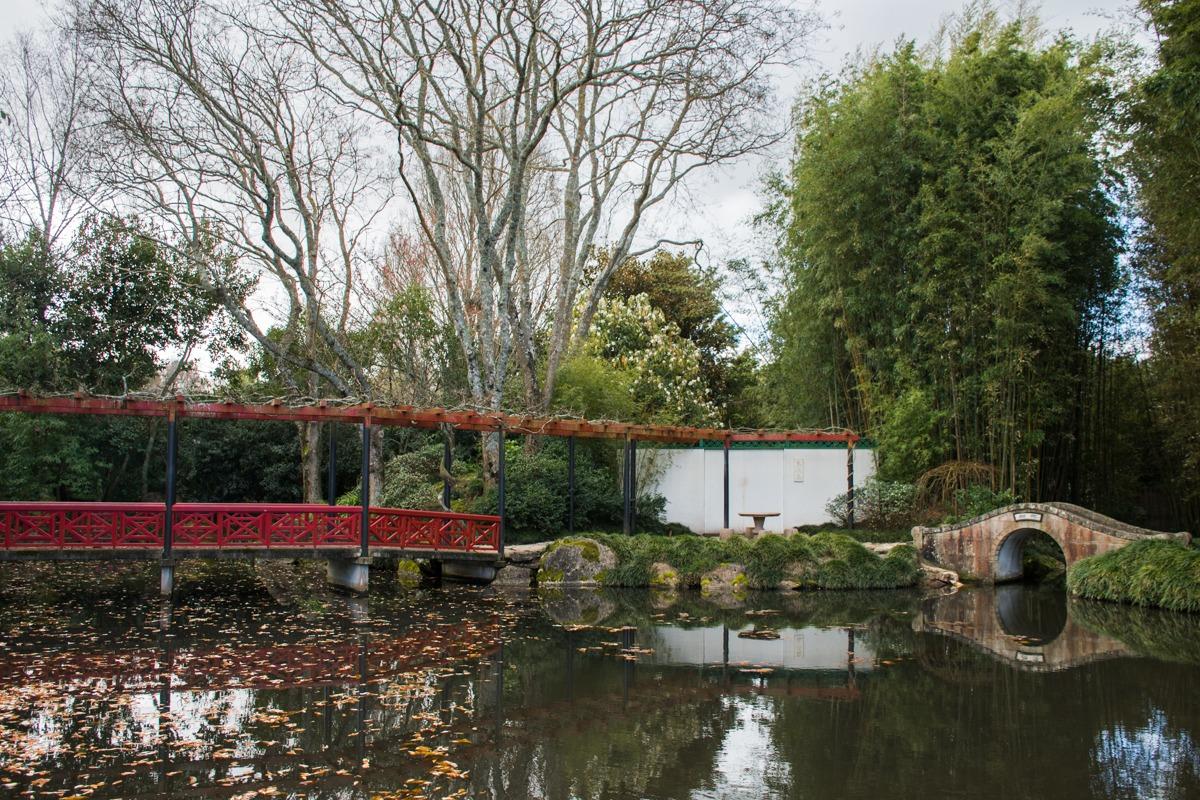 At 5 pm, it's time for a tea party.
Zealong Tea Estate is the only place in New Zealand with a tea plantation. A cup of tea (let alone everything else) is quite expensive (6€ for tea!), but it does come with a swanky ambience and a detailed explanation about how you should prepare and drink the tea.
To my delight, there was enough tea for at least 3 cups. Yes, I drank it all. It was 6€, for Christ's sake.
Accommodation: see our tip for Auckland (for Day 1)
Day 12: Waiheke Island
Driving distance: 0 km
For a perfect end of your New Zealand North Island road trip head to  Waiheke island to indulge in some sun, delicious food and a glass (or five) of wine.
in fact, it's better if your car waits for you in the garage today. 😉
In our 3 days in Auckland blog post, you'll find everything about how to go to Waiheke island and what to do there.
And that's a wrap!
Have you managed to keep it up until the end? Congrats, this was a long one.
We hope this New Zealand North Island road trip itinerary will help you plan an unforgettable trip.
Leave us any questions you may have in the comments section, we're happy to help! And if you'll use this itinerary, we'd love you to DM us on Instagram so we can follow along!
Happy vagabonding! 😊
Oh, and of course, don't forget to pin this post for later🤓