While I was sitting by the window of our cute apartment at Atitlan Lake in Guatemala, cheerfully sipping my cacao and writing a post about one-month travel itinerary to Mexico, something weird happened. I got that squeezing feeling in my throat. I coughed once, twice. It didn't help. You know that feeling like having a throat glued together and you can not breathe? Panic. Slight to moderate. Than I started to feel hot and there was tingling in my fingers… Oh, shit. Either I have a wild imagination or I have an allergic reaction to something.
What did I eat for breakfast ??? Hmm … pancakes, coffee, jam, … nothing special. Ah, and peanut butter! I do not know, I am supposedly not allergic to peanuts, but for the last two years something similar has already happened to me…and every time I realized I ate peanuts.  Damn, maybe I've become slightly allergic after all. Of course it may be something else, for what I know. But because the feeling of squeezing in the throat is quite unpleasant, at this moment, I couldn't care less whether it was due to peanuts, yesterday's steak or the position of the moon in the sky. I yelled to Bojan: "Where's our travel medical kit??" 
 As a pharmacist, I guess I have a "professional deformation" since I usually carry with me the ever-increasing amount of medicines that could probably heal a whole village. 🙂 Or two. This time I had to pack less, because our backpacks really are not that big (What is 40L for a year of travel, right?). Actually, I downsized so much, I forgot to take one of the most important medicins – antihistamines ! (these are tablets against allergic reactions). Perhaps due to the sixth sense or something, I realized that in Antigua and  before leaving for the Atitlan Lake, I bought one box there.  By the way, medicines in Guatemala are quite expensive, I payed as much as € 12 for a box. Well, it's really good that I did! 
So, let's take a look what our travel medical kit consists of: (Bojan still thinks we carry way too much with us 😛 ) 
Painkillers:
paracetamol
ibuprofen (in case of sever pain)
Medications for gastric disorders:
pantoprazol – in case of severe pain (inhibits gastric acid production)
hydrotalcite – for quick  relief ("neutralizes" gastric acid)
Antibiotics:
azitromycin
ciprofloxacine
Simple explanation: first is for problems above tummy and the other for problems below tummy 😊
sulfametoxazole/trimethoprim – in case of bladder infection
Diarrhea medicines:
probiotics
or carbo medicinalis (we don't have it with us this time)
Travel sickness medicines:
dimenhydrinate.  You are also sleepy after taking this pills, which is great since you don't need to watch that horrible roads 😛
Cold medicines:
something with paracetamol & pseudoefedrine & vit.C
something against coughing and soar throat
Allergy medicines:
cetirizine (bought in Guatemala)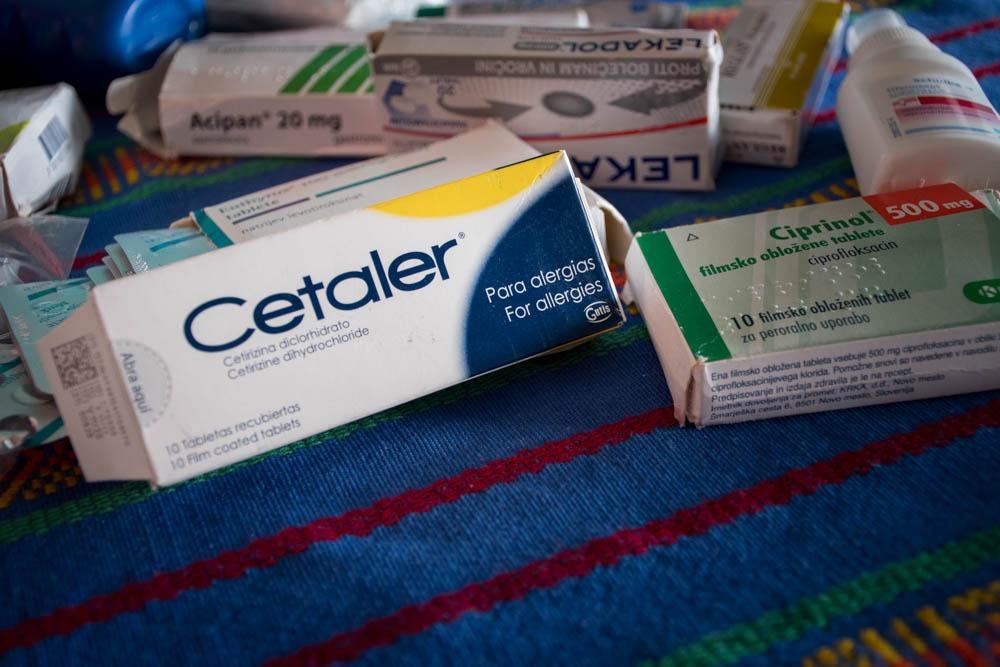 Other:
thyroid pills (Euthyrox) – this is not a part of travel medical kit, it's just something I have to take every day

wound disinfectant and wound healing cream

aloe vera gel (for insect bites)

medicines for sleeping (plant based!) – I took it with us only because I had them at home. However, if you have difficulties with sleeping on a plane/bus, they may be a good idea.

 repellent and sun cream – it's better to buy them at home –  quality is better and they're cheaper!
In addition to travel medical kit, we also have mini first aid kit with us. It is recommended that the medicines are always in their original packaging, but in this case our travel medical kit would exceed the frames of that pink bag in the picture. Therefore, I left only those medicines in the original packaging that I really do not want them to be taken from me. In the case of a chronic therapy (i.e. Euthyrox for thyroid), it is recommended to have a doctor's certificate with you (and the latter is mandatory in the case of some antipsychotics, narcotics, etc., otherwise you may run into some problems).
Wanna know how much of our travel medical kit we have already used? 🙂
This is our statistics after two months of travel:
Sandra: 2x travel sickness pill, 2x paracetamol, 10x pantoprazole, 1x allergy pill
Bojan: a box of cold medicines, 2 boxes of probiotics, antibiotics against abdominal problems (purchased in Mexico)
Now, tell me…Who is now the main user here ?! 😀 Perhaps our travel medical kit is not too big, after all. 😉
I hope our travel medical kit list will help you when packing for your next adventure. 🙂 And even though it is difficult to avoid at least some problems if you are traveling for a long time, we wish you healthy travels! 🙂