After traveling for 6 weeks around Mexico, we arrived in Guatemala just before the New Year. On New Year's Eve, we sat on a terrace of our hotel in Flores and talked about what we liked most about Mexico.
The highlight of the trip to Mexico? "Certainly a diving course on Cozumel island," I replied. We are determined to go back one day (because diving with pregnant bull sharks is something that definitely fits on our bucket list, duh)
The best vibe? "Bonobo Surf House in Puerto Escondido", Bojan claimed. Yep, true that.
Favourite place in Mexico? "Oaxaca!", we both shot immediately.
The funniest thing about it is, before actually going there we didn't know much about what to do in Oaxaca. Heck, we practically didn't know anything about it except that on the map it looked like a proper stop before heading further south and that everybody was raving about "mole". So much for our planning skills.
So what's so special about Oaxaca, that made such an impression on us?  In fact, the areas surrounding the city are not so appealing and while driving towards the bus station we weren't excited at all. But immediately upon arriving in Oaxaca, we got that special tingly feeling when you know you're gonna love something.
We came for two days and stayed for five and didn't want to leave at all. And now you won't need to wonder what to do in Oaxaca as we did, cuz ta-na-na-na* (*trumpets, of course!), we've put together 25 amazing things for you to do in Oaxaca. And it's quite possible you haven't heard of some of them yet! (excitement level: a pufferfish about to explode). [Calm down Sandra, calm down now].
Ok, let's dive right in!
In case you were wondering what an excited pufferfish looks like.
WHERE EXACTLY IS OAXACA?
Before asking yourself what to do in Oaxaca you'll want to know how to get there, right?
Oaxaca is the capital of the Mexican State of Oaxaca, which borders  4 other states (Puebla, Veracruz, Guerrero and Chiapas) and pssst – has some of the best beaches in the south (more about that at the end of the post).
HOW TO GO TO FROM MEXICO CITY TO OAXACA
The best options to go from Mexico City to Oaxaca are by bus or a rental car.
ADO is the best bus company in Mexico – their buses are clean, modern and premium ones have huuuge legroom (like, being 6.5 ft tall and having enough space huge). We did try one or two other bus companies but prefer ADO over them.
ADO buses run frequently to Oaxaca and you can either show up at the bus station and take the next bus or go in advance to one of their offices and buy a ticket. As a foreigner, you can't make a reservation directly on their website, but we were told you can do so on a ClickBus website. However, we always bought tickets from one of their offices.
The bus ride to Oaxaca takes anywhere from 6 to 9 hours and costs approx. $20-$35 USD (depending on the route and bus type).
However, on the road to Oaxaca there are some areas with beautiful cactus plantations, so if you want to explore the area, a rental car is the way to go. Mind you, renting a car isn't the cheapest option in Mexico, but we still managed to keep our daily budget under $40 (for both of us!).
Don't have much time but have money (hey, that was us once, in a faraway past!)? Then hop on a plane and in one hour you'll be there – this is surely the fastest way to go from Mexico City to Oaxaca.
---
⇒ Planning to explore Mexico City? Then check out our itinerary for 4 days in Mexico City which is perfect for first-time visitors.
---
Watch our video from Mexico City & Oaxaca for some wanderlust!
WHAT TO DO IN OAXACA: 25 AWESOME THINGS
1. UNWIND AT ZOCALO
If you don't have any idea what to do in Oaxaca (yep, that was us), I'd suggest going to Zocalo as a first thing. This is where you'll get the real feel of the city and probably fall in love with it, just like we did.  And even if you dont't know where Zocalo is, all you have to do is follow the sound of the party!
We were greeted by a busy area, packed with stands and locals, especially in the evening when whole families come to hang out, chat and, er – probably low-key stalk their neighbours. (Btw, we'd love if you would stalk us on Instagram!).
The main square is surrounded by plenty of restaurants (yep, you can get a touristy vibe with waiters persistently inviting you to their own) – just find your favourite one, sit down and unwind.
2. STROLL THE CITY STREETS
The city center of Oaxaca is not complicated to navigate and walking along streets with bright colonial buildings will keep you busy for a couple of hours for sure. The only downside is the horrendous traffic and narrow sidewalks. C'mon, I wanna take a perfect-angle photo of the building and the cars are going in my way, how dare they!
But (!!!), there are a few pedestrian-only streets where you can freely enjoy yourself (not worrying about getting killed does help with that) and spin around with your camera as much as you want.  Yay!
3. TAKE A FREE WALKING TOUR
Now, we are becoming bigger and bigger fans of these. While we aren't always in the mood to go around with a group, we join them from time to time – me to get a daily dose of history and culture and Bojan to get local tips about the quirkiest places and best beer in town.
They aren't completely free though – they are always tip-based. No, a tip is not obligatory. Yes, you're a jackass if you don't tip. You can find out  about a free walking tour in Oaxaca here.
4. HANG AROUND THE CHURCH OF SANTO DOMINGO
The sheer size of Santo Domingo church dominates the second most popular downtown area. Peek into the church (it is beautiful!), take some silly photos and simply sit and hang around, with a chocolate churro in your hand.
5. PAY A VISIT TO THE  MUSEUM OF CULTURES
The Museum of Cultures in Oaxaca is inside a monastery complex, which is basically attached to the Santo Domingo church, so all you have to do is peek around the corner. As you can imagine – it's about culture and history (what else, right). It covers Mexican history from the pre-Columbian era to the present and history geeks beware – an hour won't be enough!
Besides many historical artifacts, treasures from one of the tombs in Mitla are displayed in the museum, so that's a cool start if you plan to visit the ruins later on. Don't know what Mitla is? No worries, just read further. Yep, of course it's one of the "what to do in Oaxaca" things, bingoooo.
Opening hours: every day except Mondays, from 10 am-6 pm
Entrance fee: 80 MXP (approx. $ 4.5)
6. RELAX AT BOTANICAL GARDENS
A visit to the Museum of Cultures can be combined with a stroll around Oaxaca botanical gardens ("Always take time to smell the flowers", remember?) which are a part of the complex. It's just this tiny thing that you can visit them only as part of a guided tour. Boohoo.
Of course, we didn't know that when we showed up at the door. Bojan wasn't too upset about it, to be frank- but since I visit botanical gardens in most of the places we go (slight misfortune for Bojan, I know), I was unhappy I couldn't – you know, take time to smell the flowers. Or in this case, to touch the cactus spines.
Since it was our last day in Oaxaca, we had to skip them, but you don't need to repeat our mistake: English tours are on Tuesdays, Thursdays and Saturdays at 11 am.
Donation: 100 MXP (approx. $5)
7. EAT YOUR WAY AROUND THE CITY
Oaxaca is known as Mexico's culinary capital. If you ask any Mexican, they will say that Oaxaca is home to the best food and that you absolutely have to taste "MOLE". See, we knew what to do in Oaxaca after all – taste mole, if not anything else. Well, turns out it's hard to miss mole because it's part of almost every meal anyway.
But do not assume (as I did, the smartass I wannabe) mole is a shorter version of the word "guacamole". A-a. Nope. Not even close.
Mole is basically a dense, slowly cooked sauce, which is added to (almost all) dishes. Actually, there are 7 kinds of mole (they differ in ingredients, spiciness, etc.) and you can try each of them in Oaxaca!
We did try some of them. Wanna know what happened?
We had to cancel the trip we had planned for the next day since Bojan couldn't go too far from the toilet. 😀
"Mole, huh?" the guy in the travel agency knowingly nodded and laughed when I said that we would have to postpone the trip because my husband got sick. "No problem senora, toma mezcal!" (No problem madam, he should just drink mezcal!).
Another famous food in Oaxaca is TLAYUDE, which is basically a tortilla (surprise, surprise) with vegetable (finally, guaca-mole!) and meat AND a lot of local cheese. Yummy? Yummy.
What we didn't try though, are CHAPULINES aka roasted grasshoppers! I did try roasted grasshoppers back in Slovenia when I was younger and going to the scouts, but I swear Slovenian grasshoppers are miniature in comparison to Mexican meaty bugs.
These are a real selling hit among the locals (you can't miss enormous buckets filled with tens of kilos of these creatures!) and they cheerfully chew them while watching a football game on TV. "A bag of bugs please, senora"? Er -I guess I'm just gonna stick with peanuts, thanks.
8. GRAB A MORNING CROISSANT AT ONE OF THE STYLISH CAFÉS
Planning what to do in Oaxaca next will be an easy-peasy task with a cup of heavenly latte by your side. Or with a cup of whatever you drink if you don't consume caffeine. No seriously, what do you people drink? And more importantly, how are you still alive?? #confessionsofacoffeelover
Where was I? (Sorry, went to make a cappuccino. Extra creamy. Guilty as charged.)
Ah, yes.
Oaxaca is full of cosy, stylish cafés, filled with tourists and digital nomads. Honestly, when I was sipping my coffee and did some writing for the blog, I almost felt like one of them. Emphasis on almost, since nobody was paying me for my work back then. 😀
Our favourite cafés in Oaxaca were Brújula and Panaderia Yalalag – the latter was a bakery with a space for a few tables and their pastries were d-e-l-i-c-i-o-u-s. We also planned to have breakfast in a french-style cafe Boulenc since we found a recommendation in Lonely Planet.
---
We are still "old-school". We sometimes download a Lonely Planet on our Kindle (we had to do so during our yearlong honeymoon, cuz –  imagine carrying 16 books with us), but we love "the real thing". Btw, you can get your Lonely Planet Guide for Mexico here.
---
But surprise surprise – in front of the cafe there was a line of people who patiently waited for their breakfast. Or Insta perfect photo, I assume, since they were all dressed up and posing in front of the bakery. So, we only took the buns at the bakery (again, yummy!) and went for coffee at another place.
Just for your info: when we passed by this café a few hours later, the situation was still the same … so perhaps you'll want to get up early 😉
9. VISIT AN IRISH PUB (yep, you heard that right!)
An Irish pub in Oaxaca? Oh yeah, and a pretty authentic one! It is located in the proximity of the Santo Domingo church and features all the quintessential things of an Irish pub:  The wooden interior, loud international music, even louder TV screens with a football match going on, burgers & fries and of course- Guinness. Oh, and it comes with Irish prices.
So, when you'll want to mix up your Mexican evenings at Zocalo with something else, this is a place that will surely do the trick.
10. SHOP 'TIL YOU DROP
Oaxaca is the place where old is mixed with new and tradition meets modernity. While Zocalo and the area around Santo Domingo are dotted with stands, full of traditional artisan crafts, various galleries and shops along pedestrian-friendly zones offer the modern version of "artesania" and Mexican art.
Now, a long-term traveler can't just buy anything and stuff it into an already-too-full backpack (Why, oh why don't I have a magic bag like Hermione! – you know, THE Hermione, Harry Potter's bestie), but there's always a place for something little. Like a magnet. Or perhaps a new wallet. And a new day bag to put a wallet in. See where this is going??
11. GET LOCAL AT MERCADO DE 20 NOVIEMBRE
Recommended to us by hostel staff we had to check this one out ("BBQ place?! Let's go!!" was Bojan's response.)
It's an enormous covered market with numerous food stalls and an "area for BBQ" where meat is being grilled. No, you can't miss it, just follow your nose. While Bojan was thrilled about all the choice I preferred a veggie snack – freshly made smoothie!
Besides food, you'll find some souvenirs and clothes/shoes stands here as well.
If you're more interested in the souvenirs than in food, visit the other market in the city, Mercado Benito Juárez.
Opening hours for both: every day until 9 pm
12. VISIT LESS KNOWN MUSEUMS IN THE CITY
While the Museum of Cultures is the most famous, there are quite a few smaller museums scattered around the city.
I sadly haven't managed to visit them, but here are some suggestions on what to do in Oaxaca if you have more time:
Museum of Textiles (good news: the entrance is free!)
Contemporary Art Museum
Museum of Prehispanic Art
The house of Benito Juárez (he was a Mexican president from Oaxaca of indigenous origins that came from a poor family)
13. FIND A ROOFTOP FOR A NIGHT VIEW OVER THE CITY
Perhaps a place where you're staying has a rooftop terrace, but even if not, just head to one of the restaurants that does! Have a cocktail or two at sunset and wait for night to fall for a slightly different view of the city. Psst, you can low-key stalk what's going on in the streets below you and nobody will know! 😉
14. GO TO THE CITY CEMETERY (no, I'm not kidding)
If you're strolling around that part of the city (Barrio de Xochimilco), walk through the cemetery. While we Europeans are "all serious about death" (don't know how to put it another way!), the Mexicans have a slightly different attitude towards it.
We were in Oaxaca at the end of November and walking among the graves (well, more tombs than graves) that were still vividly decorated from Dia de Los Muertos, is an interesting insight into the Mexican culture. Of course, be respectful. And don't wave around with selfie sticks, it's still a cemetery!
15. CELEBRATE THE DAY OF THE DEAD
Talking about Dia de Los Muertos – if you by any chance can, plan your visit to Oaxaca around this day! The holiday is famous throughout  Mexico, but in Oaxaca some of the best celebrations in the country take place! And from what we gathered being in the city for 5 days and witnessing a bunch of celebrations on a "regular" week, we can only imagine how lively it gets on the 2nd of November!
---
Enter your name and email details in the form below so we can send you a FREE Packing Checklist for Mexico!

You'll also be subscribing to our monthly(ish) newsletter. We promise we'll try to keep you entertained but you can unsubscribe at any time. And no spam, we promise!
---
16. MEASURE DEL ARBOL DEL TULE
Arbol del Tule is supposed to have the widest tree trunk on Earth. Now, I'm still kind of skeptical about this (giant sequoias, I'm looking at you), but even Wikipedia says so (well, questionable again). With a diameter of 9.38m, it is supposed to be even wider than giant sequoias. In any case, it is gigantic.  And while it looks like multiple trees it is actually compromised of multiple trunks from an individual origin.
Entrance fee: less than a dollar
We visited Arbol del Tule as part of a tour, but you can take a taxi in Oaxaca (it is not far) and visit by yourself as well.
17. OBSERVE THE RUG-WEAVING PROCESS 
Ever wonder how a carpet or a dress is hand-made? It's not like I've never seen the process of weaving with looms before, but the guide's explanation was so thorough and interesting that I really loved visiting this place! Plus, who knew you can get an indigo colour from grasshoppers, which then changes with various additives (when changing pH) to all possible shades? Fascinating!
The prices of the carpets (or other products) were quite high but I still regret not buying a colourful camera strap (this wasn't even that expensive, it was around $15). After all, if I'd put so much time and effort into making a product, I'd probably charge even more. Way more.
We visited the weaving village Teotitlan del Valle as part of a tour.
18. JOIN THE TEMAZCAL CEREMONY
You may want to add this to your Oaxaca itinerary! Temazcal ceremony is an ancient Mayan ritual of cleansing your body of toxins. It's supposed to be a spiritual ritual but I'll let you be the judge of that. It takes places in an igloo-like building made with bricks which resembles a sauna and you'll receive a herbal massage as well.
Now, who am I to say no to a massage! 😀
The ceremony is quite pricey though, around $35 – so, if you're on a strict backpacker's budget, you'll skip this one.
19. DRINK (TOO MUCH) AT A MEZCAL FACTORY
Mezcal is a drink that Europeans aren't so familiar with or we mostly know it by a name that usually conjures various "memories" – tequila. But while every tequila is mezcal, every mezcal is not tequila. Both drinks are made from the agave plant and tequila is essentially just a type of mezcal produced from a particular type of agave.
Unlike tequila, mezcal has a more full and (to our surprise) smoky taste which does not resemble its sister-from-another-mister tequila at all, thank goodness.  This is a consequence of underground roasting which you'll be able to see at a mezcal factory. They prepare mezcal in all possible alcohol percentages and flavours – there is even one for which the flavour is obtained by putting specific worms in it and then one worm is left in a bottle for decoration. Feeling adventurous? 😉
You can visit one of the many "mezcalerias" in Oaxaca (ask in your hostel for mezcal tours!) or visit the actual factory. We visited El Rey de Matatlán factory as part of a daily tour and did not regret the decision. Why? After a very short explanation of the process, people were placed in front of the counter and tasting began. Drink as much as you can (in a short period of time).  
Dizzy is an understatement of how I felt after all the shots! This didn't stop us from buying another bottle of aged mezcal, of course. One has gotta be prepared to disinfect after eating mole, duh.
Opening hours: every day from 9 am-7 pm (except Sunday & Monday until 6 pm)
20. TAKE CHEESY PHOTOS IN AGAVE FIELDS
At first glance, these plants look very friendly but are actually quite sharp and you can quickly prick your finger on them like on a spinning wheel (Well, I don't have personal experience in the latter but we all watched Sleeping Beauty and know how this goes!).
However, no need to touch them, but they can make a fun background for a photo or ten! And I'm sure if you drink some of the final product beforehand, you'll have more imagination for poses than we did!
21. LEARN SOME HISTORY AT RUINS IN MITLA
There are countless archaeological sites and abandoned places of ancient civilizations in Mexico. The specialty of Mitla is that this was apparently a kind of "home for the elderly/sick rich Zapotecs". Some kind of spa, in fact, where old or sick rulers came to die so their subjects would not see them in bad shape and would then not remember them as god-like creatures. Yeah, I can imagine that if you barely move with the help of a stick while you are covered with black buboes, this probably does not give the best impression of "divinity".
There are some interesting tunnels and tombs you can climb in and even though much of the ancient site was torn down when Spaniards arrived, the once-grandiosity of the place can still be felt among the ruins.
Opening hours: every day from 8 am-5 pm
Entrance fee: 75 MXP (approx. $4)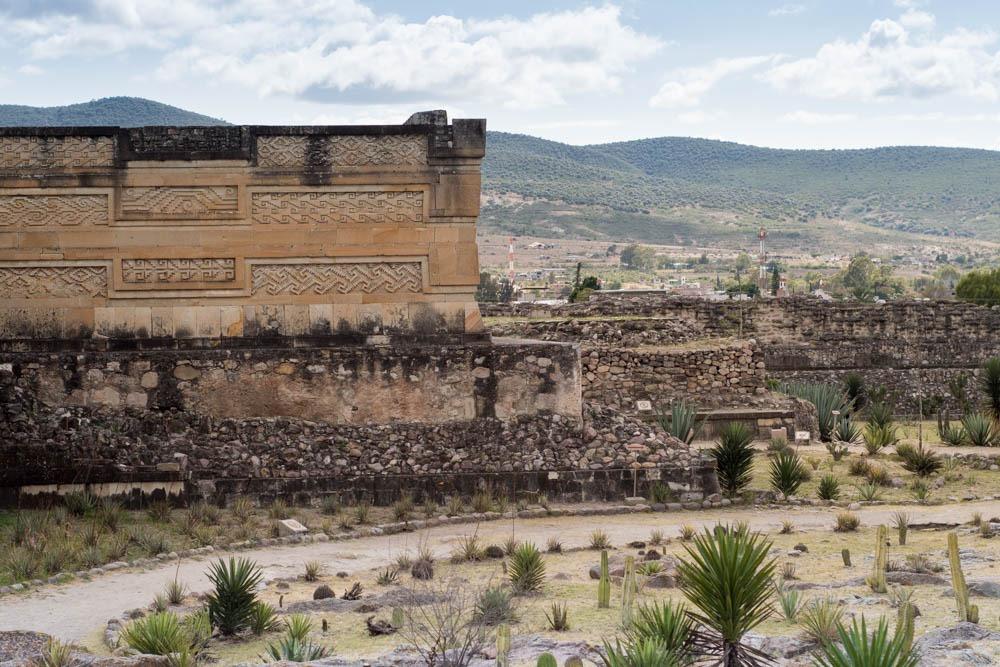 22. DIP YOUR TOES (OR SWIM?) IN DREAMY HIERVE AL AGUA
Hierve al Agua should go somewhere on the top of your "what to do in Oaxaca" list! This natural wonder made a great impression on me (Bojan commented: "Yes, cuz it's kind of romantic and cheesy, that's why."). But who wouldn't be thrilled about stunning natural infinity pools with gorgeous views on the mountains and huge limestone creations that resemble a frozen waterfall? And if this wouldn't be dreamy enough, a single tree growing behind one of the pools creates a striking composition that simply can't result in a bad photo! 😀
The water is fairly cold though and the air slightly smells of sulfur – I tried to convince Bojan that this surely means the water has healing characteristics, but he somehow wasn't buying it.
Anyhow, it's perfectly safe to swim in the pools and next to them is a small changing area (at the time of our visit they charged 30 pesos which is around $1.5).
Good to know: besides a changing area, there is nothing around the pools and there is a steep 5-10 min walk up to the parking lot with restaurants and stands. I did find this delightful since it gave the place the tranquility it deserves!
Entrance fee: 25 MXN (approx. $1.5)
Opening hours: every day 9 am-6 pm
---
If we can, we avoid tours and explore the area by ourselves. However, the daily tours in Oaxaca seemed like a good deal – we paid 150 pesos ($8) for a daily tour to visit the "Arbol del Tule", Mitla, mezcal factory, Hierve al Agua and the village where we observed the weaving process. Even though the entrance ticket for Hierve al Agua and Mitla and lunch weren't included in the price, we felt like this was a real bargain. Not only did we go to many different places in one day, but the guide was also super knowledgeable and truly made an effort to make the tour interesting.
Numerous tourists offices in Oaxaca offer such daily trips and prices are similar in most of them. Well, we asked in 3 or 4 agencies and their price was 200 pesos, but somehow we got an even cheaper deal. $2 is $2! (Or in Bojan's language: that's one more beer!)
---
23. TAKE A DAY TRIP TO MONTE ALBAN
If you aren't already officially ruined-out, Monte Alba will make a lovely day trip from Oaxaca city. This massive archaeological complex from the pre-Columbian era is magnificent and it does remind one of the Teotihuacan ruins near Mexico City. It is possible to climb the pyramids to marvel at the same view as ancient rulers did.
Opening hours: every day from 8 am-5 pm
Entrance fee: 75 MXP (approx. $4)
24. GO MOUNTAIN BIKING!
Around Oaxaca there are many hilly areas, perfect for hiking and mountain biking. But, er – don't go wandering by yourself since you could by mistake end up in a field where something funny grows and you could get yourself into trouble.
Bojan found a small company Camina y Rueda Oaxaca that organizes mountain biking and hiking tours and had a blast on the single-tracks of Oaxaca. Well, at least when going downhill, he said that cycling uphill at altitude levels up to 3000m is demanding AF!
And if mountain biking is not for you, you can still opt for hiking. It's cheaper and easier to go uphill. 😀
Price: approx. $110 for a day trip, including equipment & lunch
25. JOIN THE LOCALS AT CELEBRATIONS AND PARTIES
Last but not least, one of the best things you can do in Oaxaca, is simply to enjoy yourself and mingle with locals. After seeing a huge crowd of people singing and dancing while a band was performing at Zocalo the first night we arrived, we asked a waiter in one of the restaurants if there is any special celebration taking place around that time.
He shrugged and said, "No, nada especial. (nothing special) People in Oaxaca just like to have fun. "
And really! We were in Oaxaca for 5 days, and various parades took place every single day. Orchestras and mariachi played in the evenings, and people were cheerfully chatting and dancing, especially elderly ones.
On one such occasion, one of the grandpas noticed me trying to catch the rhythm (I strongly assume I looked like I needed help). So he approached and asked Bojan if "he could have that song".  He proudly took me to the middle of the dancefloor and swirled me around (Yes, we were the centre of attention. No, I didn't care much.) He nodded approvingly all the time, giving me some extra courage and at the end of the dance he bowed and took me by the arm back to Bojan. What a cavalier! 😀
WHERE TO STAY IN OAXACA
OUR STAY: ANDAINA YOUTH HOSTEL
Andaina Youth Hostel  is an enormous three-floor hostel close to the Zocalo with simple but spacious rooms, shared bathrooms and a kitchen area. There are several seating areas on every floor and WIFI works well throughout the hostel. Complimentary coffee and biscuits all day, yay!
Extra bonus: rooftop terrace with deck chairs and view all around the city!
Unfortunately, they didn't serve breakfast, but we didn't mind since we could go to a new café every morning guilt-free!
SOME OTHER OPTIONS IN OAXACA:
Backpacker's budget: Yabanhi hostel – a hostel with great reviews with dormitories, private rooms and bungalows. It is located a couple of blocks away from Santo Domingo church and has a rooftop terrace as well!
Somewhere in the middle: Casa de los Milagros – a beautiful B&B with private rooms, lounge area and a terrace where you'll be able to indulge in a glass (er-bottle, probably) of wine in the evening.
Swanky vibes? Hotel NaNa Vida has an unmistakable Mexican vibe with a modern touch. It features a restaurant, bar and the best thing – a garden to relax after a day of exploring.
WHERE TO GO FROM OAXACA
Traveling south from Oaxaca, you'll probably have one of the following places in mind as your next destination: Puerto Escondido with the best beaches in Oaxaca or San Cristobal de las Casas.
FROM OAXACA TO PUERTO ESCONDIDO
Yaaas, that's the best decision! Sandy beaches, endless surf-perfect waves and a margarita in both hands! There is only one downside – the road to Puerto Escondido is appalling – 250 km of hard-core curves and 1500m of altitude difference. And no, Google won't calculate the commute time correctly 😀
You have two options:
ADO; the buses don't take this route though, but go all around (first to Salina Cruz and then back up the coast). The ride will take from 11-12 hours and the price is around $25-30.
Taxi collectivo. Cheaper and faster option, but – it takes the above-mentioned road! I took two anti-sickness pills in advance, so I somehow survived (ok, I was half-drugged for about 5 hours) but Bojan had to suffer through all 8 hours! Ah, and you'll be packed with NO leg space. It's an adventure, for sure – what else would you expect for $12!? 😀
And, as almost anywhere in Mexico, you can go by plane. Downside? The price – plane tickets are more than 100$ which is not very cost-effective in comparison to other domestic flights in Mexico.
FROM OAXACA TO SAN CRISTOBAL DE LAS CASAS
Since ADO premium buses are so comfortable, we'd suggest you take the bus to San Cristobal. Since it's an 11-hour ride to San Cristobal it's best to take a night bus and save money on accommodation! Price is between $35-45.
We did so when going from Puerto Escondido to San Cristobal – and the bus was half empty so we were able to have two seats each!
---
  ⇒ Traveling all the way down to Yucatan peninsula? Then read our detailed one month Mexico itinerary!
---
All in all, it's no wonder why Oaxaca is our favourite place in Mexico! In those few days that we spent there, it really grew on us and we would love to go back one day. What about you – what's your favorite place in Mexico?
Did we convince you to go to Oaxaca? Then pin this for later!