When traveling around Bolivia during our yearlong honeymoon, we actually wondered if Sucre is worth visiting and if there are any cool things to do in Sucre. Oh boy, we would have been missing out if we hadn't gone to Sucre! In fact, Sucre turned out to be love at first glance, and instead of the planned 3 days, we ended up staying for an entire week!
Just as we felt that Bariloche in Argentina might be the prettiest town in Patagonia, we still think that Sucre is perhaps one of the loveliest cities in South America. And while you won't find any wonders of the world or world-famous tourist attractions in the city, there are still plenty of things you can do in Sucre. Watch out, you might like it so much that you'll get stuck here for weeks! 😉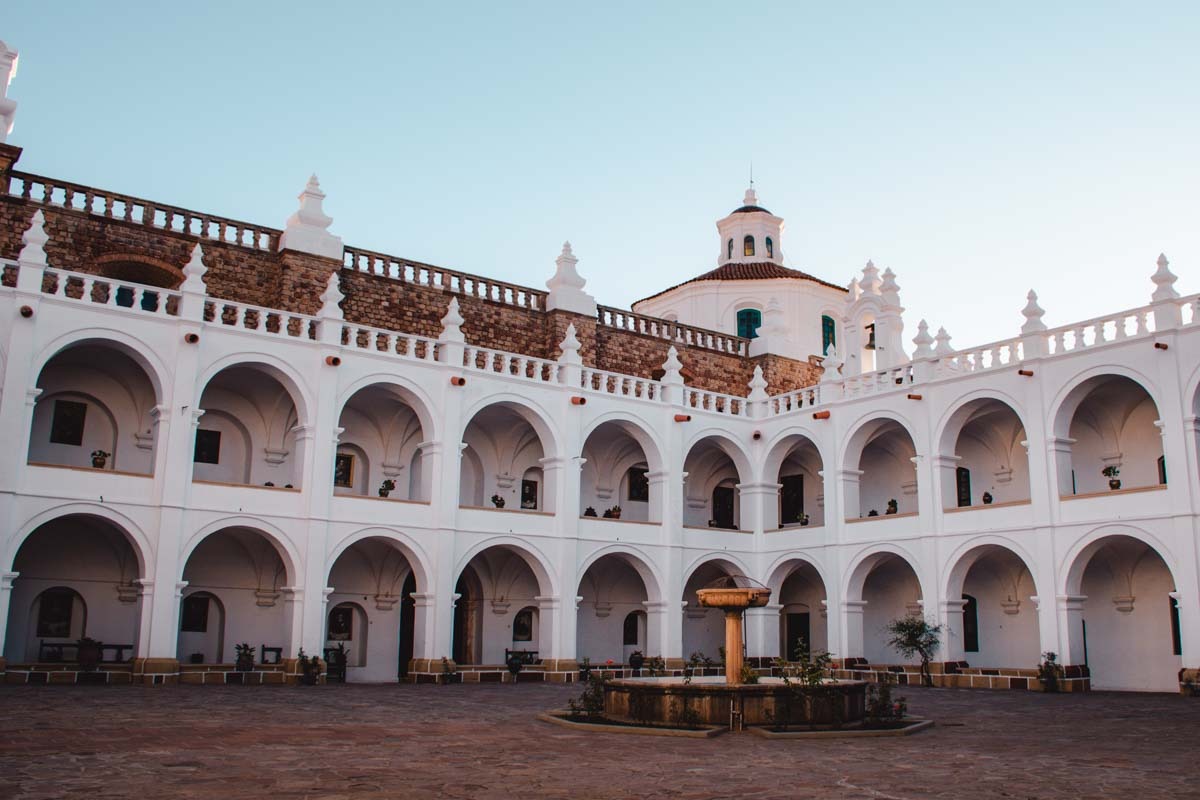 HERE ARE AT LEAST 15 AWESOME THINGS TO DO IN SUCRE:
(but I'm sure there are many more!)
Stroll Through the White Streets of Sucre – AGAIN AND AGAIN
Sucre, the constitutional capital of Bolivia (Bolivia's government is based in La Paz) is called the "white city" for a reason – in fact, its central part is so gorgeous that it's under the protection of UNESCO. The entire city center is composed of snow-white colonial buildings nestled next to each other, giving the city a unique charm. Adorned facades, balconies, church towers with large wooden doors, and a plethora of sparkling details under the sun – you simply can't get enough of strolling through these streets! So, this may not only be the first but also one of the best things to do in Sucre! 🙂
Find the "Eiffel Tower" in the Park!
The main park in the city is called Plaza 25 de Mayo, where you can sit on a bench with an ice cream in hand and observe the hustle and bustle of passers-by in the afternoon sun.
Oh yes, we did that every day. No, we couldn't get enough of it. There are plenty of ice cream shops around Sucre, but our favorite was VacaFria with its traditional flavors like "tres leches con caramelo," "dulce de leche," and "flan." Just thinking about the taste makes my mouth water!
Another beautiful park is Simon Bolivar Park, rumored to have a miniature replica of the Eiffel Tower in the center. Although the structure doesn't quite resemble the one in Paris, it's said to have been built by the same hands. Er, what?
And the best part? You can climb up for free, along with all the local kids 😉

Admire Sucre From Above at La Recoleta
A 15-minute uphill walk from Plaza 25 de Mayo will lead you to La Recoleta, a monastery built by the Franciscan order in the 17th century. Besides this building being a museum and convent, it also served as a prison in the past (Didn't they all at some point?)
We didn't visit the museum, but if you're into sacral art, it might be worth stopping by. We climbed up to La Recoleta solely for the superb view – from the grand square surrounded by magnificent white arches, you can see most of the city and its surroundings.
Oh, and there's a bunch of street vendors nearby – in case anyone needs a new ring, earrings, or perhaps a poncho or three 😉 There's no such thing as too many rings!
Discover the culture of Bolivia at the Museum of Indigenous Art (Museo de Arte Indígena)
Near Recoleta, you'll find a truly fascinating museum that takes you on a journey through the culture and customs of Bolivia and its people. Here, you'll encounter their distinctive clothing, from traditional costumes to explanations of various patterns. You'll also come across partially woven rugs, ancient textile items, and skeletons with intriguing items found in graves.
I have so much respect for weavers and their incredible patience. Can you imagine that they can only weave about 1.5 cm in a day (8 hours of work)? It takes them half a year to create a decent doormat. In the museum shop, you'll find a traditional loom, where a cholita (a Bolivian indigenous woman in traditional attire) weaves a rug, allowing you to observe the process up close. I was impressed!
This place is more than just a museum, so I'd highly recommend yo
u add it to your list of things to do in Sucre!
Museo de Arte Indígena is a community center that allocates a significant portion of its profits to purchasing weaving materials and supporting the community, as well as educating women who continue to weave using traditional methods. Since there aren't many llamas or alpacas in this part of Bolivia, most of the items are made from sheep's wool. If you're looking to purchase a souvenir or a new sweater, this is definitely a great place to do so (handwoven products aren't as common on the street stalls, but you can purchase them directly from the villages if you visit any of them).
At the time of our visit, the information inside the museum was in Spanish, but we also received a booklet with descriptions translated into English, French, and German.
Please note that photography is not permitted in the museum.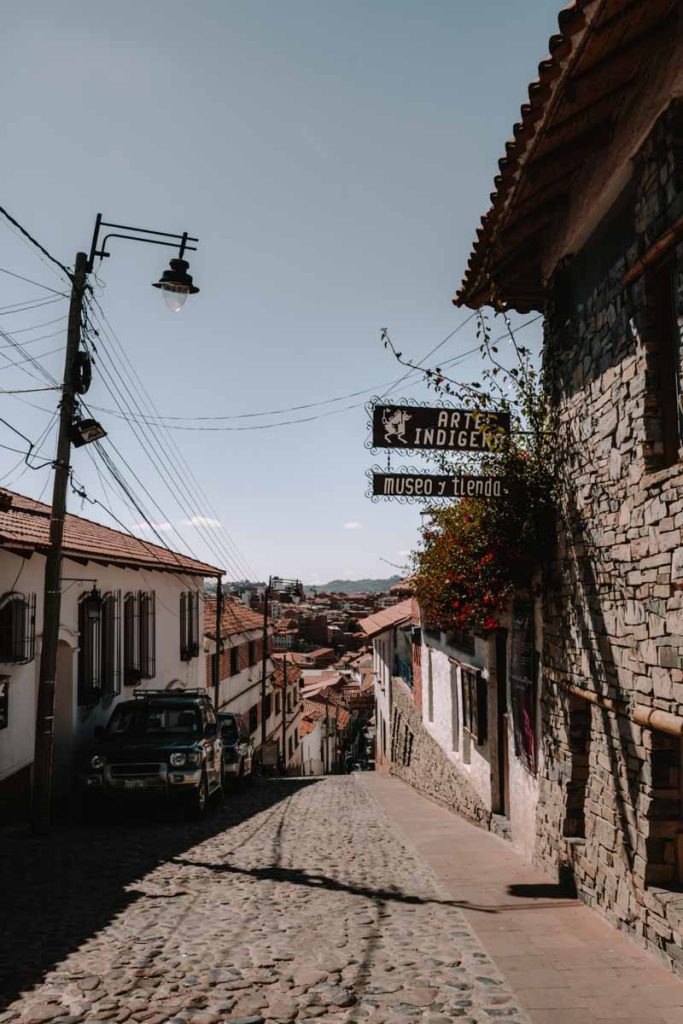 Dive into the rich history of Bolivia at Casa de la Libertad
Are you a history buff? I surely am, and I like to combine vanlife and outdoor adventures with a healthy dose of history now and then. A Sucre is certainly a place where you can dive into the rich history of Bolivia, and of the places I recommend visiting is Casa de la Libertad. It was in this house that the Declaration of Independence of Bolivia was signed!
You can find more information about the opening hours here. As in many museums in Bolivia, you'll have to pay an additional fee for taking photos. The tours are typically conducted in Spanish for smaller groups (but you can request an English explanation booklet), and the guide presents the country's history in a pretty fun way!

Visit the hidden gem in Sucre: Museum of Treasures (Museo de Tresoro)
Ok, this subtitle might sound cheesy, but I can promise you the place is far from being that! I'm not sure whether it's on a list of famous tourist attractions in Sucre, but we were surely glad we had found this gem! I mean, gems, plural.
Museum del Tresoro is another outstanding museum in Sucre, located near the main square in a renovated colonial building. The owners of this building were once nobles who also owned a castle located just outside Sucre (you can visit it too as a day trip from Sucre, it's called Castillo de la Glorieta).
Today, the building houses a museum of mining history, minerals, and – wait-for-it – JEWELRY 😊
The visit is only possible as part of a guided tour, which was truly captivating! Through engaging explanations of silver and gold extraction and other minerals, the tour takes you on a journey through the history of Bolivia. You can see everything from spider webs intricately woven from golden threads (yes, you read that right!) to enormous natural crystals formed by air bubbles in lava millions of years ago.
Even if you aren't into rocks and that stuff, I'm sure this is a must-see place in Sucre!
Of course, you don't just admire all the fantastic jewelry in the museum; you can also explore the shop at the end.
I apparently need some "puppy eyes" training from our dogs, as my sad look and subtle hints didn't have any real effect on Bojan. The silver necklace with a pendant made of a stunning semi-precious stone called "bolivianita" (a yellow-violet beauty) remained in the display case. ☹ Maybe until next time? #hopedieslast
Tours are available all day – in English, French, and Spanish. Please note that photography is not allowed in the museum (so hence no pictures).
Watch Sunset From the Rooftop of the San Filipe de Neri Monastery
Even if you have only one day in Sucre, and you're a sucker for sunsets like I am, I'd suggest you pay a visit to the San Filipe de Neri Monastery. We spent over an hour on the rooftop during the golden hour as the panoramic views are quite breathtaking; as the sun slowly spills its warm hues over the orange rooftops and white buildings, the entire city illuminates in a mesmerizing yellow-orange glow.
Alternatively, you can also climb to the rooftop of the nearby Iglesia de la Merced.
Visit the Central Market or the Campesino Market
Local markets are hands down one of our absolute favorite things in Latin American cities!
The bustling chaos, the incredible scents (not always nice, but this adds to the experience, right?), and the countless items — it's an experience like no other.
I usually leave the flashy camera equipment "at home" (aka in the hostel/Airbnb) when visiting markets to make sure it doesn't end up for sale at another market in a week 😉 Ok, joking a bit here – but do try to be careful; any crowded places anywhere in the world tend to have a higher risk.
Mercado Central is perfect for buying fresh fruits and vegetables (or goat heads if that's your thing) and for treating yourself to freshly squeezed fruit juices.  And since no matter what you do, your 💩 is gonna be a little loose in Bolivia, you just might go YOLO and add some ice to the juice.
Located a bit further from the center (about a 30-minute walk) you'll find the Campesino Market. This is the place to go if you've been vagabonding for quite a while and your shirt has one too many holes in it.
Peek into the Museum of Anatomy
*unfortunately both are permanently closed as of 2023😭
One of the veggie dishes. This was back then when I didn't take a photo of every meal we eat! 😛
Follow the Dino Steps at Parque Cretácico (Cal Orck'O Wall)
Just 5 km northeast of Sucre, there is an open-air dinosaur-themed museum called Parque Cretácico that faces a huge limestone wall, where workers from a neighboring cement factory discovered dinosaur footprints back in the 1990s. And not just any footprints, they are said to be the largest group of dinosaur tracks in the world.
You are not allowed to approach the high wall with the footprints by yourself, but you can do so with a guided tour (included in the park admission fee and lasting approximately 45 minutes) that is available twice a day (12 pm and 1 pm). We missed the tour and were slightly disappointed at first, but then realized that you can see the footprints even from the parking area! 😊
And even if you don't go to the wall, you can still wander around the park among life-size dinosaur replicas and fossils from various periods.
How to go to Parque Cretácico: From Sucre (near the cathedral at the Plaza 25 de Mayo), you can take the "sauro-bus" to the park – you can't miss it as it has dinosaurs painted on it. Alternatively, you can take a minibus or a taxi.
OTHER THINGS TO DO IN SUCRE
While we were in Sucre for a week, we – admittedly – spent a lot of time just wandering around the white streets and eating lots and lots of food. But there's certainly much more to explore and plenty of awesome things to do in Sucre!
Here are just a few suggestions:
You can visit the Ethnographic and Folklore Museum – I think this one would be great to pair with the Museum of Indigenous Art!
For those interested in sacral art, there are numerous museums in churches scattered around Sucre where you'll find lots of that kind of stuff.
Take the opportunity to learn Spanish – Sucre has many language schools that offer Spanish lessons for travelers. I speak Spanish, and Bojan thinks he does too (Dos cervezas por favor, gracias!), so this isn't something we'd need, but otherwise, I think Sucre is a great place to improve your Spanish!
If you enjoy hiking in the mountains, various agencies (we did a bit of research and Condor Trekkers seemed quite good) offer one-day trips from Sucre or even multi-day trekking tours.
Still wondering what to do in Sucre? I hope not!
Don't forget to save this post for later!